People Tree create ethical, and beautiful garments which put people and the planet first.
People Tree's Fair Trade story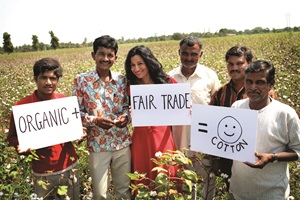 People Tree is recognized by customers and the fashion industry as a pioneer in Fair Trade and environmentally sustainable fashion. For over 20 years, we have partnered with Fairtrade cotton farmers and Fair Trade artisans in the developing world to produce a collection of ethical and eco fashion for the consumer who wants to look good and feel good knowing their garment has been made with respect for people and planet.
In June 2014 Ethical Consumer voted Peopletree as the No 1 Best Buy for alternative clothing and in August we were voted in to the Top 5 UK's most ethical companies.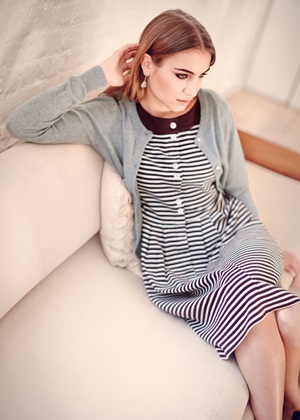 People Tree follow the principles of Fair Trade in every aspect of our business. People Tree supports 4000 farmers and artisans through 50 Fair Trade producer groups based in 6 countries in the developing world. For the past 10 years we have worked in partnership with Agrocel, a Fairtrade cotton producer group who supply us with Fairtrade organic cotton for our garments and supports over 40,000 Fairtrade organic farmers in India.
People Tree's Fairtrade certified organic cotton is grown by farmers who earn 30% more for their cotton. Buying organic cotton fashion is a small thing that makes a big difference.
At People Tree's producer Agrocel in India, women are paid the same as men and given paid maternity leave. Farmers receive a pension, health insurance and good medical facilities. Farmers are paid a Fairtrade premium that is used for clean water initiatives, improving local schools and women's development.
Farmers have used organic and Fairtrade cotton as a way to help them escape from money lenders, set up organic cotton seed banks and protect their crops from GMO and rebuild their lives and strengthen their communities.
Organic farming is also good for the environment. It protects the planet by sequestering 1.5 tons of CO2 into the soil each year per acre. Agrocel farmers have developed natural farming methods and use natural pesticides made from chili, neem, garlic and soap to control pests, instead of expensive and harmful chemicals. Using natural pesticides protects both people and the environment from chemicals, and also saves the farmers up to 3000 rupees per acre.
Watch the story of how People Tree works with Fairtrade Organic Cotton