Bernardo Fernandez is a farmer at a co-operative that is bringing more stability to their farms and families by generating a more consistent income and investing in agricultural insurance.
About Bernardo Fernandez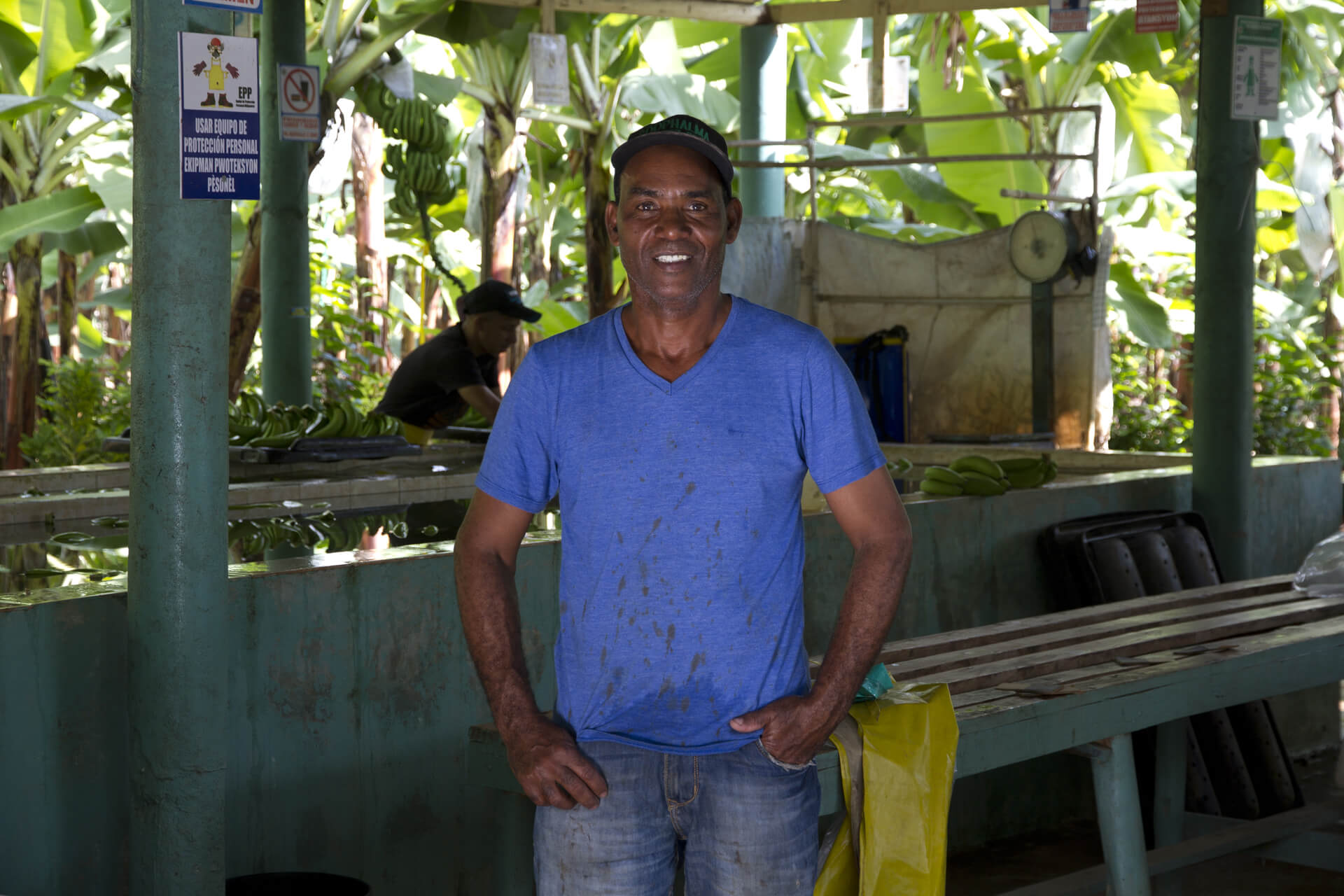 Life as a banana farmer can be full of uncertainty. Climate change is causing unpredictable weather, which can ruin crops. Market prices fluctuate, so income does too.
The Asociacion Agricola Noroestana (ASOANOR) is a Fairtrade-certified co-operative in Mao, in the north west of the Dominican Republic
Bernardo Fernandez says one of the benefits of working with Fairtrade is more stability. 'When you start out as a banana producer it's a bit difficult,' he says. 'But when you get access to Fairtrade it makes a difference.'
If it had not been for Fairtrade, we small producers would not be able to exist.

Bernardo Fernandez
Fairtrade partnership
When farmers like Bernardo sell their bananas on Fairtrade terms, they receive the Fairtrade Minimum Price – an amount that covers the average costs of sustainably producing their crop. It acts as a safety net when market prices drop, as farmers continue to receive a steady, regular income.
They also receive the Fairtrade Premium – an additional sum of money to invest in social, economic and environmental projects to improve their businesses and communities. At ASOANOR, one of the things they decided to invest in was agricultural insurance. If natural disasters strike, the insurance provides farmers with compensation, so they can get back on their feet. It means they don't need to take out loans to start producing again, avoiding the high interest rates that come with private bank loans.
Another reassuring benefit Fairtrade brings for farmers and their families at ASOANOR is health insurance. The medical insurance covers stays in hospital, medical procedures and medicines for farmers and their immediate family. With access to good healthcare, farmers get the treatment they need and can return to work more quickly, which is good for them and their farms.