Edith is a graduate of the Women's School of Leadership and has been empowered by Fairtrade to make decisions and develop as a leader of her community. Through Edith's leadership, other women have been able to raise their household income.
Edith is a member of SCAEK co-operative in Côte d'Ivoire.
When Edith talks about harvesting tomatoes, you can see her smiling behind her eyes. She loves the simple act of picking a ripe tomato from a plant, the satisfaction of knowing her hard work has come to fruition. Life has thrown up some challenges for Edith, but she has not let them set her back. She deserves all these chances to grow.
Edith's life hasn't been easy, but her experiences have inspired her to change things for the better for herself, her family and her community. Edith has faced several tragedies in recent years. She's overcome them to build an incredible community of women, determined to build secure futures for their families, all supporting each other.
Edith lives in a small town in Côte d'Ivoire. She lives in a household of seven, including her son, and her brothers and sisters. She hasn't always lived here. She moved to the capital, Abidjan, to get married, and had her son there. But, when she divorced her husband, she brought her son back to her homeland, to live with her family.
Edith's mother owns a cocoa farm, and together they tend the trees and harvest the cocoa. But even as part of a Fairtrade co-operative, the cocoa trees alone don't bring in enough money. Edith is determined that she will earn enough money to take care of herself and her son into the future, whatever that might bring. This is what feeds her entrepreneurial spirit. She's bought two motorbike taxis, and employed two local men as drivers to ferry people back and forth from their houses to their farms which are often a few kilometres out of town. She's also started a business hiring out crockery for parties, alongside farming and raising her son.
Like many people in Côte d'Ivoire, cocoa is Edith's passion. As she worked the farm with her mother, she dreamed of ways to do better with what they had. Not just for her, but her friends too.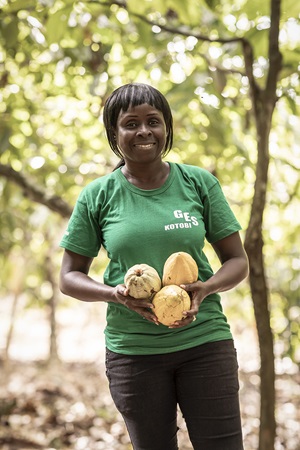 Edith and her friend jumped at the chance to blaze a trail in the first group of women to take part in the Women's School of Leadership, a Fairtrade project to bring out confidence and skills in the women of the cocoa farming communities. During her training, her son's father suddenly died. She decided now that she alone was supporting her son, she would make sure she would always have money coming in.
The two women came back from their training brimming with ideas and excited to get started. They made some plans to help not just themselves but women from their community to earn money all year round, and have their own money. They shared their ideas with their friends and neighbours and started to bring them into their exciting plans.
But tragedy struck when her dear friend died. Edith and her community were devastated. The shock and sadness of their loss left the women unable to think about the future. Edith could barely bring herself to do anything, and lost all motivation. She thought: 'What am I going to do now as I am alone?'
With time, the grief became less raw and Edith remembered why they had started on their journey: because they wanted women in their community to be independent and have money to support themselves and their families. Edith knew that carrying on with their plans was the best way to honour her friend's memory. Bringing the group together was her legacy.
'We don't want to let the name of our late sister disappear. We want to keep her memory with us because she was the leader at the beginning.'
The friends put their money together to rent some land, separate to their cocoa farms. They were able to get seeds to grow vegetables on their community farm. They have already found a buyer in Abidjan for their tomatoes. They are also growing peanuts to sell, and learning how to process them. The women spend every Wednesday and Friday there, tending their crops, singing, talking and laughing as they do it, and the rest of the time on their cocoa farms. The income they receive from these crops is becoming more and more important in keeping their households afloat, especially as the rains have become more unpredictable and the amount of cocoa they are producing has been affected by this.
Edith herself says she can see the effects of a changing climate on the crops they grow in the form of diseases. 'I can see that leaves are drying when we have many dry days and the rain is not coming much, the leaves are getting yellow, when you see the cocoa pods they are small and the trees may die. So we are scared because the trees may die.' On the women's cocoa farms, pests and diseases spread more quickly, among them 'black pod' where cocoa pods turn dark and mouldy on the tree.
Edith and her mother see the threat of climate change and know they and their fellow farmers cannot rely solely on cocoa. It's what makes projects like the community farm so valuable. With other ways to bring in money, they can afford to be strong when the rains don't come. Some years, not all of their cocoa has even been sold. As small-scale farmers in West Africa, they have not been the biggest contributors to manmade climate change, yet they are already living with the reality of it.
Edith and her community of women will keep encouraging each other, to turn things around when life gets hard, to thrive and grow. We can be part of their story, and support them and countless other unbowed, ambitious women like them, by buying Fairtrade cocoa.
Edith deserves Fairtrade.