Fairtrade tea is available in a variety of origins and grades from all around the world. With an established supplier base and strong demand from consumers Fairtrade tea is the solution for any business looking to import, package, produce or sell tea which meets high ethical standards.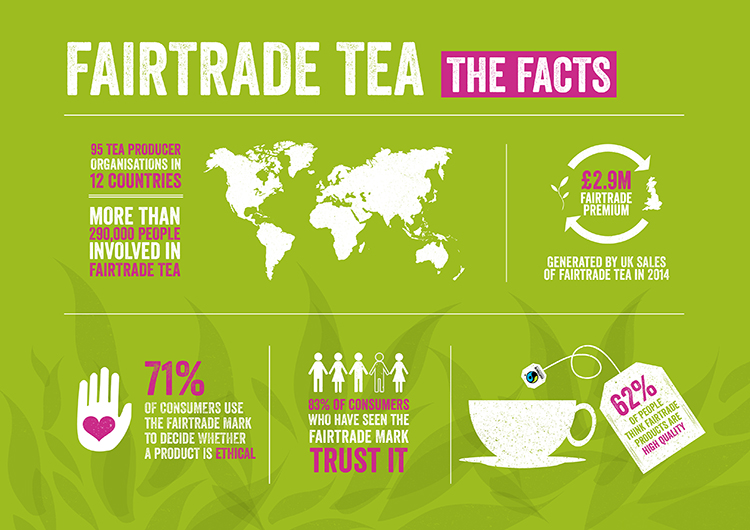 At Fairtrade we work to address the ongoing social and economic challenges in the sector, such as living wage, climate change adaptation, access to suitable housing, healthcare and education and are taking a leading role in improving the global tea industry for good. We do this both through our Fairtrade standards and by working closely with Oxfam, the Ethical Tea Partnership and 'Tea 2030'.
Consumers demand Fairtrade
Fairtrade has a massive grassroots community in the UK, stretching through towns, schools, workplaces, universities and faith groups. These supporters make the conscious effort to buy Fairtrade products and look positively on brands who have the same ethics as they do. 71% of consumers use the Fairtrade Mark to decide if a product is ethical.
Fairtrade's impact
The Fairtrade Premium
For every kilo of Fairtrade tea that is bought a Fairtrade Premium is paid to the producer group. This enables farmers and workers to invest in their business and their community. You can watch some of examples of this in our film.
Supporting workers' rights
On tea plantations, workers' rights and food security – the ability of workers to feed their own families – are important issues. You can see some of the ways the Fairtrade standards address these issues here
Supporting adaptation to climate change
Climate change is an issue which is increasingly affecting yields and long term sustainability of the tea industry. Fairtrade is working in collaboration with other NGOs and producers to find ways of mitigating this and sharing the knowledge across communities.
Find out more about some of our Fairtrade Tea Producers around the world and the impact of Fairtrade.
Working with Fairtrade
To be part of the movement speak to your tea supplier about how you can source Fairtrade tea in your business, learn more about becoming a licensee or stocking Fairtrade tea and get in touch with our team for more information.