This year, politicians from some of the world's wealthiest nations come to the UK to discuss urgent issues facing the whole planet, first at the G7 summit then at the UN climate summit COP 26. We must make sure that the inseparable global crises of Covid–19, the climate emergency and extreme global injustice are on our politicians' agenda.
The farmers and workers that the Fairtrade community exists to represent will not be at this conference, so together, we must make sure they are not forgotten.
Join in with the Wave of Hope to tell politicians that the people who produce our foods and goods must not be ignored.
Share this Wave of Hope today to ask each government across the world to join the journey to climate justice, which cannot be won without trade justice and a serious commitment to tackle the Covid – 19 pandemic on a global scale.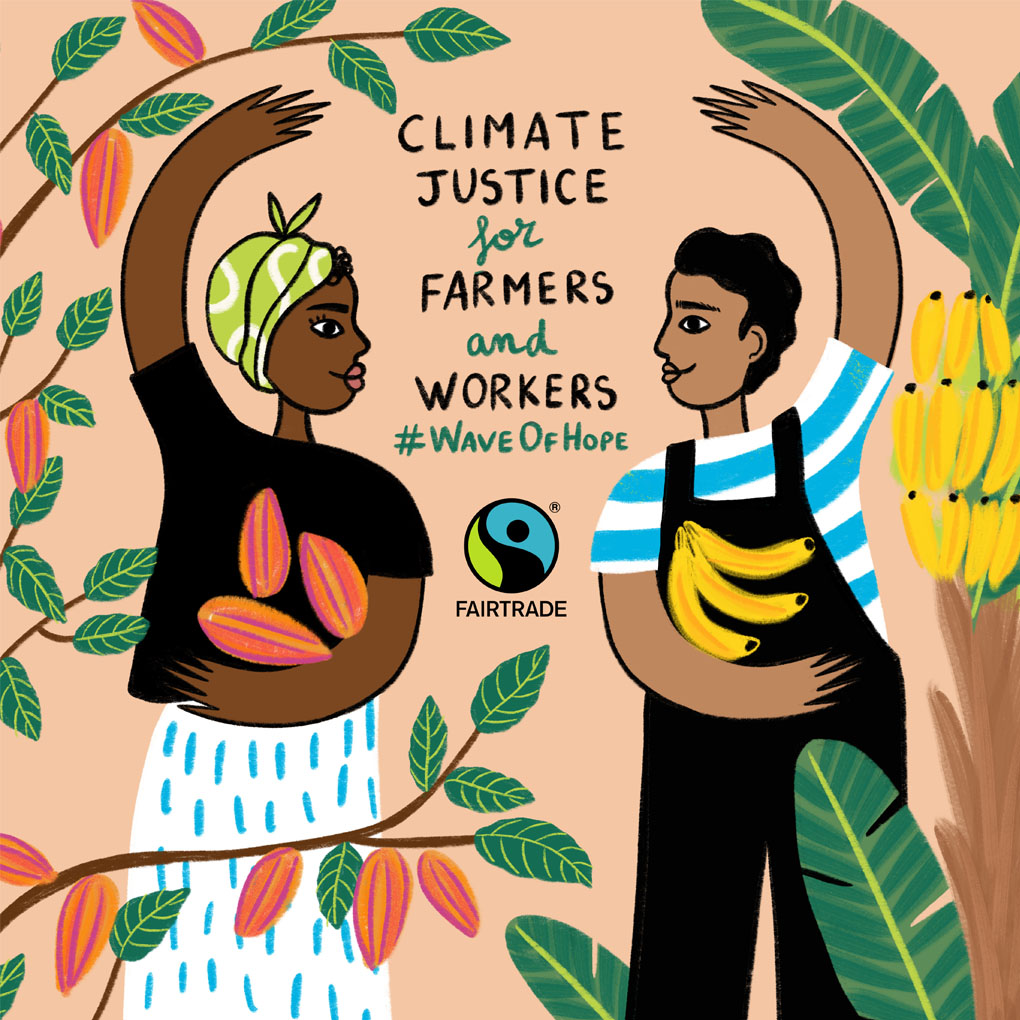 Or if you're feeling creative, make your own Wave of Hope. Then put it on social media with the hashtag #WaveOfHope or send it to us.
Here are a few our crafty Fairtrade campaigners made earlier!
How to start your wave
To get involved, create your Wave of Hope and share it on social media. It doesn't need to be a work of art and you can use any left-over materials from around the house to create it. Whatever you come up with, share it using the #WaveOfHope hashtag or send a picture of it to hello@fairtrade.org.uk.
We are joining the Crack the Crises coalition to take part in the Wave of Hope. Fellow members include other charities, campaign groups and organisations who all want to win a fairer future, at home and overseas.
Check out the Wave of Hope website for more tips on getting involved and to see more of the beautiful and powerful Waves of Hope flowing in from all over the country.
And you can also watch a recording of a live Wave of Hope crafting session, featuring dozens of Fairtrade campaigners to get some inspiration. The session was led by the creative and committed students of Arts University Bournemouth, which is a Fairtrade University.
Why climate justice matters for farmers and workers
The climate crisis threatens the immediate future of the famers and workers already pushed to the brink by a deeply unfair global trade system. The work to win fair wages, living incomes and to change that rigged system must continue. But we also need to speak up about injustice at the heart of the climate crisis.
Those nations most responsible for the climate emergency need to back an ambitious and urgent global green investment programme to support communities living with a crisis they did very little to cause.
And as decisions are taken on how this investment is used, the expertise of farmers and workers already feeling the worst effects of climate change must be listened to and respected.
Because the climate crisis affects us all, but not equally. The highest-earning 10 per cent of the planet's population are responsible for 50 per cent of all carbon emissions.
But it is those on lower incomes being hit hardest by climate change. Increasingly, the farmers and workers our Fairtrade movement exists to represent are being forced out of business and into real hardship by more extreme and unpredictable weather patterns.
Living with the reality of the climate crisis every day, these communities recognise the urgent need for global change if their livelihoods are to survive.
But due to centuries of unfair trade and a global trade system that is a legacy of colonialism, millions of the people most affected by the climate crisis cannot earn a living income from their hard work.
While they cannot earn enough for their daily essentials, they cannot invest in adapting to crises like the climate emergency or unexpected catastrophes like the Covid pandemic.
This is why farmers and workers need climate justice. And why there can be no climate justice without trade justice and global action on the Covid pandemic.
So please join the Wave of Hope to show politicians that we believe a solution to the crises of climate, Covid and global injustice is possible – if they commit to serious and urgent action.
What we can do in 2021?
This year, the UK is hosting two critical global conferences, the G7 in June and the UN climate summit known as COP 26 which will take place in November.
This gives us a brilliant chance to convince our politicians to listen to the farmers and workers we all depend on and deliver a fair climate promise that works for them.
Wealthier nations like the UK are responsible for, and have benefited from, the global systems that have caused the climate crisis and the crisis of extreme global injustice.
So we need to tell our politicians it's time to own up to our responsibilities. This is the nation's chance to play its part in delivering a fair climate promise and a fairer future.
Our global Fairtrade community is challenging governments of the countries most responsible for the climate crisis to, at a minimum, deliver on an unfulfilled promise to fund a £100bn climate finance package for communities most affected by climate change.
And we're also demanding that these politcians respect the expertise, needs and ambitions of farmers and workers. Communities on the front line of climate crisis must take a leading role in deciding how any funds are spent.
To make sure any climate deal is fair to those most affected by climate change, we need your support.
Join the journey to climate justice by helping create a Wave of Hope that politicians cannot ignore.
Thanks for giving us a wave
We are looking forward to seeing your Waves of Hope! Remember to share using the #WaveOfHope hashtag, or email hello@fairtrade.org.uk. Keep an eye out for more ways to get involved in our campaigning in this critical year. You can also visit our Fairtrade and Climate Justice page to find out more about how Fairtrade and our global Fairtrade community is taking on the climate crisis.