From coffee mornings to running marathons, supporters across the UK are finding fun and creative ways to raise money for Fairtrade.
Whether you fundraise in a group or on your own, at school, university or in your community, we're here to support you with great ideas and resources!
Through Fairtrade, poor farmers get better prices and decent working conditions. Your fundraising will improve the lives of farmers and workers by: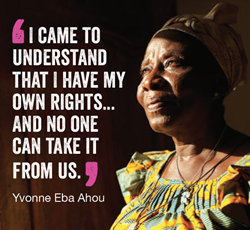 Supporting projects to bring Fairtrade to more farmers and workers
Helping strengthen their voices to negotiate a fairer deal
Helping them improve their farms
Building demand for their produce
Fundraising activities, especially those that are a-peel-ing to getting people involved, can be a fantastic way to raise awareness about Fairtrade too. If you are already holding an event for Fairtrade, adding in some simple fundraising activities will maximise the impact of your efforts – plus they up the fun factor!
To make it even easier, you can order your Fairtrade donation collection box. Simply set up your box at your event and encourage your friends to donate until it is choc-full of cash!
How do I pay in my fundraising money?
Or print off a pay-in slip and send us a cheque made payable to 'The Fairtrade Foundation' to:
FREEPOST RTZT-ACTL-BCGR, Fairtrade Foundation, 5.7 The Loom, 14 Gower's Walk, London, E1 8PY.
Just a reminder not to send us cash in the post as we are unable to process this. And if you would like a certificate for your Town, Group, Faith, School or University (or for yourself to keep!), please provide your mailing address when submitting your donation.
How do I come up with a good fundraising idea?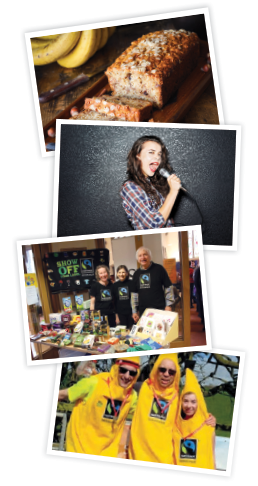 Anything goes, so be creative! The most popular and easy way of raising money is by holding a fundraising event. Or if you're feeling active, you could do a fundraising challenge and ask your friends and family to sponsor you with a donation.
Find out more about setting up a fundraising challenge event and downloading your sponsorship form.
Fundraising Events
From fashion shows to Fairtrade banana jousting, our supporters constantly amaze us with the weird and wonderful events they hold to fundraise. The possibilities are endless and some popular ideas include:
If you're thinking of going the extra mile, read more about completing a fundraising challenge and check out eight great fundraising ideas for more.
Promotional material
Whatever you go for, there are lots of official promotional materials you could use to help make your event the biggest success. Fancy some promotional t-shirts, posters or leaflets? Visit our online shop to browse through the options.
Fundraise when you shop online
Raise money for Fairtrade when you shop at no extra cost to you. Through the online platform Give as you live, you can shop at over 4,100 top stores and raise funds for the Fairtrade Foundation. The online store pays Give as you live a percentage of your total purchase price (depending on the store) and the rest is passed on to us! You can also give through AmazonSmile, Amazon donates 0.5% of your purchase to the charity of your choice. Start your online shopping at Give as you live and AmazonSmile and choose to donate to the Fairtrade Foundation.
Contact
Have questions you want answered? Contact our fundraising team at fundraising@fairtrade.org.uk or give us a ring on 0203 301 5041.
Should you ever need it, you can also download our Fundraising complaints policy.