Bake your own delicious Fairtrade chocolate cupcakes for a tea-time treat or to raise money for your event
Put your culinary skills to the test and whip up our cupcake recipe for a bake-sale bonanza. Follow this easy-peasy recipe and get stuck in!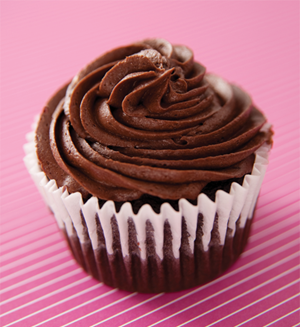 Makes 20 – 25
cake ingredients
85g soft unsalted butter
250g Fairtrade light brown sugar
165g Fairtrade dark baking chocolate (at least 70% cocoa solids), melted
4 eggs
250g self-raising flour
100ml whole milk
Buttercream ingredients
250g Fairtrade dark baking chocolate (at least 70% cocoa solids), melted
250g soft unsalted butter
600g Fairtrade icing sugar
50ml double cream

What you'll need:
Two muffin or deep cupcake trays
Cupcake cases
To make the cupcakes:
Preheat your oven to 160°C.
Cream the butter and sugar using an electric beater until pale and fluffy.
Add the melted chocolate to the sugar and butter
mixture and combine.
Add the eggs one at a time, mixing slowly.
Add the flour and the milk and beat until the mixture is smooth.
Use a spatula to fold the batter a few times to reduce the amount of air in the mixture.
Spoon the batter into the cupcake cases until they are half-full.
Bake for 18-20 minutes or until a skewer inserted into the middle of a cupcake comes out clean.
Leave the cupcakes to cool in the tin for a couple of minutes then put on a cooling rack.
To make the buttercream:
Melt the chocolate in the microwave in short bursts, ensuring it doesn't burn. Set aside to cool slightly.
Once cooled, add the butter, icing sugar and cream. Mix with an electric beater until smooth.
Ice each cupcake with buttercream and decorate as desired.
Thank you to our friends at Divine for this recipe. All Divine products are Fairtrade – why not try using Divine Chocolate Baking Bars in your recipe?
*You can use milk chocolate as an alternative.