Mossley Fairtrade group worked closely with ReCreate, a local community arts & craft group based at The Vale, Mossley and funded by Global Grooves & People's Health Trust, to create artwork sharing in a creative way the messages of the last two Fairtrade Fortnights.
Initial contact with ReCreate was via a member of Fairtrade Mossley Steering Group. The 2018 theme 'Come On In' lent itself to Fairtrade Mossley asking the group to create a typical Mossley street scene featuring Mossley's mascot Fair Ted inviting people to Come On In and meet Fairtrade farmers and workers.The project grew rather bigger than the group expected as they obtained access to a large display area in the foyer of a well-used community venue. The group worked over several weeks, those new to Fairtrade learning more in the process. A new partnership with a community group began.
Mossley Fairtrade group members said: 'The result was a marvellous depiction of our semi-rural mill town, Mossley, made mainly from recycled materials. It was on display for six weeks and seen by many people. Working with ReCreate gave a big boost to our small steering group.'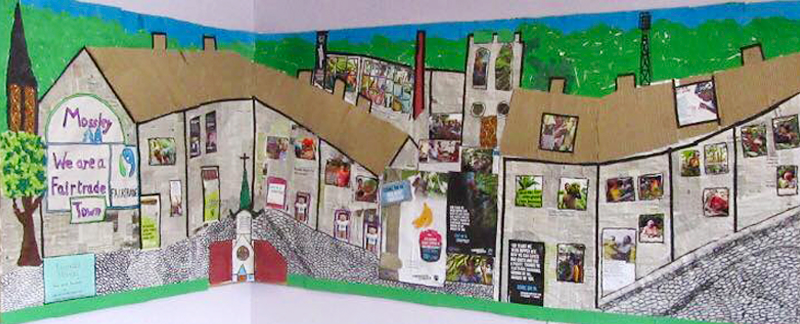 ReCreate were very happy to offer their support again in 2019, in fact so keen they made a start in December 2018 after an initial discussion with Fairtrade Mossley about the theme for Fairtrade Fortnight 2019. The group aimed to use recycled and surplus materials in its projects and as a way of collecting materials and engaging the community with the theme of Fortnight 2019, they asked local groups and school children to save chocolate wrappers over the Christmas period for use in their artwork. This not only provided materials for the display but also enabled ReCreate to connect with local people to discuss the real lives behind our chocolate treats and highlight the often overlooked impact of the choices we make as consumers and the effect this has on real people's lives.
Reflecting on this year's production Mossley group members told us: 'This year's campaign was particularly poignant as people view chocolate as a treat, an indulgence, which contrasts starkly with the lack of basic necessities for the women farmers who plant and grow the cocoa beans.The resulting 'Bean to Bar' display showed how women cocoa farmers begin the process of turning cocoa pods into chocolate treats. We were all impressed by the way the group had given the women clothes and headdresses utilising the background images from the campaign posters creating a recognisable visual link with the posters that were distributed and displayed across the schools and community spaces in Mossley. There was also a great connection with those who had donated their chocolate wrappers as they felt they had helped to create the display too.'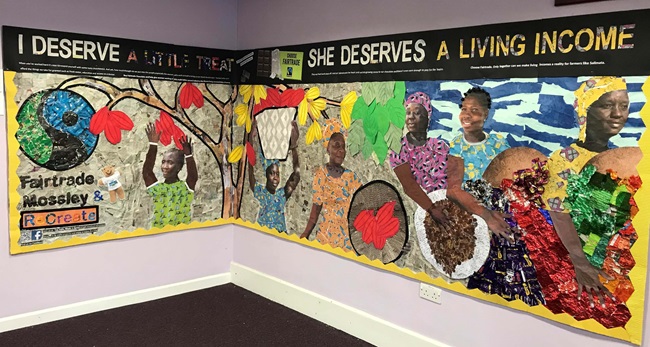 The very impressive 'I Deserve a Little Treat – She Deserves a Living Income' artwork was on display for six weeks and received positive feedback from the community and plenty of exposure on social media and in the local paper. The ReCreate group also shared: 'ReCreate was pleased to play a small part and we enjoyed contributing to this year's Fairtrade Fortnight campaign. It was a particularly engaging one – not just because it involved chocolate (and who doesn't like that!) but it helped connect people with the lives & stories behind our everyday products.'
As a Fairtrade Town this partnership works well connecting community. Fairtrade Mossley can now showcase the Fairtrade Fortnight campaign in a fabulous, eye-catching way and ReCreate have a platform to display their talents and engage the community in the creative process. Winners all round.