Tees Valley Fairtrade groups (Hartlepool, Middlesbrough and Stockton) worked together for Fairtrade Fortnight on a project to raise awareness of Fairtrade in general and in particular the problems faced by cocoa farmers. 
Using the information provided by the Foundation, a very simple explanatory A5 handout was produced. Students from Catcote Academy in Hartlepool (a very active Fairtrade school) produced a giant 'chocolate bar' from a huge cardboard box. The chocolate bar was carried on a journey around the Tees Valley by bus from Hartlepool (waved off by the Deputy Mayor of Hartlepool) to Stockton where it was greeted by the Mayor of Stockton. It was carried on foot through the town and along the riverside path to the Tees Barrage, which is an iconic structure close to the boundary with Middlesbrough. There it was handed to the Middlesbrough group who transported it by bike to the centre of the town where it was greeted by the Mayor of Middlesbrough. Along the route samples of Fairtrade chocolate and the flyers explaining the journey were handed out. The modes of transport were chosen because they are the modes most readily available to those who produce the cocoa for Divine chocolate.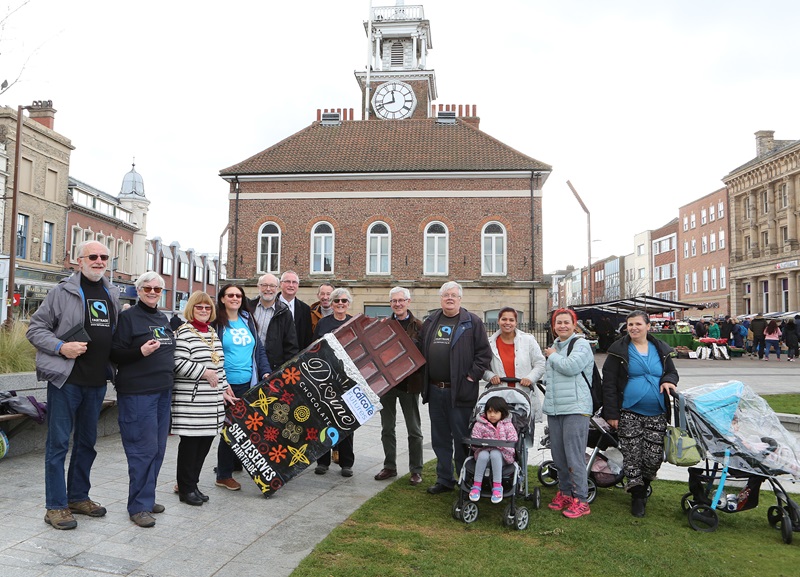 The group's activity was inspired by a previous event focused on bananas, which won an award from the Fairtrade Foundation some years ago. That time a giant banana was taken by public transport around the three boroughs and received a lot of good publicity. Members of the groups recalled Divine farmers telling them about the cycles they used to get to work, and the bus they had bought for transporting groups to events like weddings. They decided that using those two modes of transport alongside walking was a good visual reminder that the people growing the cocoa (and the sugar) would have to rely on those modes of transport for themselves to go between villages, or around the plantations. Catcote Academy has had an active relationship with Hartlepool Fairtrade Steering Group since the beginning and they spotted the opportunity to use the students' skills and enthusiasm to create a giant chocolate bar to carry. Middlesbrough is a Cycling City so the cycle leg went naturally to them, and the longest journey was between Hartlepool and Stockton so the bus was the obvious choice there.
Photos and articles appeared in several local media outlets and a lot of useful conversations took place with members of the public.