The NCC is a group of elected Fairtrade campaigners who each represent a region of the UK.
The committee is a member organisation of the Fairtrade Foundation, with voting rights and responsibilities, and is represented at the annual general meeting.
Members feed into Fairtrade campaign development, and provide a voice for campaigners, so that they have a say in the Fairtrade Foundation's strategy and planning. The NCC also informs the Foundation about what campaigners need and what their priorities are.
How do I get involved?
NCC meetings are held in the Foundation's head office and occasionally via teleconference. Summaries are shared in Fairtrade Towns e-newsletters and on this page (see further below), and directly by some representatives where regional networks exist.
Any members of Fairtrade campaign groups registered with the Fairtrade Foundation (Towns, Schools, Universities and Faith communities) are eligible to stand for election to the NCC. Elections are held at regional supporter conferences every 3 years, or in some cases by an electronic vote.
If you're interested in standing for election to the NCC, drop us a line to find out more.
Who is my representative?
You can contact your representative about Fairtrade campaigns or any issue related to Fairtrade locally or nationally.
More Information
The NCC is responsible for:
Making sure that Fairtrade campaigners can better feed into the Foundation's work.
Advising on the development and implementation of projects and activities directly involving grassroots supporters, for example, Fairtrade Fortnight.
Recommending improvements to existing support for campaigners, in addition to new materials, resources and training opportunities.
Advising on developments to existing Fairtrade award schemes, including renewal processes, goals and communications.
Advising on new campaign areas and activities.
Offering experience and advice around Fairtrade campaigns and campaigners to other teams in the Foundation.
Sharing best campaigning practice from regional networks to share with other campaigners.
See full terms of reference here.
The NCC helps with the two-way exchange of information between the Foundation and campaign groups. The NCC is represented at the annual general meeting, feeding into the Foundation's governance. The diagram below shows these relationships in action.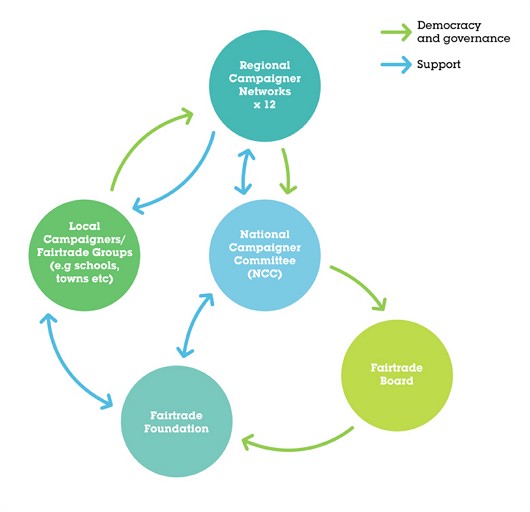 NCC Meeting Summaries
2021
Next scheduled meeting: TBC
19 January 2021 meeting summary
2020
2019
2018
18 and 19 July meeting summary
2017
2016