In June 2020, Middlesex University London achieved a 3 star Fairtrade University and College Award – the highest level of Fairtrade Award. The partnership have consistently come up with great innovations to keep their Fairtrade campaign fresh and engaging.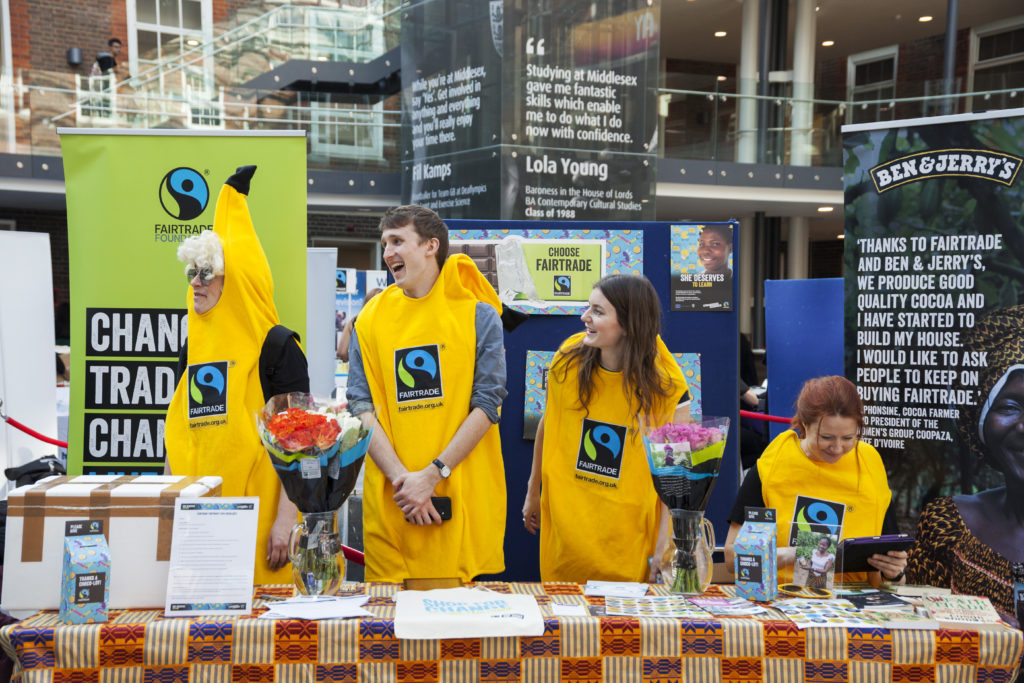 We spoke to Middlesex University about their experiences of the award and their top tips for new applicants.
The opportunity
Back in 2017, Middlesex University saw an opportunity to strengthen Fairtrade at their institution, educate the next generation about conscious consumption and make it fun. The University signed up to the Pilot year of the Fairtrade Award, which ran between 2017 and 2018. Middlesex continued to build on their achievements and took part in the 2018-2020 Fairtrade University Award programme, achieving a 3 star Award in June 2020.
The Impact
Jo Williamson, the Contracts Officer at Middlesex University, explained 'As a result of taking part in the Fairtrade University and College Award, our Fairtrade products have increased across campus and there have been an increase in the number of students interested in Fairtrade. We've got a lot more staff campaigning for Fairtrade and embedding these into modules. We've also increased our wider Fairtrade community network.
'We are really proud of how much we've grown and how many opportunities have opened up for us since we started. So many people are now part of our Fairtrade journey at Middlesex – it feels like a Fairtrade Community. It's very inspiring to have all these people as equally passionate about the cause and proud to be a part of it with us.'
Top tip for new Applicants
Networking with other institutions signed up to the award is a fantastic way to inspire and inform your work on Fairtrade. This coming academic year will be unlike no other, so it is a good idea to work with other institutions to come up with innovative ideas that are achievable, even in lock down!
Email Jo Williamson at J.E.Williamson@mdx.ac.uk to join the Fairtrade University Networking Group.
As well as networking with other institutions, why not work in partnership with your local community? Middlesex University have commented that the 'power that local campaigners have is priceless [and that they] would recommend all institutions form a partnership where possible with local campaigners.'
Check out the Fairtrade Communities and Fairtrade Schools in your area.
Would you like to submit a Case Study for our website? Fill out our FTUC Case Study form and send it to university@fairtrade.org.uk.