Organic September has rolled around again, and it's a good opportunity to look at the synergies between organic and Fairtrade.
Over 50% of Fairtrade farmers choose to go organic. That's often because they see organic as a way to improve not just their livelihoods, but to support the environment and ensure that farmers and workers are not exposed to harmful chemicals.
When many of our favourite things are grown many miles away, (70% of the world's cocoa comes from West Africa and cotton is one of the primary exports of India) it's difficult to know exactly what conditions the raw product is created in.
Fairtrade works to support and empower the farmers and workers from the very first step of production to the final stage of selling the product. So when you see the Fairtrade mark, you know someone is looking out for them. Organic certification is similar – it takes an ideal and makes a simple checklist for safeguarding the natural world, and ensures that farmers are working in line with nature, not against it.
So we've picked out some of our favourite organic and Fairtrade products for this Organic September. There's such a sensational variety, from store cupboard staples to tantalising treats – so no excuse not to try one or all of them!
1. Divine Organic São Tomé range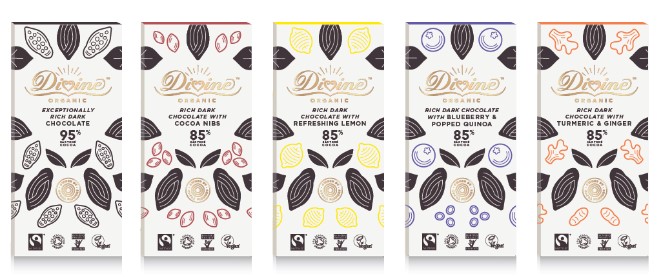 Divine introduces its first ever organic dark chocolate range. The range of innovative flavours includes ginger and turmeric, refreshing lemon, and blueberry and popped quinoa.
At least 85% quality cocoa content, these Fairtrade chocolate bars are really something special. The cocoa comes from smallholder Fairtrade farmers in São Tomé aka 'The Chocolate Island' just off the west coast of Africa.
Find out more about Divine Chocolate
2. Quinola Mothergrain quinoa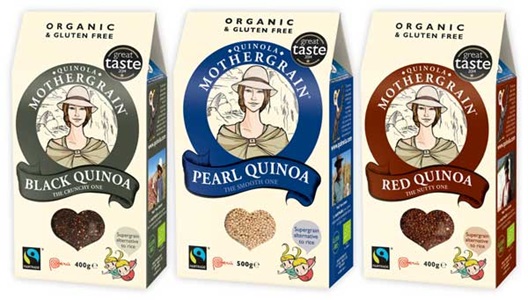 Organic, tick. Gluten free, tick. Fairtrade, tick. Quinoa is a super-tasty super-grain; a traditional staple in South America.
It takes a long time to grow, which is why Fairtrade is so important. In the months that farmers can't sell their quinoa, the Fairtrade Premium supports the community with additional funding.
Try the smooth pearl, crunchier black or nutty red quinoa for some delicious variety. Or pick up an express pack for an easy to prepare healthy meal.
See the full range at Quinola Mothergrain
3. La Riojana Tilimuqui Fairtrade Organic Malbec

La Riojana's Tilimuqui organic wine is grown in the remote north of Argentina where arid soils give rise to grapes bursting with ripeness. This is an intense Malbec that is a great accompaniment for your organic dinner.
A new wine from a co-operative in the Famatina Valley, most of the village is connected with the winery, meaning that the whole community benefits from the Fairtrade projects which are working to improve living conditions in the area.
Tasting notes: dark bramble fruits, plenty of spice and nice full body.
There are also white and rosé varieties available.
Buy Tilimuqui malbec wine from Waitrose
4. Traidcraft Organic Penne pasta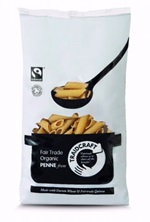 All your essential needs met in one simple, ethical pack of pasta!
Stock up on store cupboard staples at Traidcraft's online shop where you can find this perfect penne. It's made from durum wheat and 20% Fairtrade quinoa from cooperatives in Bolivia.
Buy Traidcraft's organic penne pasta
5. Zaytoun Olive Oil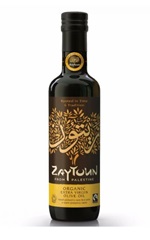 Pioneering Fairtrade in Palestine, Zaytoun selects the ripest rain-fed, hand-picked olives from the West Bank for their signature olive oil. Naturally organic, this award-winning extra virgin oil connects you with farmers whose ancestors have tended their trees by hand for countless generations.
Zaytoun is a social enterprise supporting farmers through Fairtrade, promoting Palestinian produce and reinvesting profits back to support livelihoods through trade not aid.
Buy Zaytoun's organic olive oil from Traidcraft
6. Cocoa Loco Dark Chocolate Buttons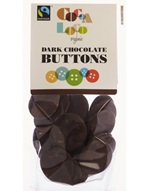 Made in small batches in a "Chocolate barn" in the heart of West Sussex, this organic and Fairtrade chocolate brand has won several national awards and is simply scrumptious!
Choose these sustainable, ethical giant chocolate buttons for a naughty but nice treat. The dark chocolate used to make the buttons is from the finest single origin beans from Fairtrade cooperatives in the Dominican Republic.
Buy online from the delicious range at Cocoa Loco
7. Dip & Doze grey stripe bedding set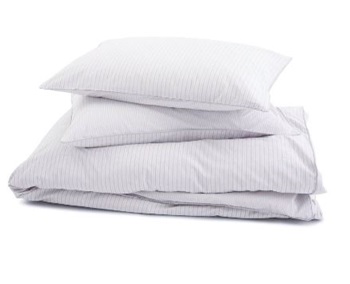 Pure & simple bedding with ethics at its core. All of Dip & Doze's cotton is certified Fairtrade and organic, which means it's been produced in the best possible way for people and environment. 
And you can enjoy every second in your Dip & Doze covered bed because they offer two types of cotton – choose from soft and smooth or a lightweight durable bed set.
Find out which Dip & Doze bedding suits you best
8. Odylique Fairtrade Beauty Selection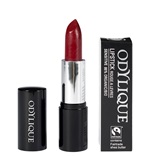 Don't forget you can find some wonderful organic and Fairtrade beauty products. Whether it's a natural lip-liner, mineral lipstick or organic eye liner, all of these gentle beauty buys are fair on your skin and fair for the people making them.
Every ingredient that goes into Odylique's certified organic and Fairtrade beauty products are carefully selected. The sugar and shea butter in the lip-liner, lipstick and eye liner are sourced from Fairtrade farms.
Learn why Odylique chooses Fairtrade 
9. Green & Black's Fairtrade Organic tasting collection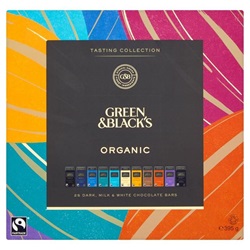 For all those who just can't decide, this mouth-watering selection of classic Fairtrade Green & Black's flavours is for you. Wrap up that Organic September celebration with a party box size version of chocolate – what's not to love? 
The selection box comes in two sizes complete with tasting notes and recipes. One of the oldest, and still one of the best. Travel around the world to discover just why organic and Fairtrade comes out top.
Order a Green & Blacks tasting collection from Waitrose
10. Clipper's Organic & Fairtrade Green Teas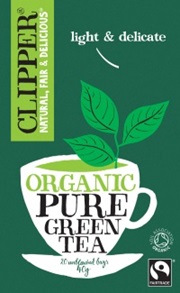 Green tea fans will love this delicious and healthy range of natural green teas, made with pure ingredients and a clear conscience. The teas are sourced from high elevation tea estates in Sri Lanka, South India and China. Tea plants grown at a higher altitude have to work harder to produce tea leaves and therefore the leaves they do produce have a higher number of antioxidants, more character and better flavour. Time for a lovely cup of Clipper Tea!
See what other delicious varieties of tea Clipper have on offer
 Read more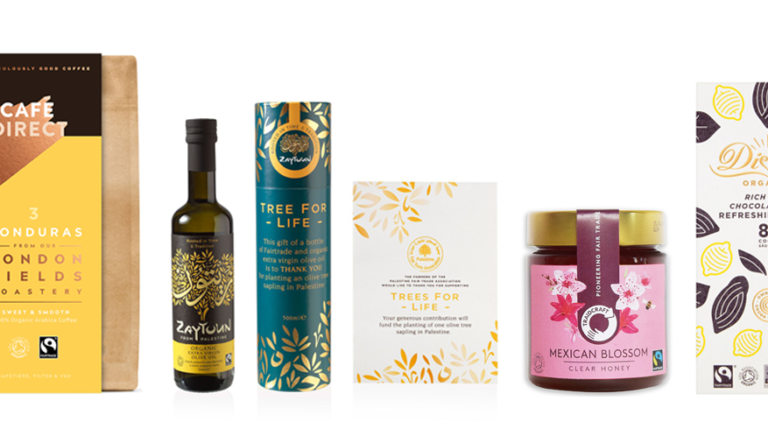 8 Fairtrade and Organic products to indulge in
10 September, 2020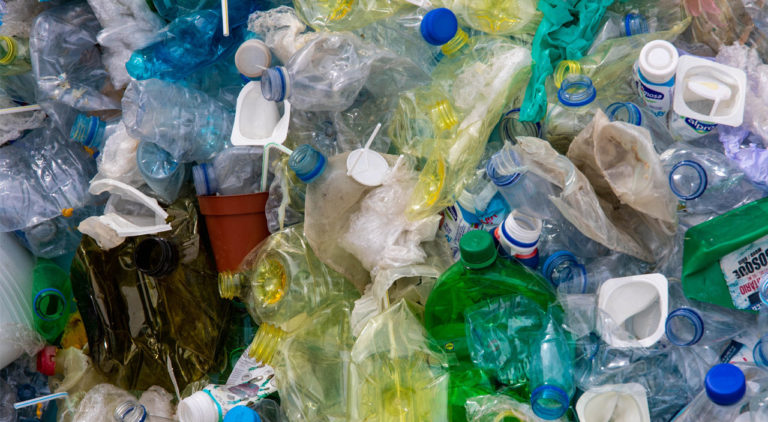 7 Fairtrade Switches to cut your plastic use
18 September, 2021