Read our top tips on how to buy, wear and dispose fashion better.
1.    Champion new designers
One great way to invest is to discover a new designer and become a loyal customer. Doing so means you'll be involved in all aspects of a fashion start-up, from invitations to special sample sales and pop up shops, to huge discounts on bespoke pieces. There are thousands of young emerging designers all over the world working sustainably who are waiting to be discovered.
2. Buy better
The Investment Buy is the opposite of the cheap haul. It's all about saving money to buy that one special piece, a 'good friend' as Joan Crawford said. Buy one good one instead of three cheap ones. It's all about buying with care and loving it for longer. And actively seek out Fairtrade cotton pieces. Brands such as People Tree, Epona Clothing, Arthur and Henry and Mighty Good Undies use Fairtrade-certified cotton. 
Fairtrade means cotton farmers receive the 'minimum' price that protects them against volatile market prices and the extra Fairtrade Premium that goes into a communal fund for workers and farmers to use – as they see fit – to improve their social, economic and environmental conditions.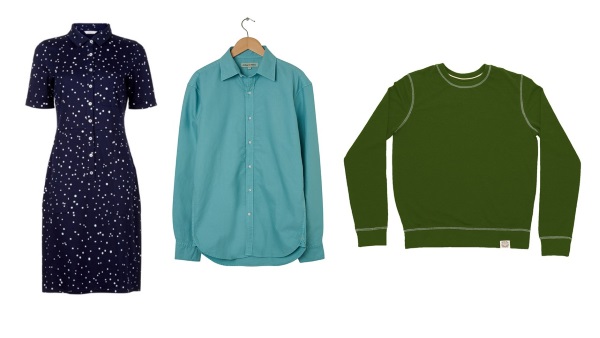 People Tree: Alexis Dress in Navy; Arthur&Henry: Blue Shirt; Epona Clothing: Sweatshirt.
3. Ask why?
How many times do we buy just because we can, because it's so cheap? But if something seems impossibly cheap, a bargain too good to be true, it probably is. Question 'why?'
4. Go artisanal
Look for unique artisanal crafts when you're shopping and you could be supporting the livelihoods of an entire community somewhere in the world or empowering the people who made it.
5. Customize – go charity shopping
At the speed at which we consume right now, last season's collections are in the charity shops in a matter of months. That means you can recreate your favourite looks, personalise them, and do your bit to stop perfectly good garments going to landfill.
6. You're hired
Hiring is new to the scene, but a great alternative if you can't afford the latest designer wares. You can hire celebrities' gowns, post Hollywood party pieces, ex-fashion photoshoot samples and a whole lot more. Why buy expensive stuff you might only wear once when you can hire it?
7. Swap 'til you drop
If you're bored of your wardrobe and in need of a fashion fix, then you could swap clothes with your friends. Go to a big swishing event, host your own swishing party or even swap your clothes online.
8. Buy vintage
Stylists use it, celebrities swear by it, and it's a sustainable way to buy. Vintage gives you personal style and means you'll be reusing, repurposing and extending the life of beautiful clothes. You can easily find places, physical and online, that will teach you amazing ways to customise, mend, transform and revitalise your clothes.
9. Tailor away
If you've fallen out of love with a piece of clothing, don't throw it out, change it up. You can tailor clothes to a different shape, add new embellishments, dye it a different colour. You could turn it into something completely new, like a scarf or an accessory.
10. Fix up, look sharp
If something's broken, fix it yourself or take it to a local tailor. A rip, a missing button or a stain should never stand in the way of you and a good outfit.
And finally…
Have a go
Why not think about making your own clothes? You'll have to learn how to sew a little bit, but once you start, you'll feel empowered to continue doing it. And then think about the possibilities!
It's great that you give your clothes to charity shops when you don't want them anymore. But our unwanted second hand clothing is becoming a problem for some countries in the developing world. According to Oxfam, More than 70% of the clothes donated globally end up in Africa, which has destroyed the economy for local tailors. Not that you shouldn't give your clothes to charity shops, you should! But consider more carefully where you choose to donate. For example, you might donate your clothes to help people get to back to work with organisations like Dress for Success or Smart Works. Or you might look out for local clothing drives to help the homeless, refugees or people in crisis.
Read more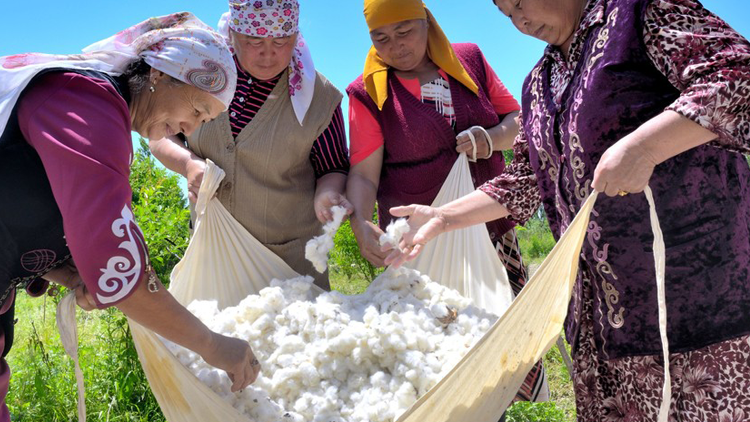 Don't forget cotton farmers during the Coronavirus pandemic Fairtrade warns the fashion industry
22 April, 2020
As the world faces the Coronavirus pandemic as one, we at Fairtrade are focusing on how the rapidly evolving crisis is affecting the farmers and workers who produce many of our favourite goods, including our most treasured outfits and our everyday clothes.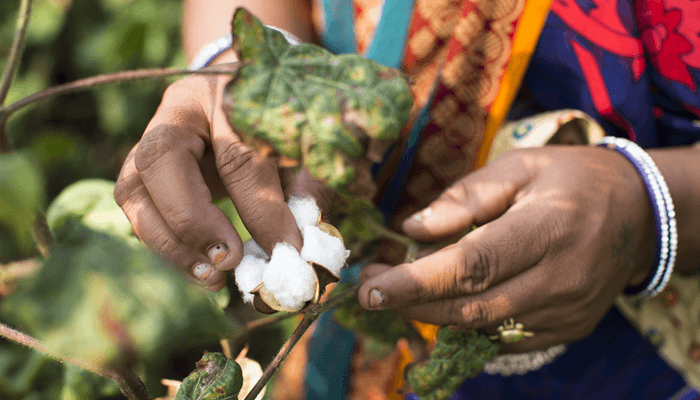 Top 10 Facts about Fairtrade Cotton
14 January, 2019
Cotton is the world's oldest commercial crop and is grown in more than 100 countries. How much do you know about this fibre and the people who produce it?