Here are eight fun fundraising ideas to help you raise money for charity.
Did you know the Fairtrade Foundation is a registered charity? Donations from passionate supporters are an essential part of our income. They allow us to bring Fairtrade to more farmers and producers and challenge unfair trade practices, so that the people who grow our food can trade their way out of poverty.
We've put together some great ways that you can fundraise for Fairtrade and make a difference to the lives of the people we rely on to grow our coffee, chocolate, tea and so much more.
1. Bake a difference with gingerbread
A great community or school fundraising idea, get baking to raise money for the farmers and workers who grow the ingredients in your gingerbread, like ginger, vanilla and sugar.
Check out our Super Simple Fairtrade Gingerbread recipe or download resources from the Fairtrade schools website.
2. Live Fairtrade for a day
Get inventive and see how much of your daily routine you can make Fairtrade!
Trade in that boring packed lunch for a delicious Fairtrade dining experience instead. You could bake a Fairtrade cake, wear some clothes made with Fairtrade cotton, drink Fairtrade cola (or wine if it's Friday!) and get some exercise using a Fairtrade sports ball.
Advertise your efforts to your colleagues, classmates, friends and family and ask them to donate to improve the lives of Fairtrade farmers and workers around the world.
See where you can buy Fairtrade products
3. Go the extra mile
Sign up to an organised race, go on a long bike ride or even just challenge yourself to that 5K run in the park you've always wanted to do but never quite had the motivation for… well now you do!
You can promote your challenge on Facebook and get your friends and family to donate and encourage you every step of the way.
4. Change your outfit to change the world
Let the world know that you're supporting Fairtrade by dressing up at your workplace, school or university. Ask people to sponsor your efforts and see if you can make any extra cash by offering to make Fairtrade teas and coffees for your friends and colleagues.
The more adventurous the better – you could dress up as a Fairtrade banana, coffee cup or chocolate bar!
Order a Fairtrade donation box
5. Hold a Fairtrade raffle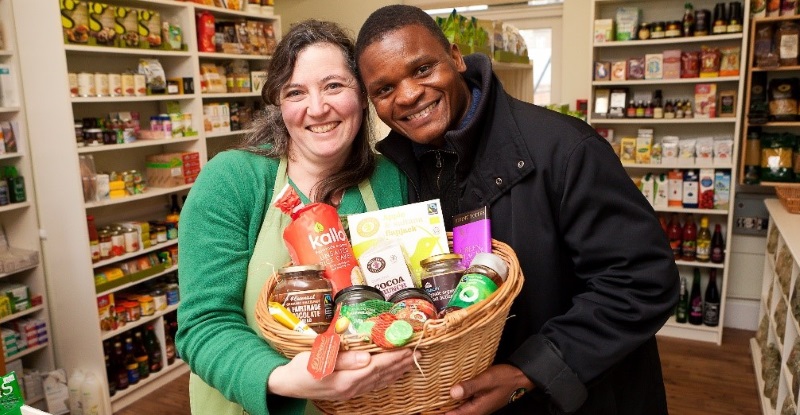 Another great way to raise money is to hold a raffle in your workplace or school.
Just head out to the supermarket and fill your basket with as many Fairtrade goodies as you can find. Then all you have to do is sell raffle tickets and donate the proceeds to help get a better deal for the farmers and workers who make the things we love!
6. Move the goalposts to make trade fair
Organise a football, rugby, netball or volleyball match with your friends and ask them to pay a match fee as a donation to Fairtrade. This is a great way to get people having fun, being active and supporting Fairtrade at the same time.
You could even use a Bala Fairtrade sports ball – Fair play!
Be sure to tell us about it on Twitter
7. Give while you shop
Did you know you can raise money for Fairtrade just by doing your online shopping?
With Amazon Smile, every time you buy a new book or garden hose through Amazon you can donate 0.5% of your purchase to Fairtrade! Make sure you go to smile.amazon.co.uk and choose Fairtrade before you complete your transaction.

With Give as you Live you can shop with thousands of leading online stores and the companies will donate part of the purchase price to your chosen charity.
8. Break a record to break unfair trade
Everyone loves a World Record, and there have been some amazing attempts to break records for Fairtrade over the years – everything from the longest line of bunting to the most bananas eaten in 24 hours! So why not come up with your own record attempt and ask people to sponsor you for your efforts?
You could create a Facebook Event so that all your friends know about it.
Get inspiration on the Guinness World Records website
What to do once you've raised the money
Once you've held your charity event or baked your Fairtrade treats and have collected the donations you can send the money to us by post or online.
By post – send us a cheque made payable to 'The Fairtrade Foundation' to FREEPOST RTZT-ACTL-BCGR, Fairtrade Foundation, 5.7 The Loom, 14 Gower's Walk, London, E1 8PY
Please do not to send cash in the post as we are unable to process it. And if you would like a certificate for your Town, Group, Faith, School or University, please provide your mailing address when submitting your donation.
You can send the payment online through our donation process:
Finally, a big thank you for all your hard work. Be sure to tell us about your support on social media.