By Heather Nicholson
A guide to eating delicious Fairtrade ice cream that supports farmers to care for the planet and receive a fair income for their goods; a win-win situation!
Did you know that one of the most popular flavours used in ice cream comes from an incredible plant which is notoriously tricky to grow? If you haven't already guessed it, we're talking about vanilla! Most of the world's natural vanilla comes from Madagascar, one of the most beautiful yet poorest countries in the world. Some fantastic ice cream makers like Ben & Jerry's support vanilla farmers to build a sustainable livelihood by sourcing through Fairtrade.
And that's just the start of your Fairtrade dessert experience! Many of the tastiest ways to prepare ice cream also involve Fairtrade products. We're talking coffee, soft drinks for floats, chocolate and sweet toppings to name just a few.
Next time you're craving a sweet frosty dessert, look out for the FAIRTRADE Mark and get inspired by these eight dreamy ice cream ideas:
1. Ice cream with espresso – Affogato
Pour a shot of hot strong coffee over a scoop of smooth vanilla ice cream Italian style. Try combining Waitrose's Fairtrade coffee and Fairtrade Duchy vanilla ice cream.
Waitrose suggest the following method to create the perfect Affogato:
Place 4 tall, shatterproof glasses in the freezer. When they're frosty, scoop top-quality Fairtrade vanilla ice cream into them. Pour a shot of Fairtrade espresso over each one and serve at once.
Coffee farmers face an uncertain future due to climate change. Many coffee farmers rely on coffee for their primary income. When disaster strikes, they often don't have savings or a plan B to fall back on. But belonging to a Fairtrade co-operative can offer a lifeline to farmers. It means they can access loans and training to support them through unpredictable weather patterns and other problems on their farms. Choosing Fairtrade supports them to keep producing top quality coffee beans.
Duchy vanilla ice cream from Waitrose
Fairtrade Sumatra Mandheling Coffee from Waitrose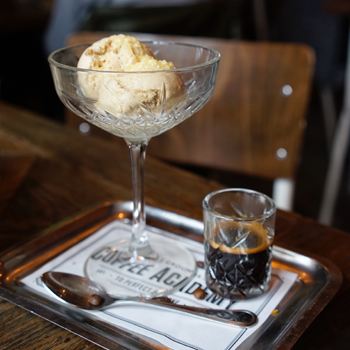 2. Peanut butter ice cream and banana milkshake (vegan)
Blend one large Fairtrade banana (skin going brown is best for sweetness) with your choice of milk – oat milk works great – with two scoops of Ben & Jerry's Peanut Butter & Cookies non-dairy ice cream and optional vanilla extract. Serve cold and frothy!
Ingredients
1 x large or 2 x small super ripe Fairtrade bananas from your local supermarket
Milk of your choice – oat milk works very well – use the glass you will serve your milkshake in to measure the milk. For two glasses of milkshake, use one and a half glasses of milk.
Fairtrade Vanilla extract (optional) from Waitrose – 1/3 teaspoon
Ben & Jerry's Peanut Butter & Cookies Non Dairy from Ocado – 2 scoops or to taste
Ben & Jerry's Peanut Butter & Cookies Non Dairy from Waitrose
Ben & Jerry's Peanut Butter & Cookies Non Dairy from Sainsbury's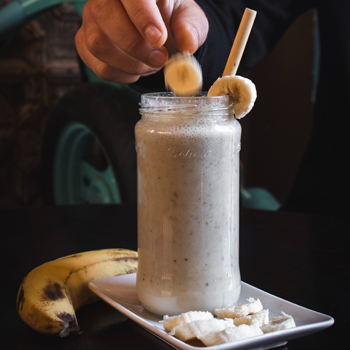 3. Ice cream to your door
In urgent need of ice cream? Get Ben & Jerry's ice cream delivered to your door takeaway style or through an online grocery shop.
This tub of Baked Alaska is proof of people power, having been resurrected from the flavour graveyard thanks to fan love.
Fairtrade farmers receive a Minimum Price to cover the sustainable cost of production, which also acts as a safety net when market price crash. Fairtrade co-operatives also receive an additional payment, the Fairtrade Premium to invest in democratically determined ways to improve their businesses, and enhance the wellbeing of their communities through better housing, health care, education and more.
Find Ben & Jerry's ice cream near me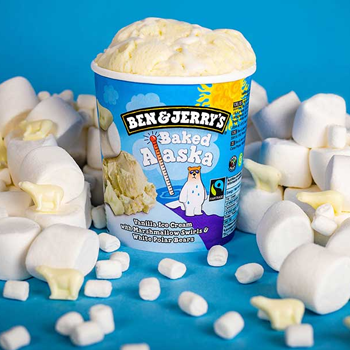 4. Ice cream lemonade with a twist
Lemonaid has a range of refreshing soft drinks made from organic fruit juice and a little Fairtrade cane sugar mixed with sparkling water.
Add a scoop of Waitrose's Duchy vanilla ice cream to a tall glass filled with Lemonaid's sparkling Lime or Passion Fruit for a tasty twist to the traditional lemonade float.
5p from every bottle goes to the Lemonaid & ChariTea Foundation which supports social projects in the growing regions.
Vanilla is one of the most labour intensive and time consuming of crops because of the need for hand pollination. This makes vanilla farming prone to child labour, and Fairtrade is working to protect children's rights and reduce child labour through community based monitoring. So you can make a difference next time you fancy an iced drink by mixing Fairtrade vanilla ice cream with Lemonaid's soft drinks.
Find your local stockist of Lemonaid
Duchy vanilla ice cream from Waitrose
5. Ice cream cola classic
The West African people who discovered cola have never made a cent from the world's most popular fizzy drink. Karma cola work with farmers in Sierra Leone who grow organic Fairtrade cola nuts.
Their cola is bursting with flavour. Add a scoop of Fairtrade vanilla ice cream and watch it fizz!
Duchy vanilla ice cream from Waitrose
Karma Cola from Waitrose, Karma Cola from Ocado, Karma Cola from Amazon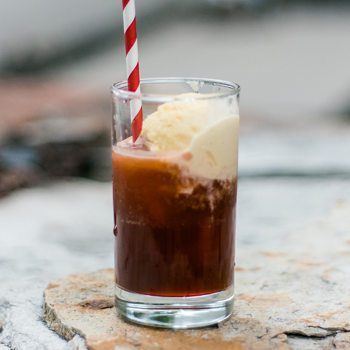 6. Ice cream recipe
Tempted to try your hand at ice cream making? Give this ultimate vanilla ice cream recipe from BBC Good Food a go. By using Fairtrade sugar and Fairtrade vanilla you can make a taste good, do good version!
Fairtrade enables farmer co-operatives to become stronger businesses by helping to raise quality, productivity, IT literacy and access to credit as well as by providing training in good agricultural practices, vanilla curing and more. Fairtrade is also supporting 'vanilla fairs' to enable vanilla farmers to promote their products by networking with international traders.
Where to buy Fairtrade vanilla
7. Ice cream toppings
Take your ice cream to the next level by sprinkling Zaytoun almonds, Fairtrade banana slices, Fairtrade jelly beans, Cocoa Loco chocolate buttons and pieces of Cotswold Fairtrade fudge on top. You could even whip up a caramel sauce using Fairtrade sugar. Share a pic of your creation with us by tagging @FairtradeUK.
Zaytoun Fairtrade almonds from Traidcraft
The Jelly Bean Factory from Traidcraft
Cocoa Loco chocolate buttons from their online shop
Cotswold fudge from their online shop
Caramel sauce recipe and where to buy Fairtrade sugar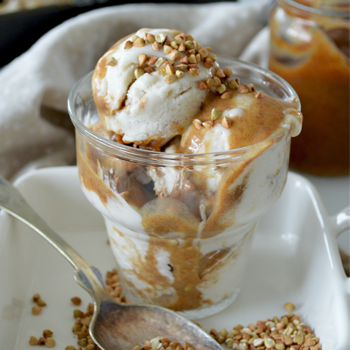 8. Low calorie ice cream
Ben & Jerry's delicious Moophoria range is light on fat but heavy on flavour. Try their new flavour Poppin Popcorn: buttery brown sugar ice cream with sweet and salty caramel swirl and chocolatey popcorn pieces.
Poppin Popcorn is made with Fairtrade sugar, vanilla and cocoa. Buying a tub of Ben & Jerry's means you're directly supporting farmers to get a better deal.
Find Ben & Jerry's ice cream near me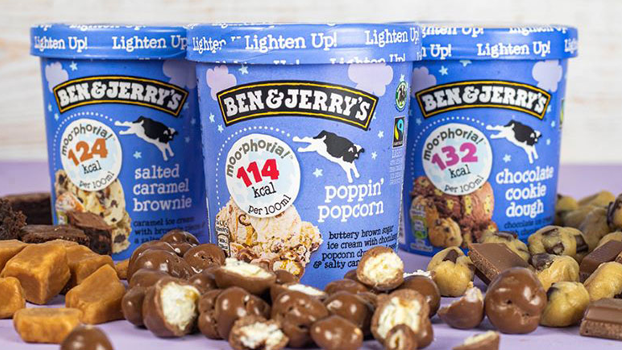 Related content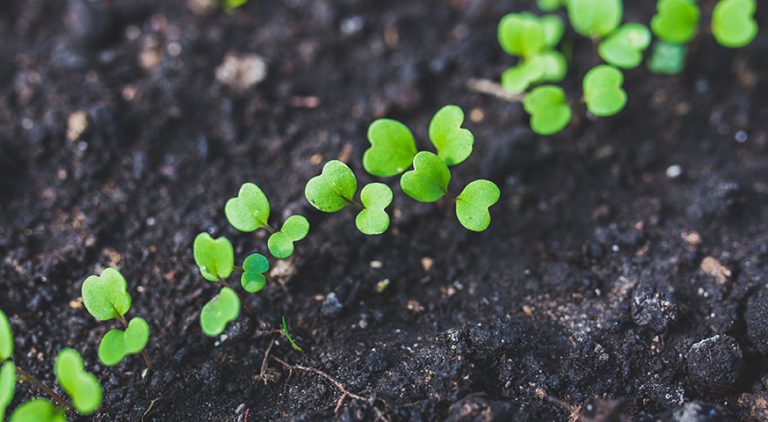 12 tips for reducing food waste
23 October, 2018
From food sharing apps to tasty leftovers, there are plenty of ways to combat food waste at home.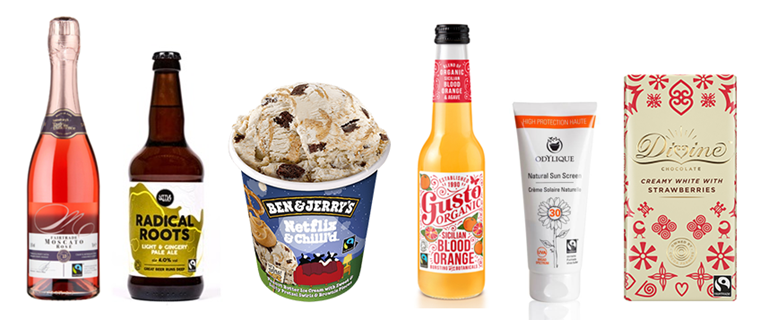 Top 12 Fairtrade summer products
19 June, 2020
Bask in the sun with these fantastic Fairtrade goodies.