by Amy Collis
Amy Collis in the Fairtrade commercial team shares some of the amazing products she's found whilst on the hunt for the most ethical choices.
I've spent years happily talking my friends' ears off about the importance of making conscientious and environmentally friendly choices, so when it came to talking Fairtrade and vegan, I was happy to join the discussion.
One of the questions we get asked at lot at Fairtrade is for products that are both Fairtrade and vegan. As consumers, we vote with our wallets every time we make a purchase, and, believe me, sometimes it is hard to know how to spend your vote – I once spent half an hour deliberating over vegan spreads trying to ensure that my 'vote' against intensive agriculture did not become a 'vote' for palm oil!
I was pleased to find just how many vegan Fairtrade products there are available. And on this search, it was interesting to find that many things I thought were vegan, may, in fact not be (wine, I'm looking at you).
1. The One that Blew My Mind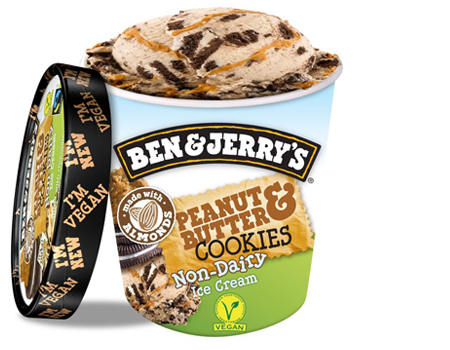 Ben & Jerry's Non Dairy Peanut Butter and Cookies
Words cannot describe how good this is. There are a variety of flavours available, including the classic Chunky Monkey and Chocolate Fudge Brownie, but not much beats peanut butter in my book.
The Non-Dairy Range is made with almond milk and is certified vegan. All of the cocoa, sugar, bananas and vanilla used in the range are Fairtrade certified.
Available in most supermarkets.
2. The One that Goes with Everything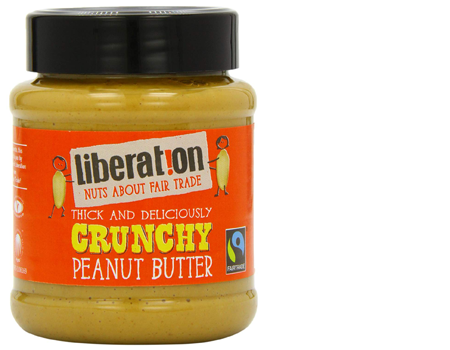 Liberation Crunchy Peanut Butter
Did I say I love peanut butter? This one by Liberation is not only yummy, but buying it supports peanut farmers in Malawi and Nicaragua. Liberation is 44% owned by the farmers who grow the nuts that are used in their products, and their Fairtrade Premium contributes to community development projects.
Where to buy: Peanut Butter from Traidcraft, Peanut Butter from Ethical Superstore, Peanut Butter from Oxfam and selected Waitrose stores.
3. The One for Film Nights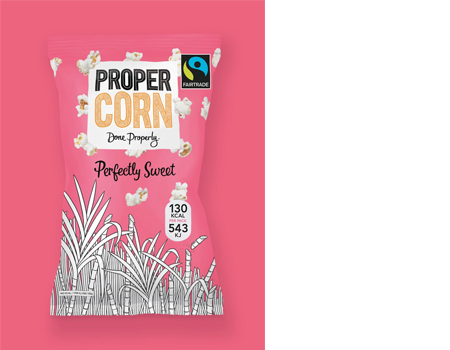 Propercorn Perfectly Sweet Popcorn
Did you know that the lovely guys at Propercorn tested 5 types of sugar before choosing Fairtrade raw cane sugar? This popcorn is great to munch on while watching a movie. The only thing is, you might not want to share it!
Where to buy: Propercorn from Waitrose, Propercorn from Ocado, Propercorn from Sainsbury's and other major retailers
4. The One for a Night In

Co-op Fairtrade Wines – Co-op Fairtrade Rosé
Did you know that some wine isn't vegan? I didn't! Luckily it's Co-op to the rescue with their enormous selection of vegan and Fairtrade wine and this particular Fairtrade Rosé is perfect for enjoying with friends. What's more, money raised from sales is contributing towards numerous community development projects in La Riojana, Argentina.
Where to buy: the Co-op
5. The Pampering One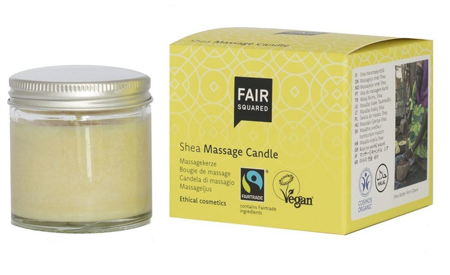 Fair Squared Shea Massage Candle
Made with Fairtrade cocoa butter, coconut oil and carnauba wax, this vegan candle is two-in-one. It releases a subtly citrus aroma, and the warm oil from the candle can also be applied to the skin as a soothing balm or massage oil. Clever!
Where to buy: Shea Massage Candle from Amazon, Shea Massage Candle from Fair 2 Me online
6. The One for the Gym (or when you're peckish)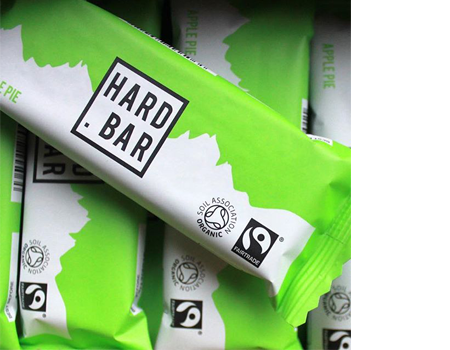 Hard.Bar Energy Bars – Swedish Apple Pie
The guys at Hard. Bar are rock stars… literally (they come from a mountaineering background!). The range, which uses Fairtrade apples, almonds and cashews, has two Fairtrade flavours: Orange and Cocoa, and Swedish Apple Pie.
Where to buy: Hard Bar available from their online store
7. The One for the Sun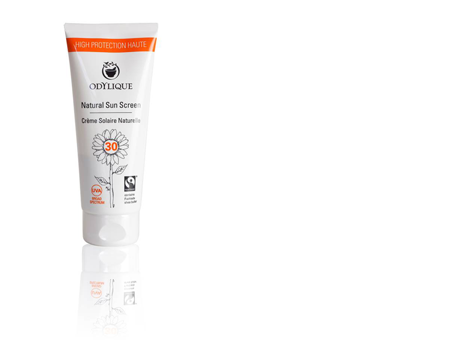 Odylique Natural Sun Screen SPF30
As this year we have been lucky enough to have had one of the best summers I can ever remember, it's even more important to be diligent with sun protection. This sun cream from Odylique is great for sensitive skin – all natural ingredients, recyclable packaging, full UV protection and certified cruelty free.
Where to buy: Odylique sun screen from their online store
8. The One That's a Bit Different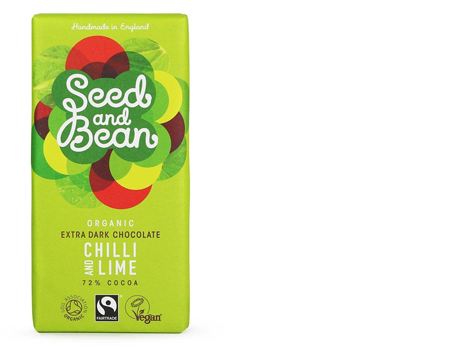 Seed & Bean Chilli & Lime Extra Dark Chocolate Bar (72% Cocoa)
Now this has everything you want in a chocolate bar – Fairtrade cocoa – check; vegan – check; unusual – check; tasty – you bet! Seed & Bean are experts at mixing unusual flavour combinations. Other vegan Fairtrade options include Lemon & Cardamom, Lavender, Aromatic Fennel and Sweet Orange and Thyme.
Grab a couple of bars from Seed & Bean online or other online retailers.
9. The One for a Coffee Break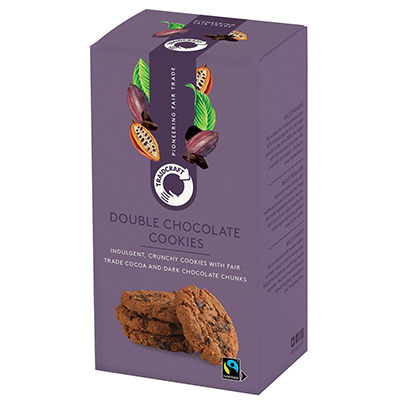 Traidcraft – Double Chocolate Chunk Cookies
These double chocolate chunk cookies are the perfect treat to dunk in your coffee or tea or to share with friends, if you can resist the temptation. Each cookie is lovingly baked with Fairtrade cocoa, and studded with chunky nuggets of fair trade dark chocolate and a sprinkle of Fairtrade sugar. They also contain organic and fair trade palm oil, FairPalm, which is produced by smallholder farmers in Ghana.
Where to buy: Double chocolate chunk cookies from Traidcraft
You might also like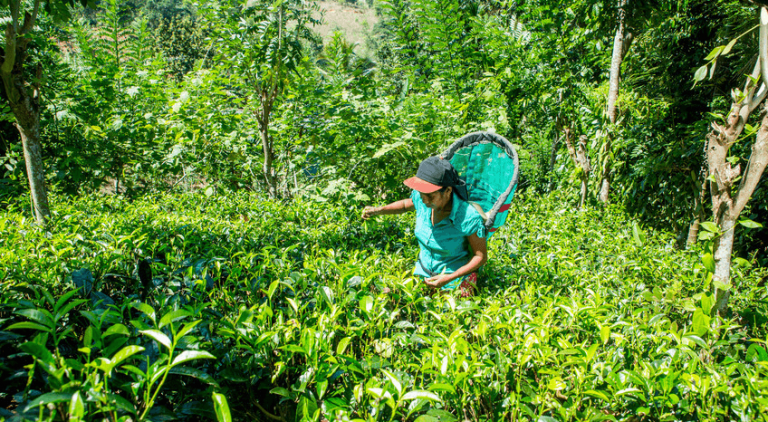 5 ways Fairtrade farmers help protect flora and fauna
20 May, 2020
Tackling climate change is at the heart of the fair trade movement, as it threatens the livelihoods of those we are working to protect.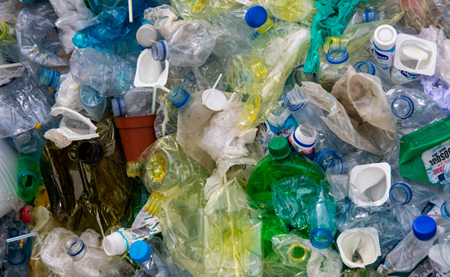 7 Fairtrade Switches to cut your plastic use
18 November, 2019
Take the standard supermarket product. We buy it, consume it, discard it. But we all know that a product's life is longer than that. Fairtrade works to shed light on what happens before you buy a product but what happens after you discard it matters too.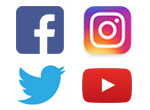 Support Fairtrade when you follow, share or like our social posts.

Sign up to email updates from Fairtrade to hear about products, petitions, competitions and more.