CAFESUL was founded in 1998. Located in south west Brazil, the co-operative consists of over 180 small holder farmers, both men and women. With the rich soil and balmy climate, there is a potential to grow the world's best coffee. In early 2000s however, very low prices of coffee created a serious problem for farmers: prices fell below the cost of production and there was little incentive for farmers to carry on, invest in farms and the quality of the product.
Things changed when we became Fairtrade certified in 2008. A meeting with a Fairtrade representative from Germany who visited a co-operative in the region countered our fears and uncertainties about staying in the business. The safety net that Fairtrade offered eventually inspired us to apply for the certification and continue coffee production.
Focus on quality
Whilst the Fairtrade Minimum Price protects the farmers against volatile prices, and the extra income from the Fairtrade Premium helped us provide technical support, IT lab and first aid courses for farmers as well as equipment for workers. With the Premium, we also funded water reserves to mitigate adverse impacts of the warming climate and a project for women to learn to cook artisanal food – a skill they use to earn extra money when we don't harvest coffee.
A stable income helped farmers invest in increasing the quality and productivity of their crop, to become competitive in the market.
Coffee is generally classified into two types of beans: Arabica and Robusta. High quality coffee is paramount. The focus on quality has been dictated by ever more sophisticated market demand. To meet the demand, roasters use our Robusta (up to 40%) in blends with Arabica. In the last six years, we have won numerous awards for the quality.
All in all, Fairtrade has had a positive effect on the quality of life for the farmers, their families and the community.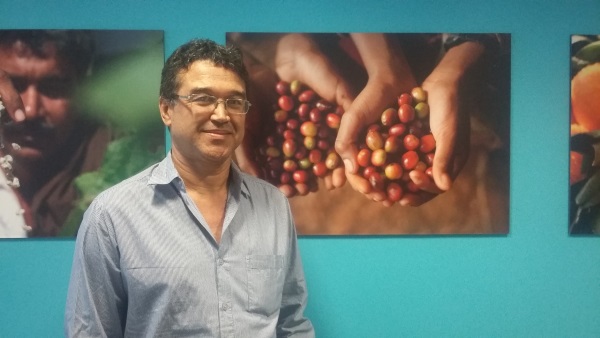 Climate change damages production
Climate change is the most urgent problem we face, because it creates a cycle of volume and value decline. Droughts cause reduction in production and therefore income – this means we earn less money and have less money to spend on projects mitigating the impact of climate change.
We have experienced three years of severe drought that have halved production. This year, we have had more rain but overall droughts are becoming more frequent.
The quality of Robusta is determined by the size of coffee beans and so the shortage of water we may experience during drought affects the size of the beans.
To mitigate negative effects of climate change, we have developed a soil conservation program. We have been reforesting the areas surrounding natural water sources with native plant seedlings, and creating reservoirs to collect rain water. This holistic approach allows water to be absorbed by the soil in order to improve the water-table reserves. This is also making the streams and springs less prone to droughts as well as preventing soil erosion. We have also installed water tanks on farms so that we have enough water when the drought hits.
But more needs to be done by governments and the industry to research into resistant coffee strands, and to carry out reforestation globally. We need to scale up programmes of combating climate change.
After all, farmers, including coffee growers, produce food for everyone. If farmers face challenges, people living in cities are affected too. We are all connected and so we need to start sharing responsibility for our planet and pay more attention to where products come from.
An eye-opening journey
Fairtrade is very different to other certifications. The Fairtrade Standards relate to all key areas of trading and farming. This means farmer co-operatives can be more confident in everything they do, and most importantly, are stronger economically and can build a stronger market.
The movement has shown it can work for farmers when businesses pay a fair price and work closely with farmers. We need more Fairtrade. It is not just about selling a product, fair trading has encouraged companies to take responsibility for ensuring the product is sustainably produced, and to invest directly in farming. In order to understand the current challenges of farming, businesses need to have close and direct relationships with people working on the ground. Only then can we achieve sustainability.
Finally, through Fairtrade, consumers can learn the human story of the product they buy, how it is grown, and how we farmers care about the environment as much as they do.
You can follow CAFESUL on Facebook
In order to support farmers like Carlos, buy Fairtrade coffee.
You might also like
Coffee traders, roasters and retailers must face the fact that not paying a fair price to farmers risks the future economic sustainability of the global coffee business.

Follow us on social media

Support Fairtrade when you follow, share or like our social posts.

Sign up to email updates from Fairtrade to hear about products, petitions, competitions and more.