At 66 million tons annually, palm oil is the most commonly produced vegetable oil and can be found in almost half of our everyday purchases.
Palm oil is hidden away in shampoo, lipstick and candles as well as foods such as bread, chocolate and instant noodles.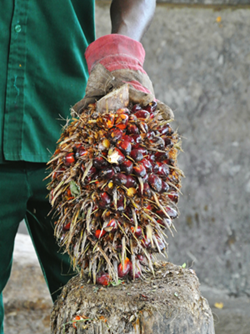 Palm oil is a major part of the economy in places where it's farmed, helping to lift people out of poverty. But there's a catch, the problem stems from where palm trees are grown. Oil palm plantations are developed in low lying, wet, tropical areas – where rainforests and peatland grow and endangered species such as orangutans and tigers live. Clearing for oil palm plantations is devastating for wildlife, habitats, people and climate change.
Much of the palm oil we consume everyday isn't sustainable. Brands understand that people are trying to avoid palm oil so some hide it in their list of ingredients under different names such as 'vegetable oil', or 'vegetable fat'.
Sustainable palm oil products
The good news is we don't have to avoid all products with palm oil. Some companies source sustainable palm oil, made with respect for the environment and local communities.
Traidcraft joined with the Serendipalm co-operative in Ghana and Natural Habitats in Ecuador to produce Fairtrade, organic palm oil in a way that supports smallholder growers and allows the palm plants to grow naturally. The palm plants are separated with cocoa trees and a whole range of wild flora, protecting the environment and creating habitats for local wildlife. Both sources are committed to fair trade and organic practices, and support the growers with agricultural training and health care. Neither source use any chemical nasties to increase production or reduce pests – they use organic methods and encourage the palm fruits to grow at their own pace. Traidcraft called this new oil FairPalm.
Traidcraft mixed together FairPalm, Fairtrade coconut oil from India, and a bouquet of natural essential oils to create Clean & Fair, the world's first Fairtrade cleaning range. Not only does every purchase of Clean & Fair ensure that growers are paid fairly, communities are given a Fairtrade premium to spend on initiatives, and environments are being preserved. All Clean & Fair eco-cleaning products are hypo-allergenic, paraben-free, aren't tested on animals, and are made with eco-friendly, plant-based ingredients.
Standing up for fairness is just as much about making a positive change to our everyday attitude and lifestyle as it is about fighting for what's right. By choosing products made with sustainable palm oil, we can stand up for fairness, for human rights, for wildlife, and for the environment – all at once.
In the lead up to World Fair Trade Day we are asking people to Stand For Fairness with us: Sign up to email to receive news of petitions, events and campaigns. Stand with us to ensure that the millions of people who grow the things we eat, drink and wear, have enough to feed and clothe their own families.
Find out more about Traidcraft.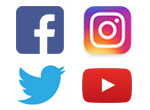 Support Fairtrade when you follow, share or like our social posts.

Sign up to email updates from Fairtrade to hear about products, petitions, competitions and more.