With Christmas on the horizon we've put together a list of 40 ethical gift ideas that you can buy online for Christmas 2020.
Sustainable, Fairtrade and with people and planet at their heart, giving a gift that has been sustainably sourced or ethically produced by people who have been fairly paid makes for warm feelings all round.
Ethical gifts for 2020 – Fairtrade Advent Calendars
1. Divine Vegan-friendly dark or milk Chocolate Advent Calendars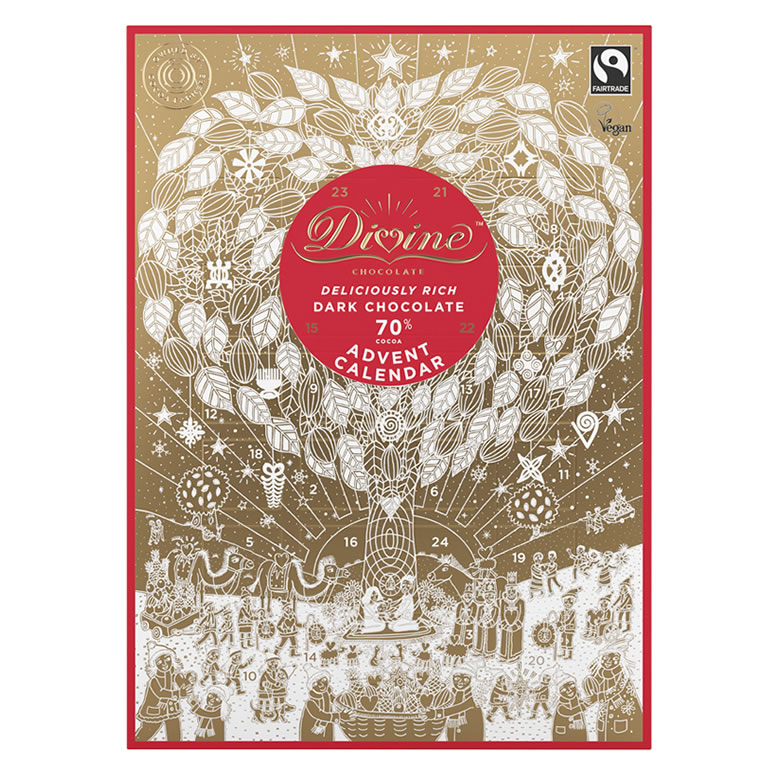 Divine's dark chocolate Advent calendar (pictured) is vegan-friendly, made with deliciously dark, rich 70% cocoa.
If you prefer milk chocolate, choose the smooth milk calendar. Both are free from palm oil and made with 100% Fairtrade cocoa from Ghana. A cocoa co-op of family farmers in Ghana owns a stake in Divine, which means the farmers receive a fair share of the profits they help to create.
£4.99. Available in Oxfam, Ethical Superstore, Traidcraft, Ocado and elsewhere.
2. the Real chocolate company advent calendar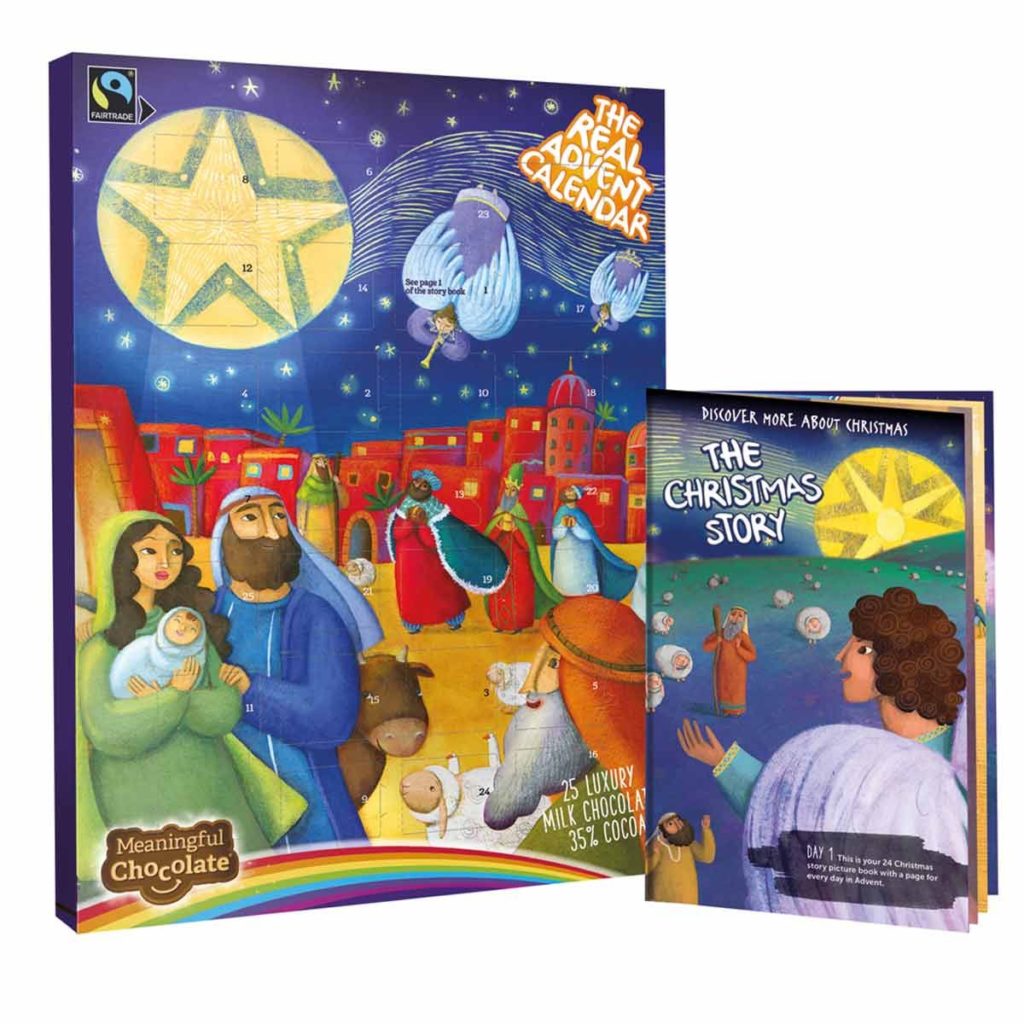 This Fairtrade chocolate Advent calendar from the Meaningful Chocolate Company provides a sweet way to share the traditional Christmas story with children and discuss the importance of fair trade values while enjoying the Fairtrade chocolate.
£3.99. Buy the calendar online at Traidcraft
Bonus: Win prizes worth over £2,500 in fairtrade's virtual advent calendar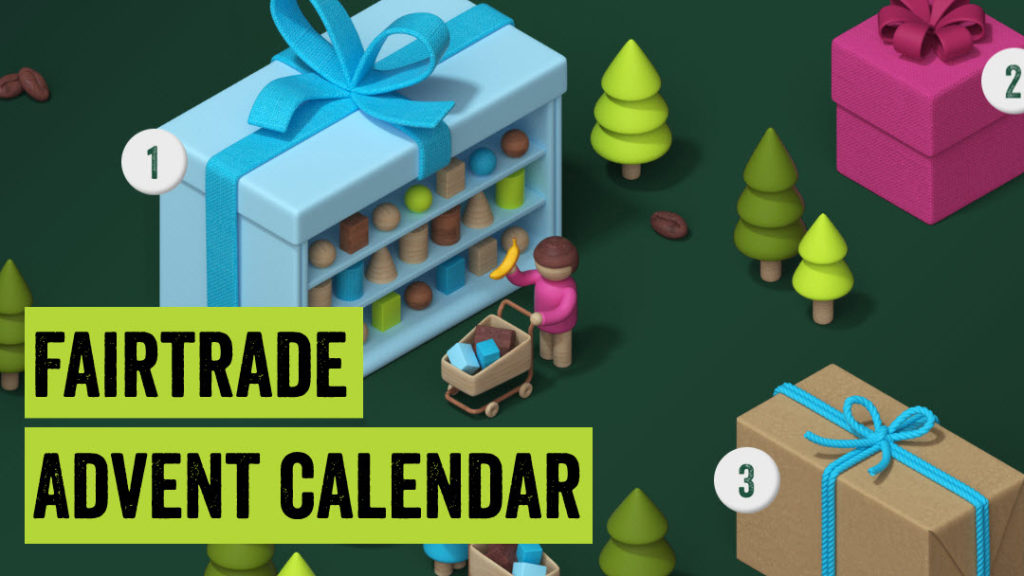 24 exquisite Fairtrade prizes to be won, including a year's supply of tea, beautiful Fairtrade Gold jewellery, £100 worth of wine, a coffee and cake bundle including Fairtrade coffee syrups and an ethical smart phone.
For a chance to win open today's door!
Ethical stocking fillers
3. Responsibly sourced vanilla lip balm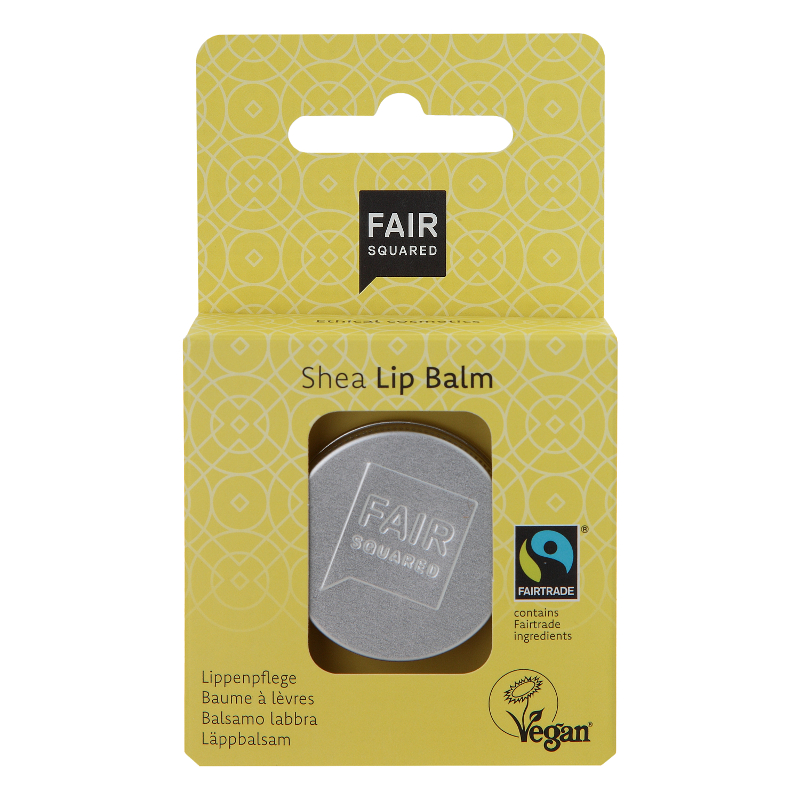 Keep lips protected from winter cold with Fair Squared's Shea Vanilla Kiss lip balm. Made with Fairtrade apricot kernel oil, almond oil and shea butter, it has a delicious vanilla scent. Also available in lime, almond and sensitive apricot.
£5.45. Available to buy from Natural Collection
4. Fairtrade Chocolate coins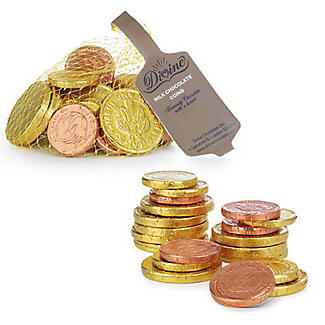 A Christmas stocking must-have, choose Fairtrade chocolate coins and know that the farmers also received a decent amount of coins for their cocoa.
From £1.92. Buy Divine chocolate coins at Oxfam online or instore, online at Ethical Superstore or Lakeland.
5. Sustainable Christmas bath bomb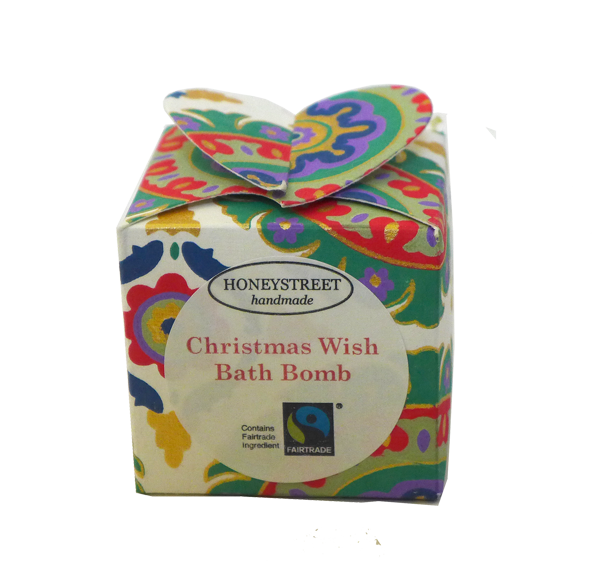 Bomb the bath with this festive scented Fairtrade bath bomb from Honey Street Handmade. Rich and relaxing, it is handmade using pure essential oils including Fairtrade apricot kernel oil.
The pretty box is made from recycled cotton paper, that has been hand printed by a Fair Trade group in Jaipur.
£4.50. Buy the Fairtrade bath bomb from Honey Street Handmade
6. Vegan Fine Hazelnut chocolate Pralines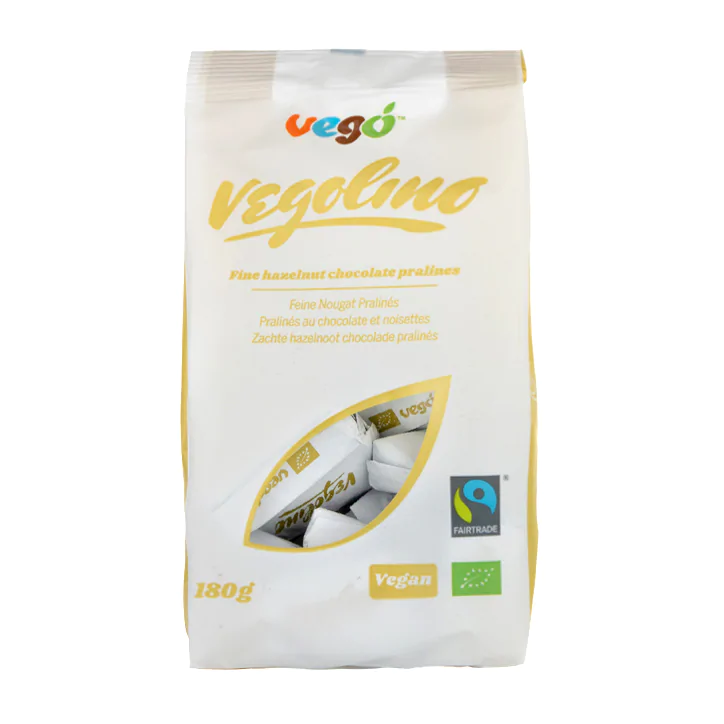 Deliciously rich and creamy pralines, made with Fairtrade, organic cocoa. A lovely treat for any chocoholic to wake up to on Xmas morning. Made by VEGO, they're vegan, contain no soya or palm oil.
£4.99. Shop online at Holland & Barrett or in-store at most independent organic health stores.
7. Melting hot chocolate bombes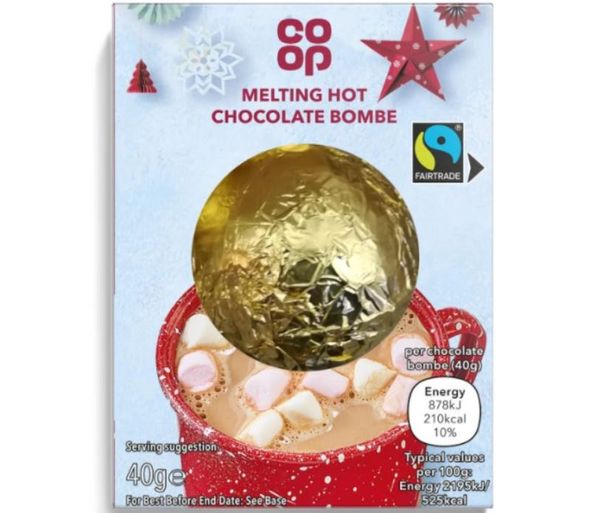 Made with Fairtrade cocoa, these chocolate bombes from Co-op are filled with marshmallows. Pop one in a cup, pour over hot milk, the chocolate melts and the marshmallows come to greet you at the surface of your delicious hot chocolate milk. Stock up for the entire winter!
£1.50 each. You can now shop online at Co-op or buy in-store.
Fairtrade christmas chocolate
8. Co-op's luxury belgian chocolate selection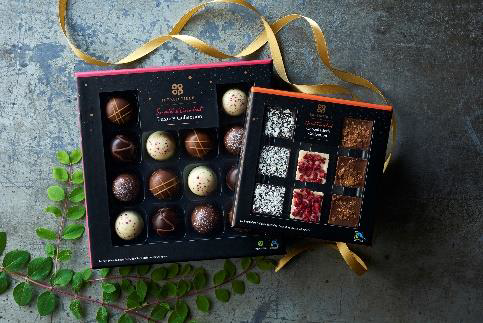 Rich, smooth Belgian chocolate, made with Fairtrade cocoa and filled with a selection of decadent centres from praline to zesty Valencia orange.
£6. You can now shop online at Co-op or buy in-store.
9. Tony's Chocolonely christmas Edition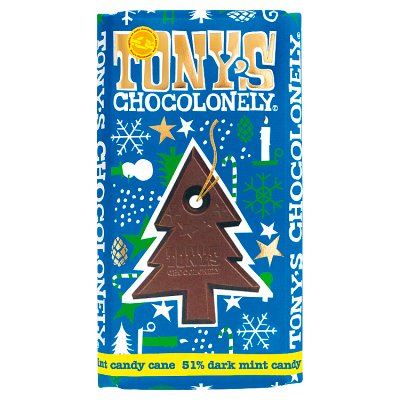 It's the most wonderful time of the year, made even better by the addition of two special festive flavours to Tony's deliciously chunky collection. Choose from 51% dark chocolate with mint or the milk chocolate gingerbread.
If you can resist eating the whole bar in one go, you can break out the Christmas tree shape and hang it on your tree as a decoration.
From £3.49. Buy online from Waitrose, Ocado, Sainsbury's or your local ethical stores
10. Santa's Christmas treat box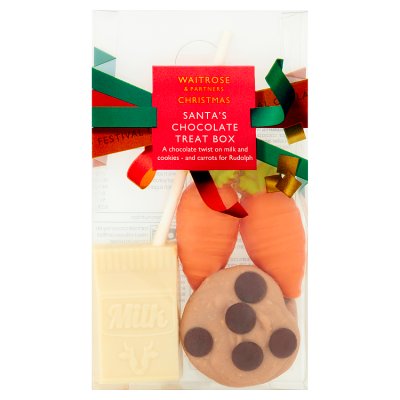 A fun chocolate twist on carrots, milk and cookies for Santa and Rudolph! These shaped chocolate treats from Waitrose are made with Fairtrade cocoa – as are all their own-brand chocolate products. Sweet!
£4.00. Buy Santa's Christmas Treat chocolates in store or online at Waitrose
11. Seed and Bean Vegan Christmas Cracker

This is a cracker of a cracker, containing four flavoured dark chocolate mini bars. What's more, they're vegan, organic, Fairtrade and the packaging is fully compostable. Boom!
£7.49. Buy online from Seed and Bean and Ethical Superstore
12. Lidl's Deluxe chocolate fondant creams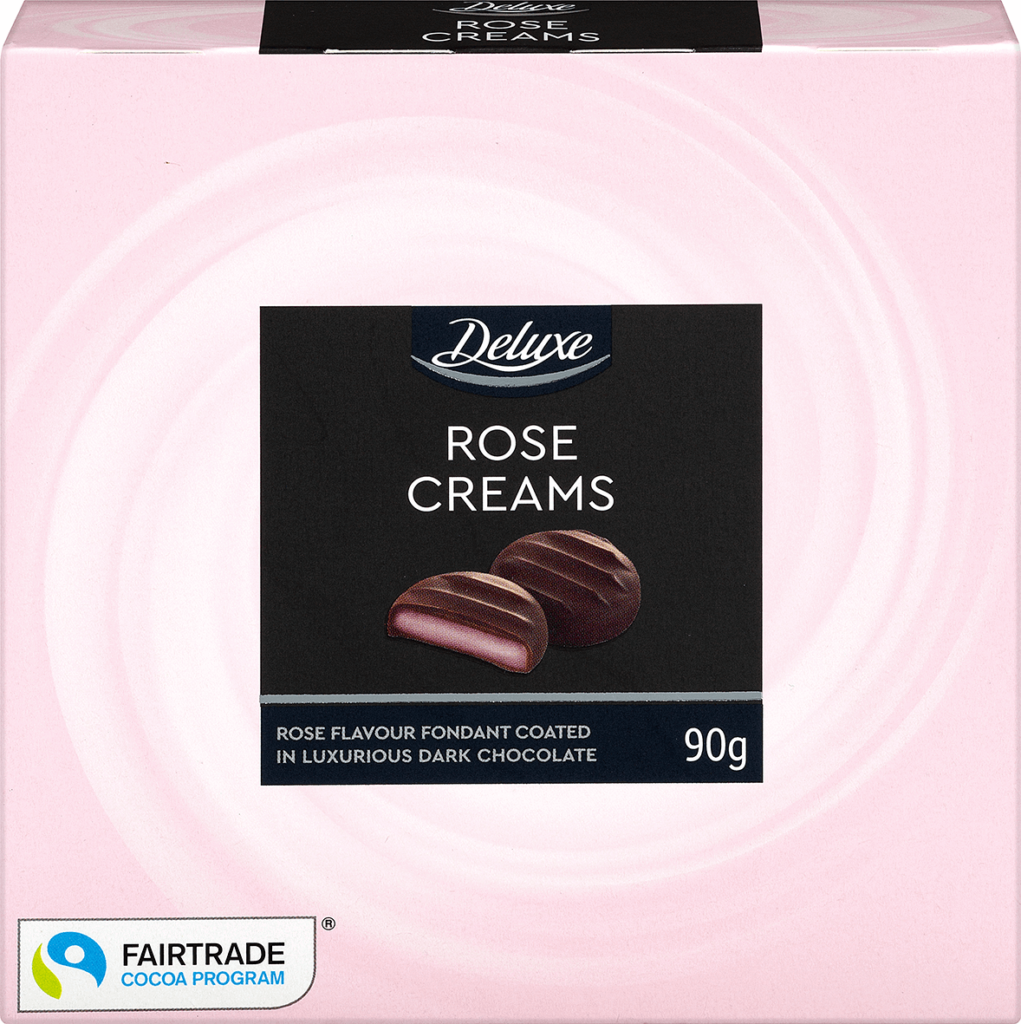 Live near a Lidl? Lucky you! Pick up a gorgeous box of Fairtrade chocolate covered ginger pieces, or go for rose, violet, orange or mint fondant creams. Yummy!
ethical foodie gifts
13. Cafédirect's Christmas Blend organic coffee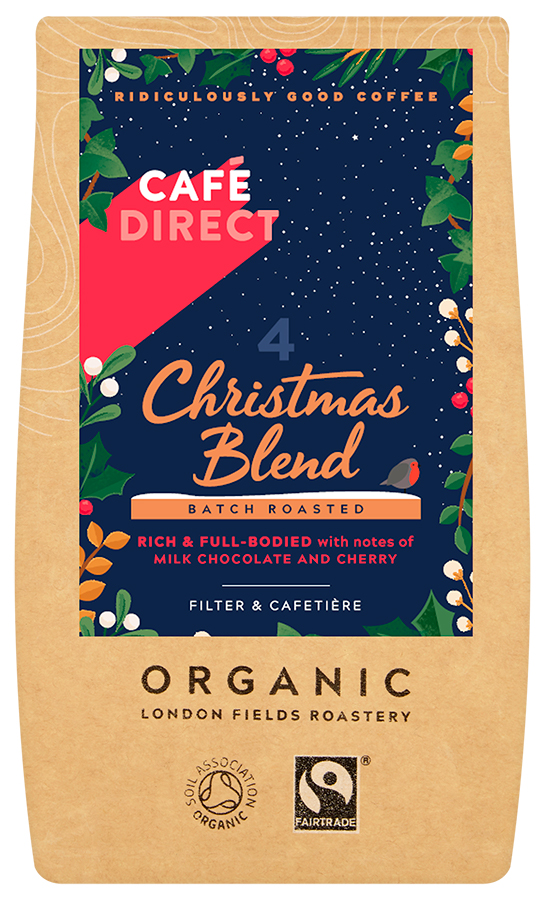 Cafédirect's limited edition Christmas blend is a rich and full-bodied coffee with notes of dark chocolate and spices. Small batch roasted in their London Fields roastery, it's organic and Fairtrade. The workers at El Cipres are treated with dignity; earning a sustainable wage and being provided daily meals and coffee.
£4.99. Currently stocked with Traidcraft, Ethical Superstore and Natural Collection.
14. Chocolate making kit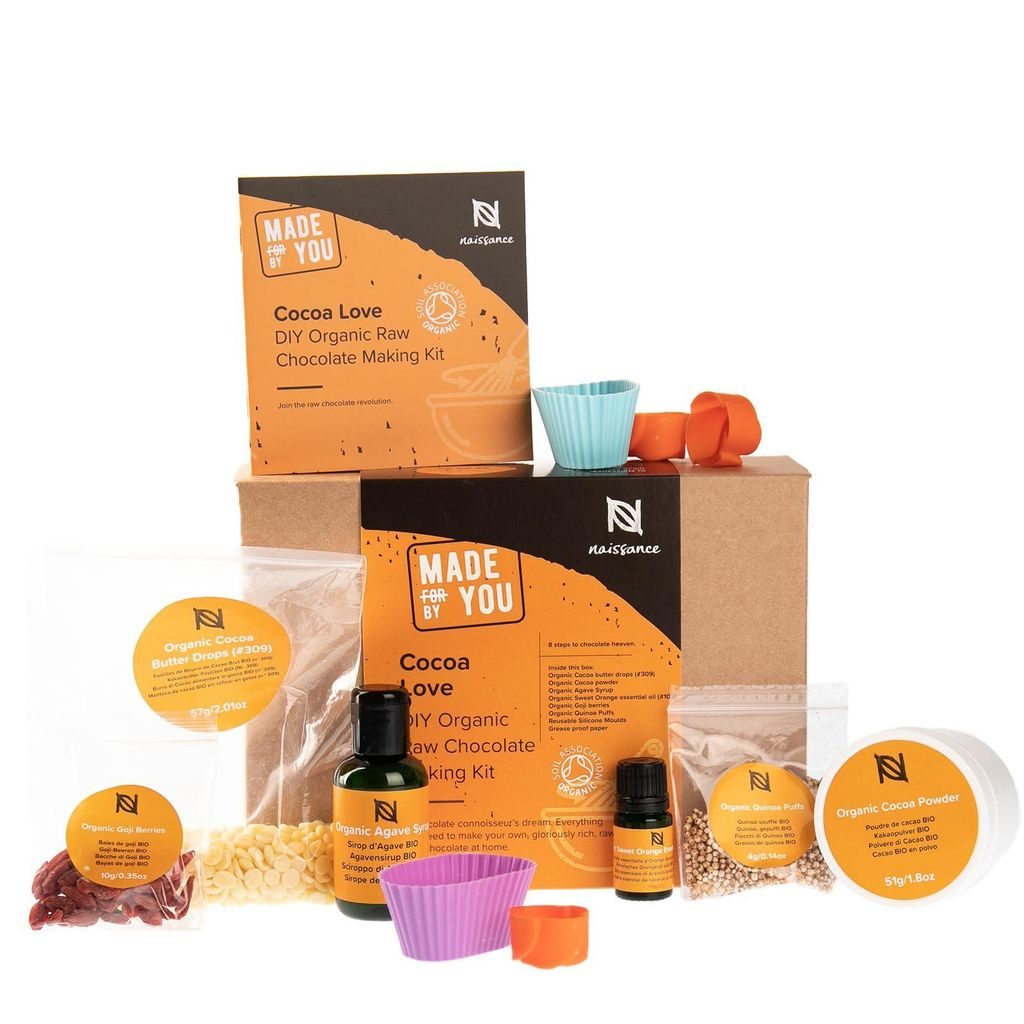 A great gift for people who have enjoyed making and baking during lockdown. Naissance Raw Organic Chocolate Making Kit contains everything you need to make your own dark chocolate at home. With organic ingredients and Fairtrade cocoa butter you'll be all set to make vegan-friendly treats for yourself or to give as a gift.
£21.99. Buy this chocolate making kit online at Naissance
15. Zaytoun artisan gift set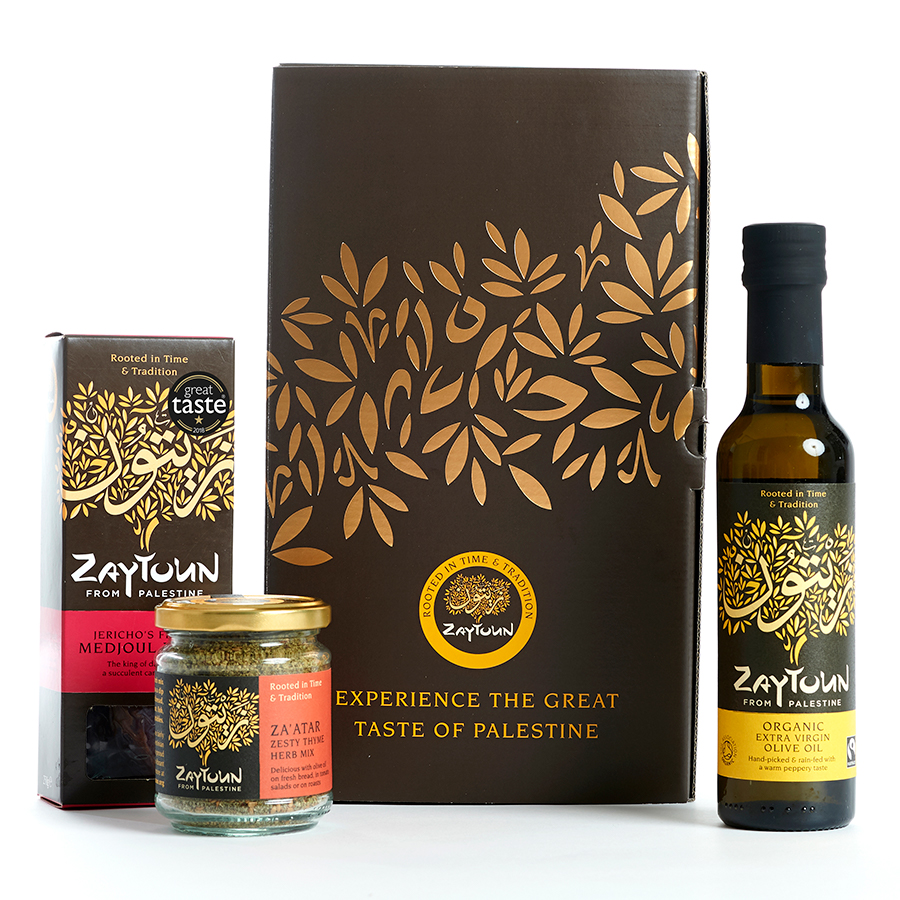 This Palestinian artisan food hamper is a box of flavour inspiration. Containing Medjoul dates, Za'atar, organic Fairtrade olive oil and recipe cards, it has everything you need to liven up Christmas dinner leftovers.
£21.95. Buy online from Ethical Superstore
16. Divine Baking hamper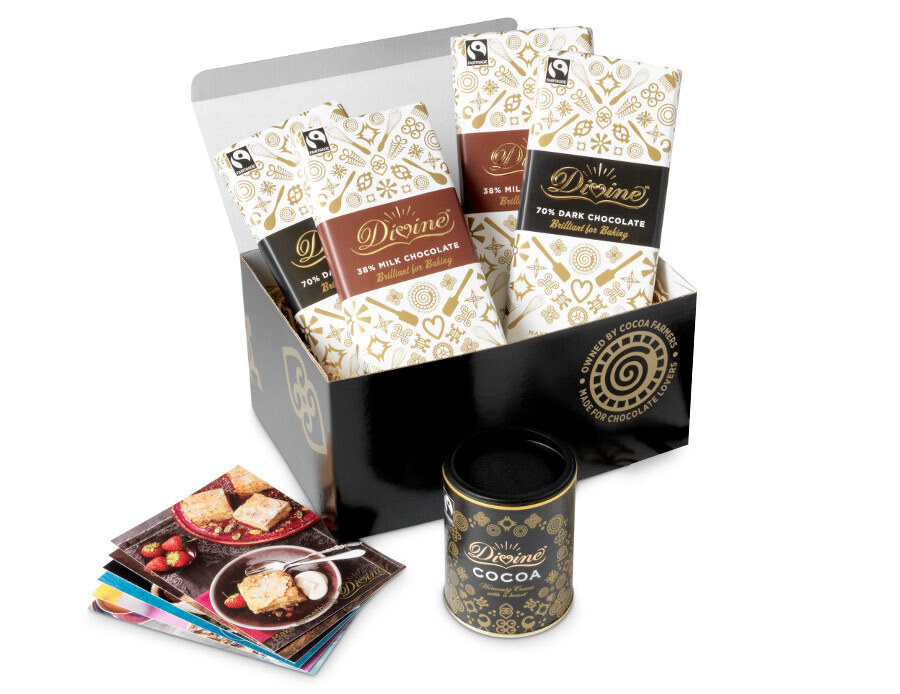 This Divine baking hamper contains dark and milk Fairtrade chocolate, Fairtrade cocoa powder and recipe cards to keep you baking over the Christmas break.
£19.99. Buy online from Ethical Superstore
17. Afternoon tea hamper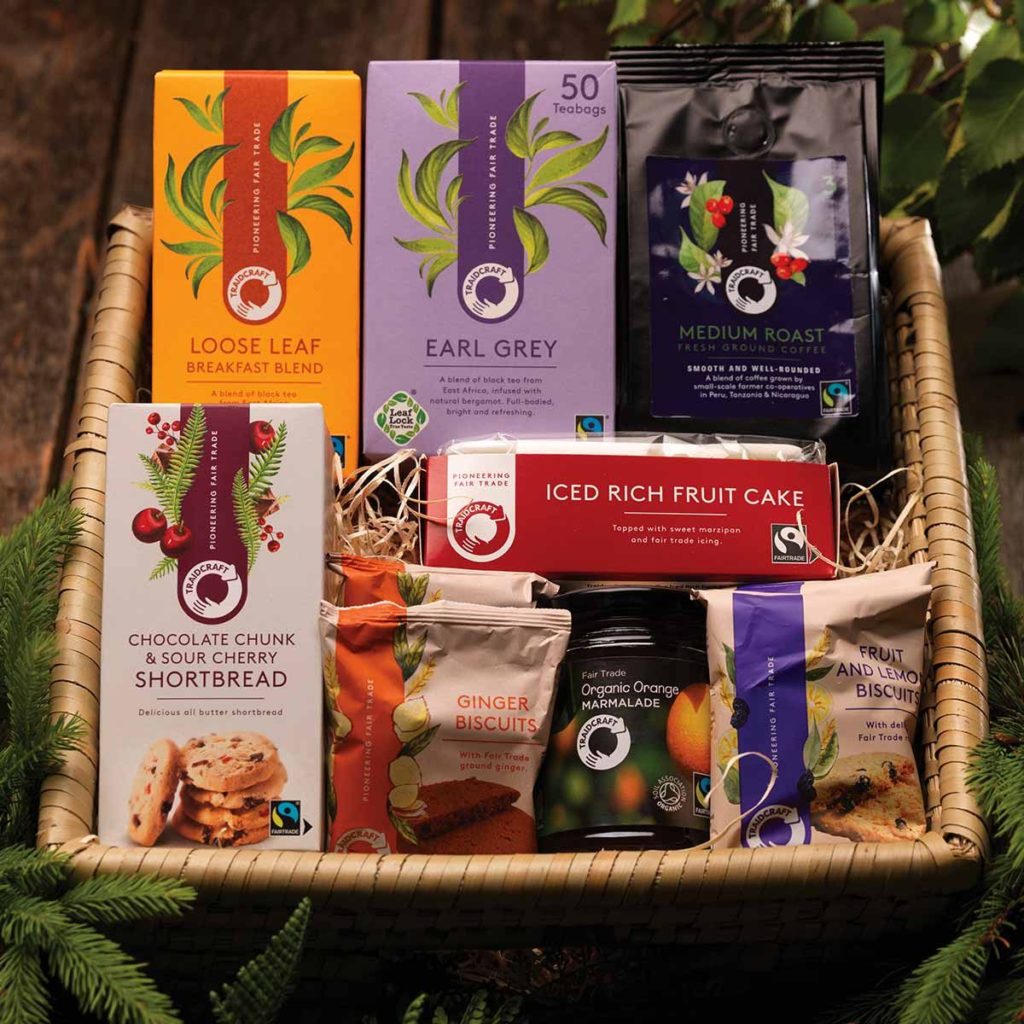 Put together a Fairtrade hamper from your favourite products, wrap up in colourful fabric for a re-usable alternative to wrapping paper. Or choose from a selection of hampers at Traidcraft, with themes including festive, organic and our favourite, afternoon tea. Don't mind if I do.
£35. Available to buy from Traidcraft online
18. London Tea Company gift tins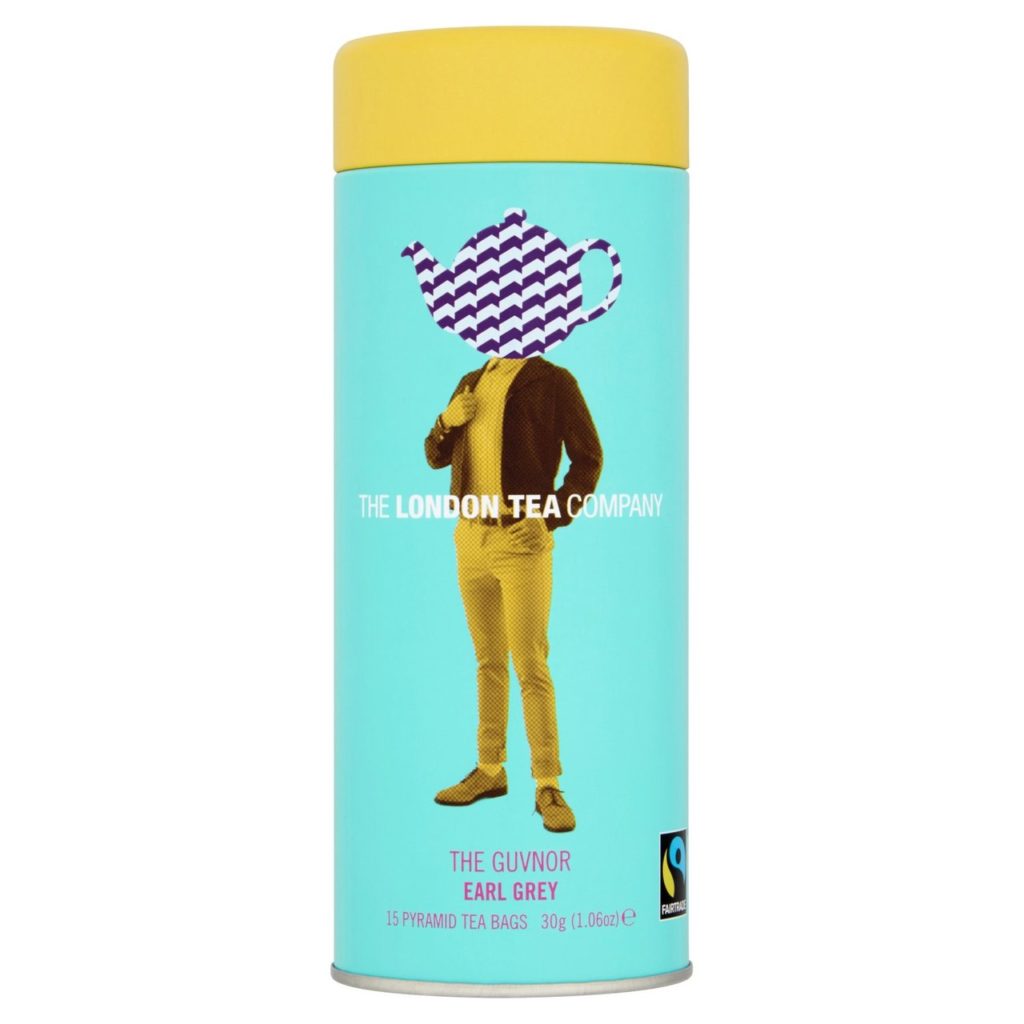 We love these quirky and colourful tins of tea from the London Tea Company. Choose from Jasmine, Earl Grey or traditional breakfast tea – or treat someone to all three.
£7.95 each. Buy online from Ocado
19. Steenbergs mulled wine Spice mix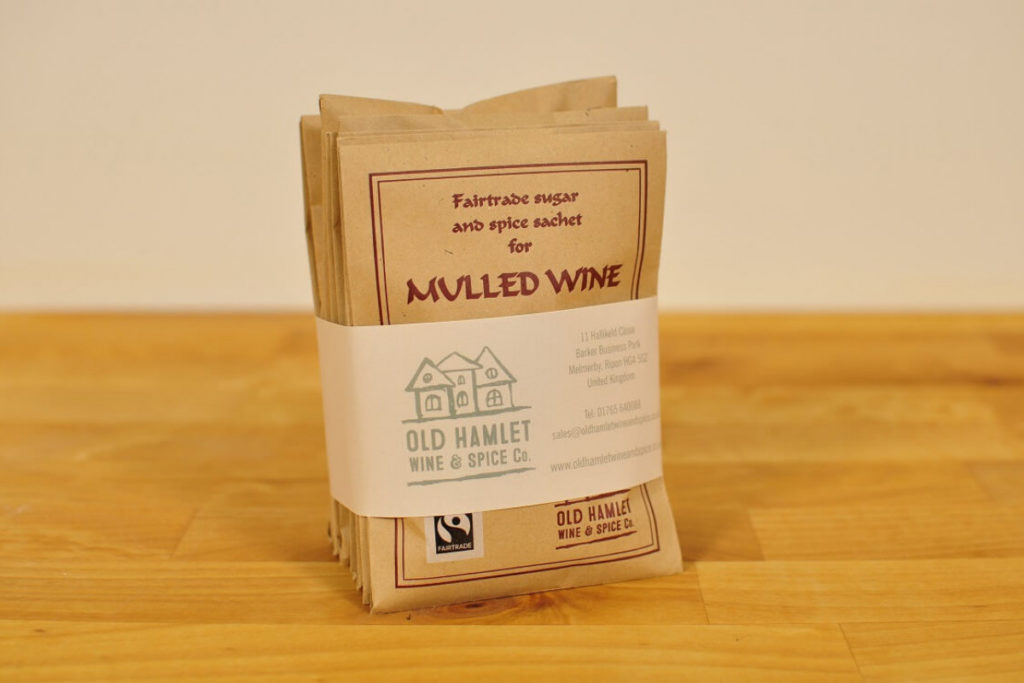 'Tis the season… for mulled wine! Old Hamlet Mulled Wine spice mix contains 10 single serve sachets, each containing enough spice to flavour one bottle of red wine. Simple to use, festive and deliciously warming; each sachet contains sugar, nutmeg, cinnamon and clove, all traded in compliance with Fairtrade Standards. Cheers to that.
£10.75. Buy online from the Steenbergs website
20. Tilimuqui organic malbec red wine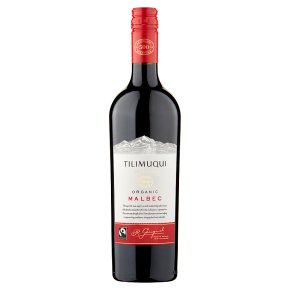 Looking for wine to mull? There are so many great Fairtrade red wines available to buy now from most major stores including, Tesco, M&S, Sainsbury's, Waitrose, Ocado and Co-op, which has the UK's largest range.
A personal favourite is this rich and fruity organic malbec from Argentina, but conveniently stocked in Waitrose!
£11.99. Buy online from Waitrose
21. A hug in a box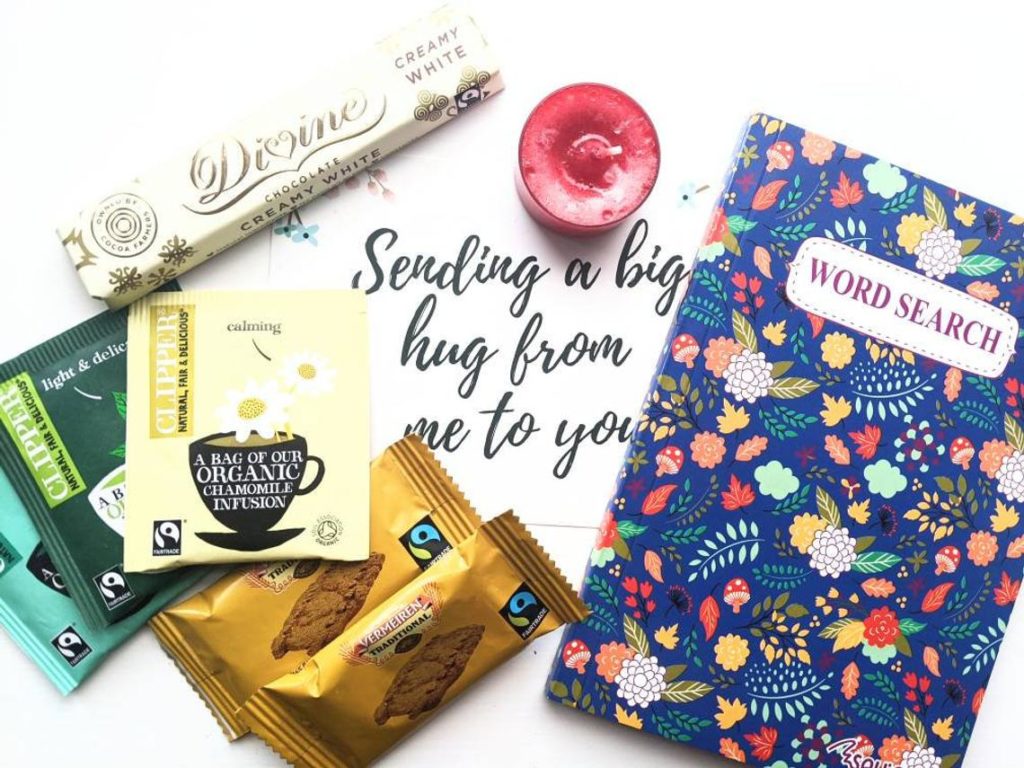 What better way to show loved ones that you're thinking of them this Christmas, even if from a forced distance? The 'hug in a box' or the 'pick-me-up gift box' both contain Fairtrade goodies and other thoughtful treats to make someone feel loved and hugged.
£8.50. Buy a hug in a box online from Etsy
£39. Buy a pick-me-up box online from Etsy
General Ethical gifts
22. You Can Change the World by Margaret Rooke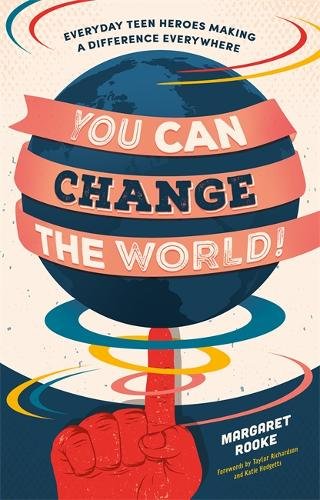 For the teenager in your life. 'You can Change the World!' will take a generation of teens into 2021 with a boost of enthusiasm, ideas and powerful role models. In a world so often obsessed with celebrity and self-promotion, this book of inspiring stories proves the true power and potential of today's teens.
£12.99 in paperback. Buy online from Smile.Amazon or bookshop.org
23. send a bouquet of flowers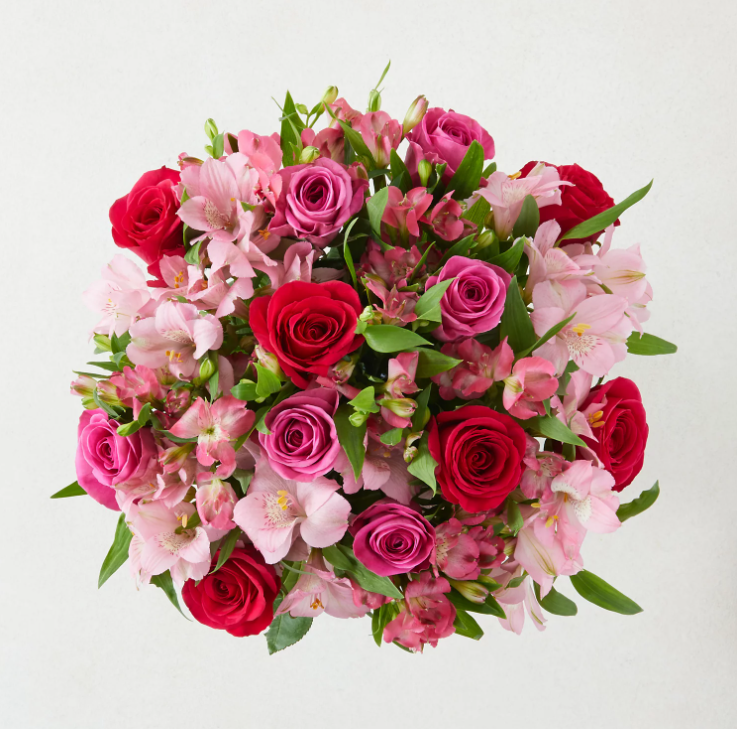 Choose from a range of gorgeous bouquets at M&S, like this arrangement of pink and cerise Fairtrade roses mixed with pink and lilac alstroemeria to create a colourful and fragrant gift. By choosing Fairtrade flowers you are ensuring that farmers get a better deal, allowing them to make their own choices and have control of their own future.
£25 to £35. Select from the Fairtrade flowers range on the M&S website
24. Little Green Radicals organic fairtrade cotton babygrow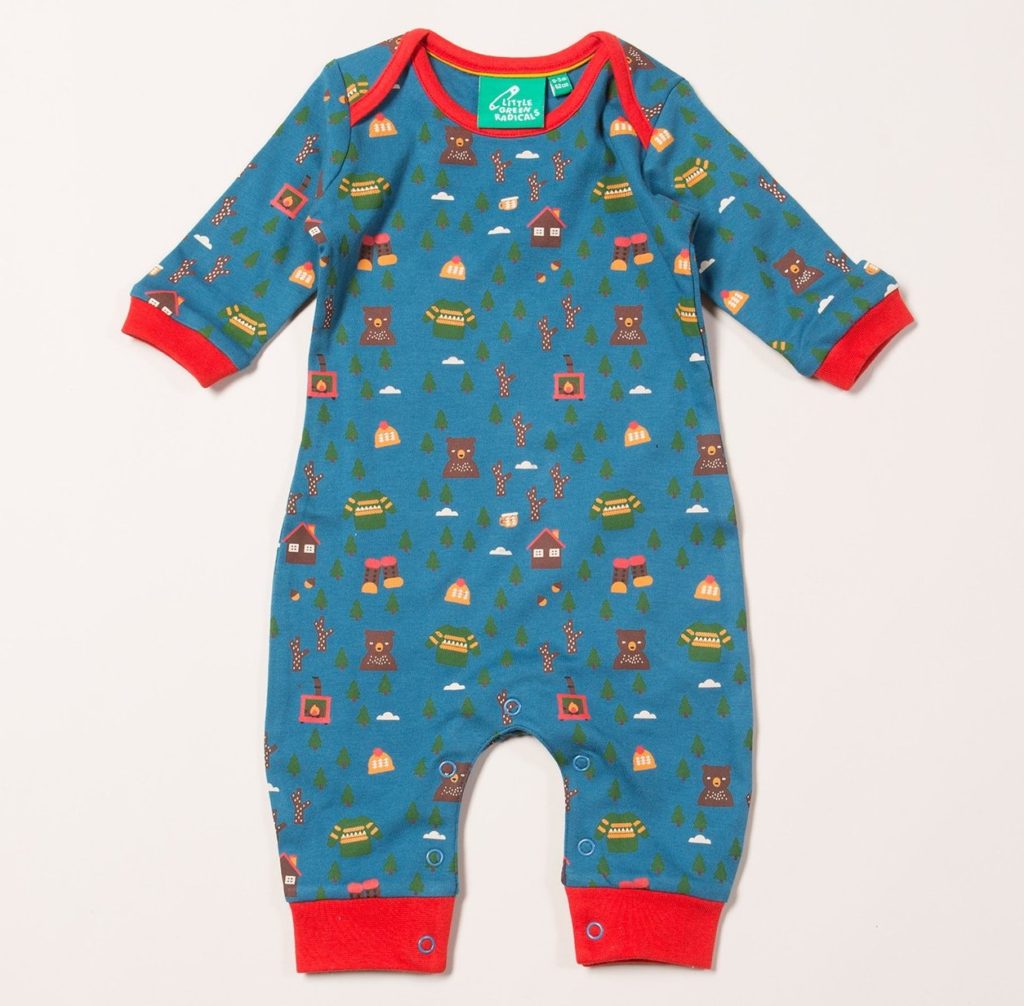 For the little radical in your life – these soft, gentle organic cotton playsuits are kind on delicate skin and kind on the planet. A lovely range of patterns and designs all in Fairtrade and organic interlock cotton.
£21. Buy online at Little Green Radicals
25. Botanical Fairtrade Cotton wash bag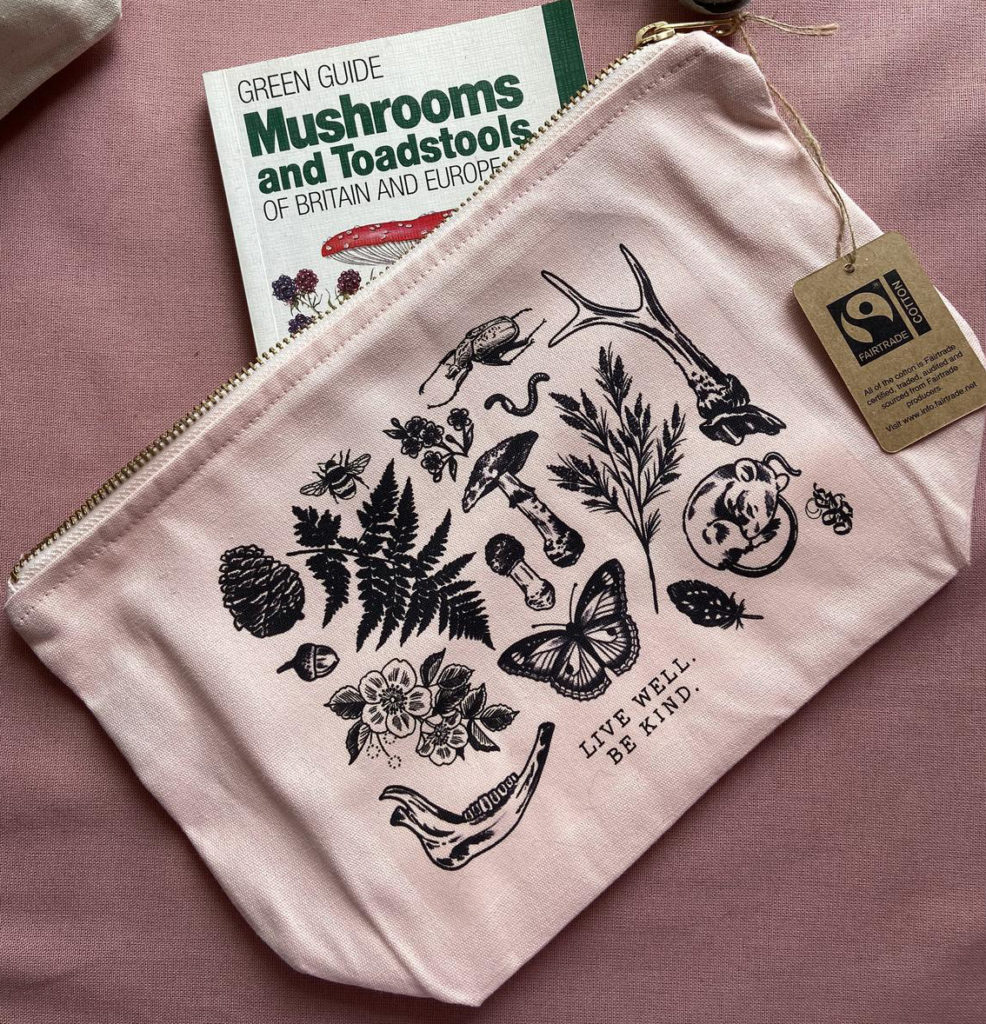 Made from organic, Fairtrade cotton, these pretty wash bags could also be used as a make-up bag or pencil case. We love the botanical illustration and choice of muted colours.
26. People Tree 'made with love' t-shirt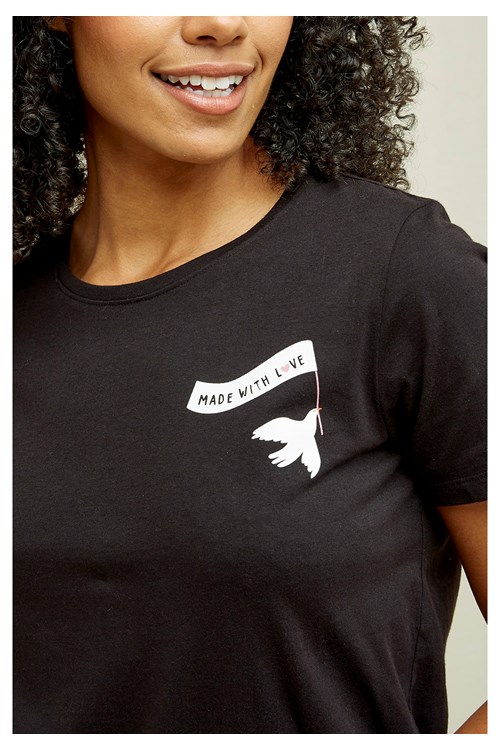 This T-shirt really is made with love. Organic and Fairtrade it protects people and planet and we love the super soft stretch finish that makes this a fashion statement as well as a statement of love for the planet.
£35. Shop online at People Tree
27. Organic cotton Loungewear and PJs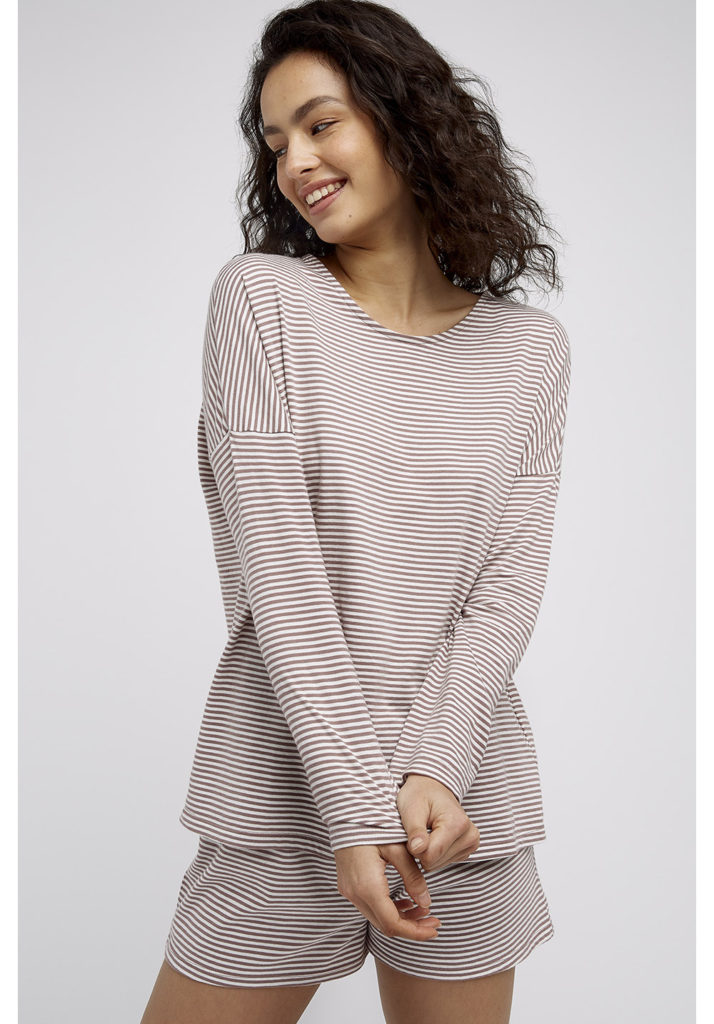 While you're browsing the People Tree website, take a look at the lovely, soft Fairtrade PJs – perfect to see you through the longest loungewear season in history.
From £25. Browse Fairtrade cotton PJs on People Tree
28. Live Fair box – the gift that keeps on giving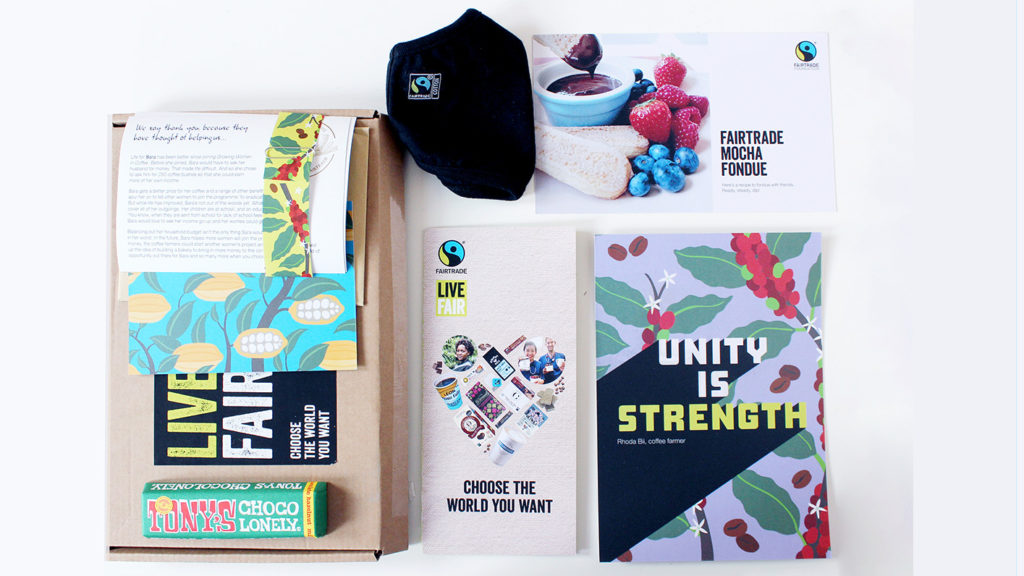 Donate £11/month and you or your chosen friend will receive a Live Fair box (every four months), to help you live a little fairer, while supporting hardworking farmers to build a sustainable livelihood at a time when Covid-19 is having a massive impact on their lives and income.
Read more about Live Fair and sign up here
29. sustainably sourced Shaving accessories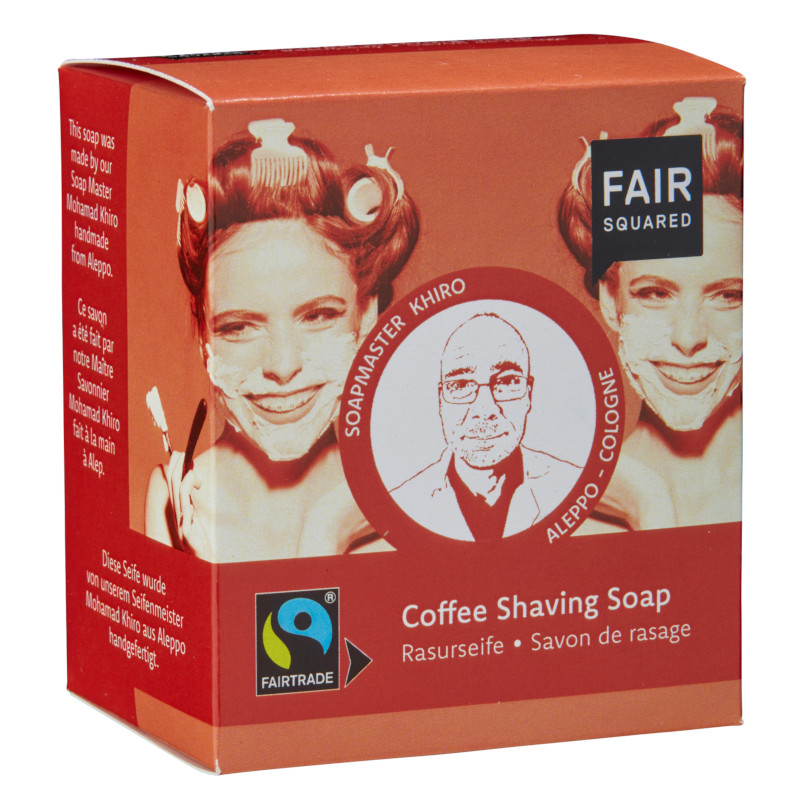 Shaving essentials for men and women, the range includes oils and soaps with ingredients such as Fairtrade shea butter to protect the skin and Fairtrade argan, olive and apricot kernel oils for a smooth shave.
30. Gardeners gift set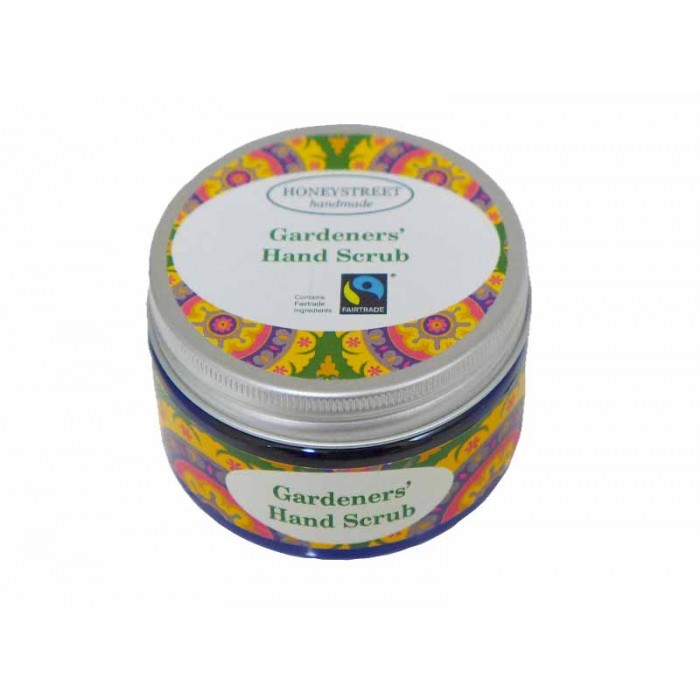 These gifts will care for the gardeners in your life, from moisturising their hands to soothing their aches and pains. Made with pure essential oils, organic, Fairtrade shea butter, and with no parabens, palm oil, sulphates or other artificial nasties, this range will care for your gardening friends as much as it does the environment.
From £4.50. Browse the collection on Honey Street Handmade
31. Fair Drinks flavoured liqueurs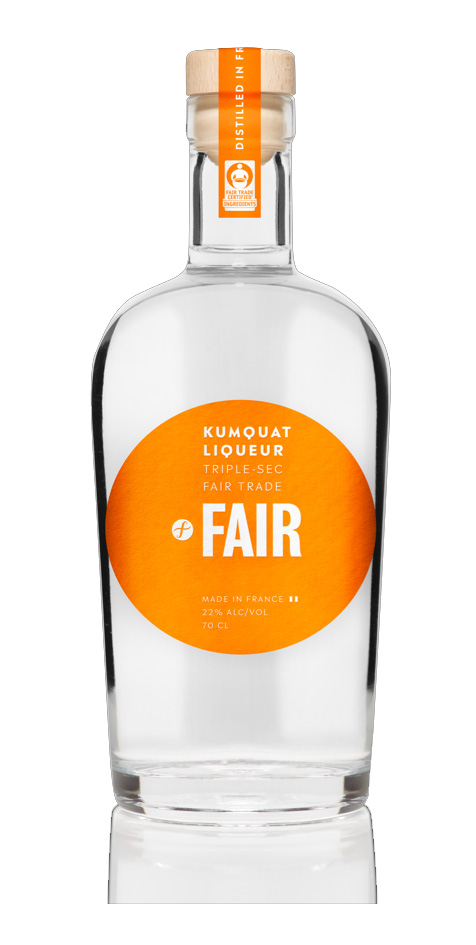 These spirits and liqueurs are so good – in taste and in ethical credentials. Now 10 years old, Fair was built on a mission to support farmers in developing economies. When you buy Fairtrade certified spirits, it means the workers who grow the crops are paid a fair price so they can first sustain for their families. Every drink should be Fair. (Albeit drinking responsibly.) Cheers!
The range includes gin, vodka, rum, coffee liqueur, chocolate liqueur and many more delicious flavours.
From £15.84. Buy online from Masters of Malt, The Whisky Exchange, Ocado and Waitrose
Why not accompany with some vintage glasses. Browse Oxfam's online shop
32. Children's organic Fairtrade cotton pyjamas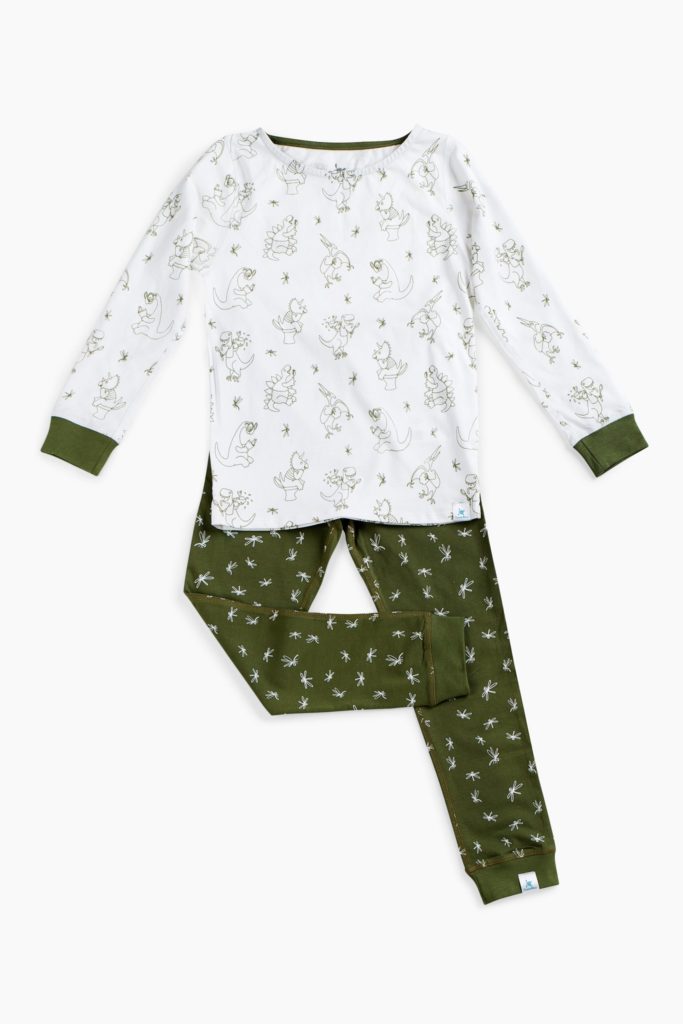 Some of the cutest kids' PJs ever. Not only are they made from organic, Fairtrade cotton, but when you buy a pair, you will also be providing an additional essential item to a child in need through the 'One Gives One' project. Everyone will sleep well knowing that.
£26.70. Buy online from Ocean Bluu
33. Frankincense Body Balm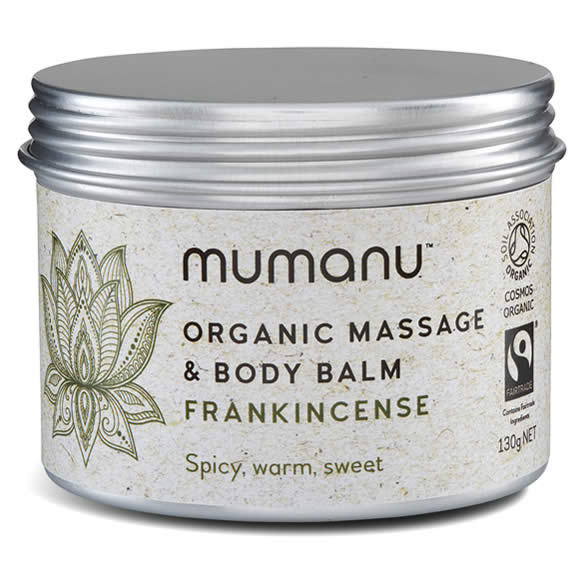 These richly moisturising body balms are made with organic and Fairtrade cocoa butter, shea butter and coconut oil. There are several scents to choose from. We love this warm and spicy-sweet Frankincense Balm, which will leave your skin feeling smooth and nourished and smelling deliciously Christmassy.
£20. Browse the body balm range on Mumanu
34. Men's Fairtrade cotton Henley top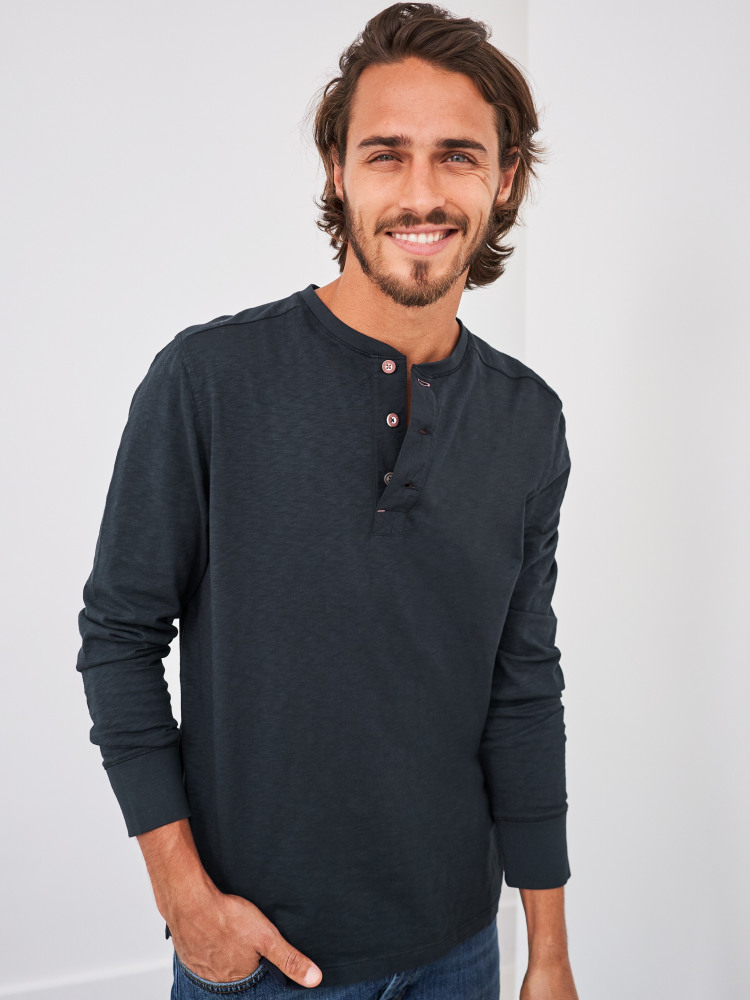 Keep it casual with this super soft, Fairtrade cotton Henley top from White Stuff. Available in a range of colours.
£35. Browse the range online at White Stuff
35. John lewis & Orla Kiely english breakfast Tea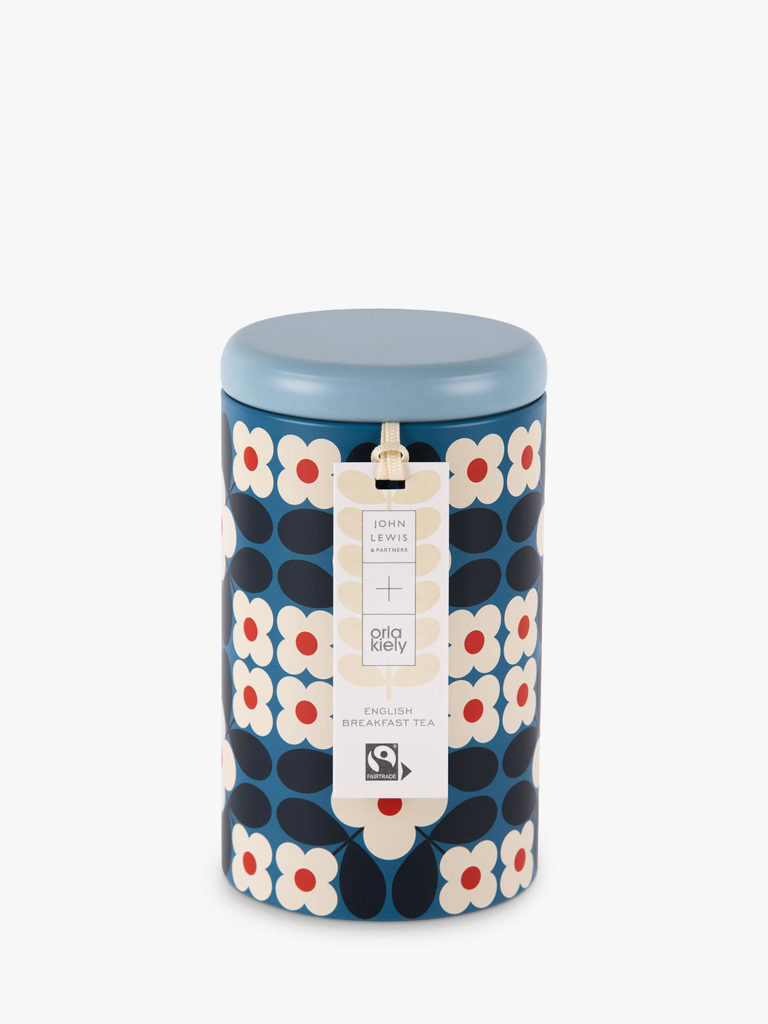 John Lewis has partnered with Orla Kiely for this exclusive collaboration. 20 refreshing Fairtrade tea bags in a tin designed with her trademark bold graphic flower design. Earl Grey also available.
£12. Buy online from John Lewis
luxury gifts with a conscience
36. Fairphone 3+ sustainable smart phone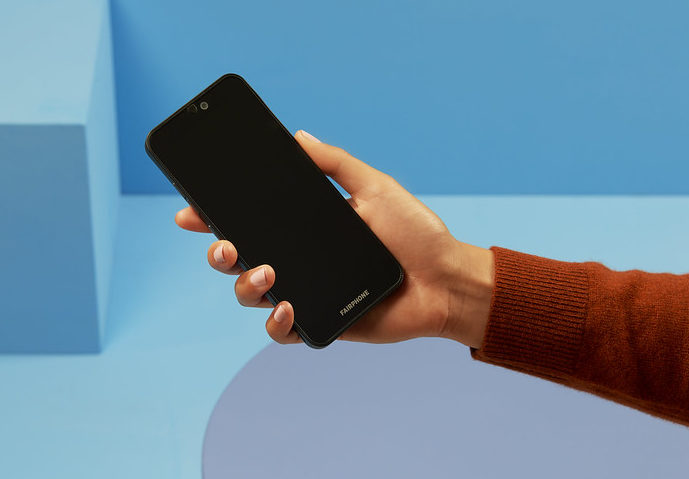 Fairphone's new Fairphone 3+ is their most sustainable phone yet, made with care for people and the planet it boasts 48/16MP front and rear cameras and 40% recycled plastics. What's more, its modular design allows for easier repairs and upgrades. Up your (or your loved one's) sustainability game with the world's most ethical phone (probably).
£425. Find out more on Fairphone's website
37. Fiona Luing responsibly sourced Mix & Match Garnet Hoops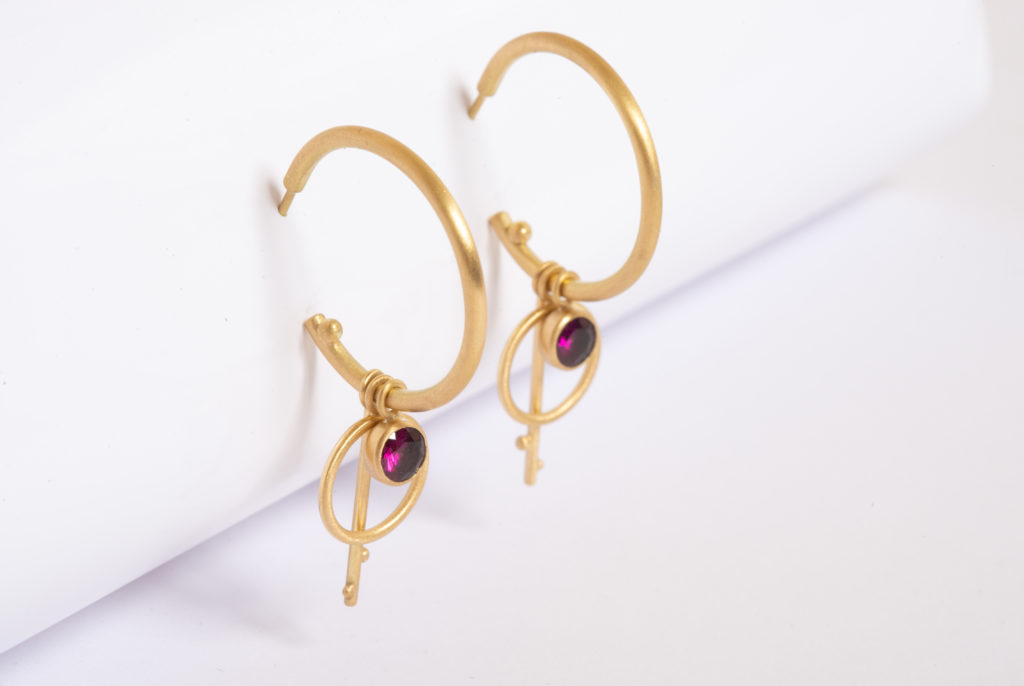 Fiona Luing is very proud to be a Fairtrade gold licensee. From her studio in Edinburgh she handmakes her jewellery with care and attention. These unique hoop earrings are designed to allow the wearer to add and remove the charms making it a gift that can live on for many years. Made from solid 18 carat Fairtrade gold, the earrings also feature responsibly sourced garnets.
£1,550. Visit the Fiona Luing studio website
38. Ara Living organic Fairtrade cotton throw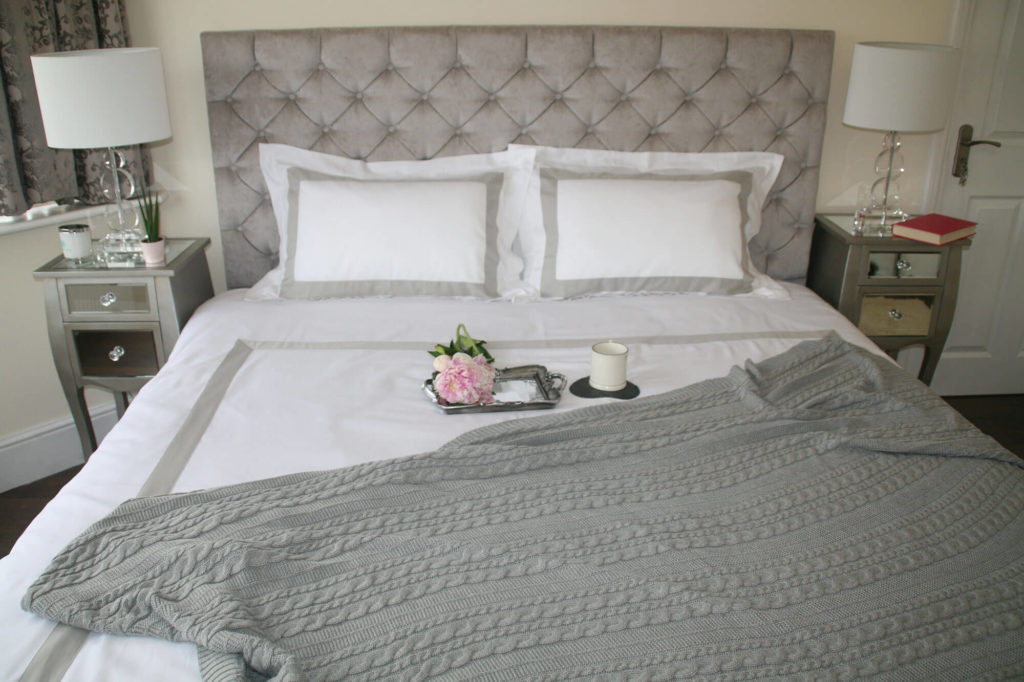 Soft and cosy, this lovely Melange throw is perfect for snuggling up to on winter evenings. With its modern take on the classic cable-knit design, the natural dual-tone yarn is made from sustainable and organic Fairtrade cotton.
£125. Buy online from Ara Living
39. Lebrusan Studio Fairtrade Gold Braided wedding band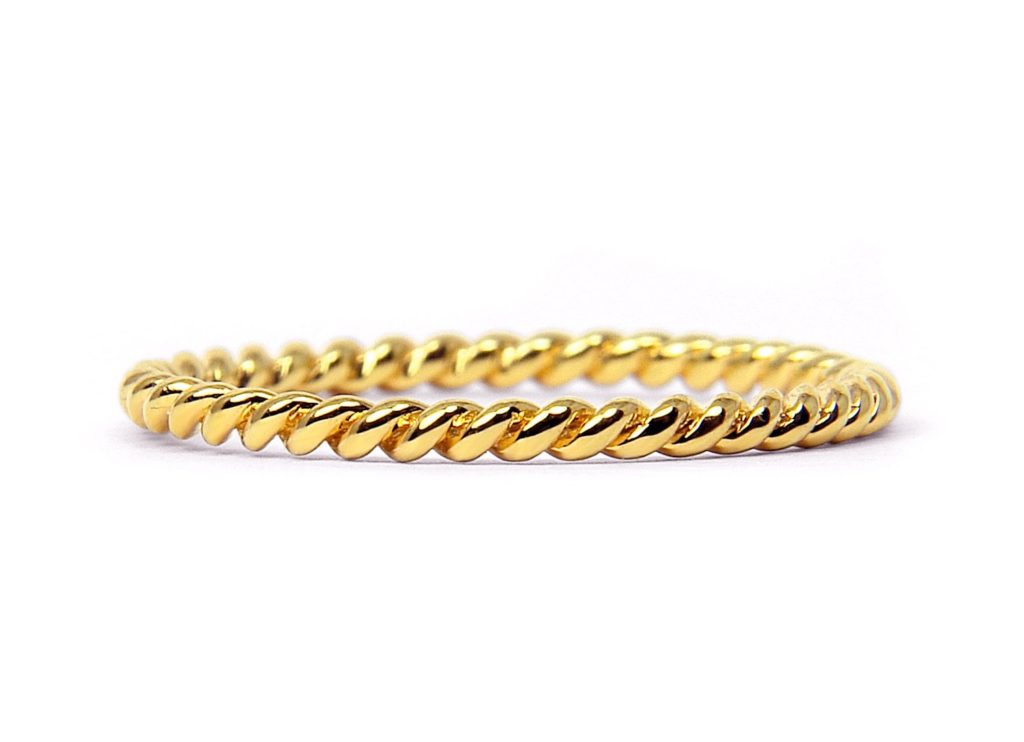 This beautiful, delicate braided ring is special on its own but also works well alongside other rings in a fashionable stack. Crafted from 9ct Fairtrade Gold, you can rest assured that its existence has contributed to the support of small mining communities and the fair treatment of those involved in the mining process. A truly beautiful story to tell!
£430. Browse the ethical wedding ring collection on the Lebrusan Studio website
40. Men's Oxford Shirt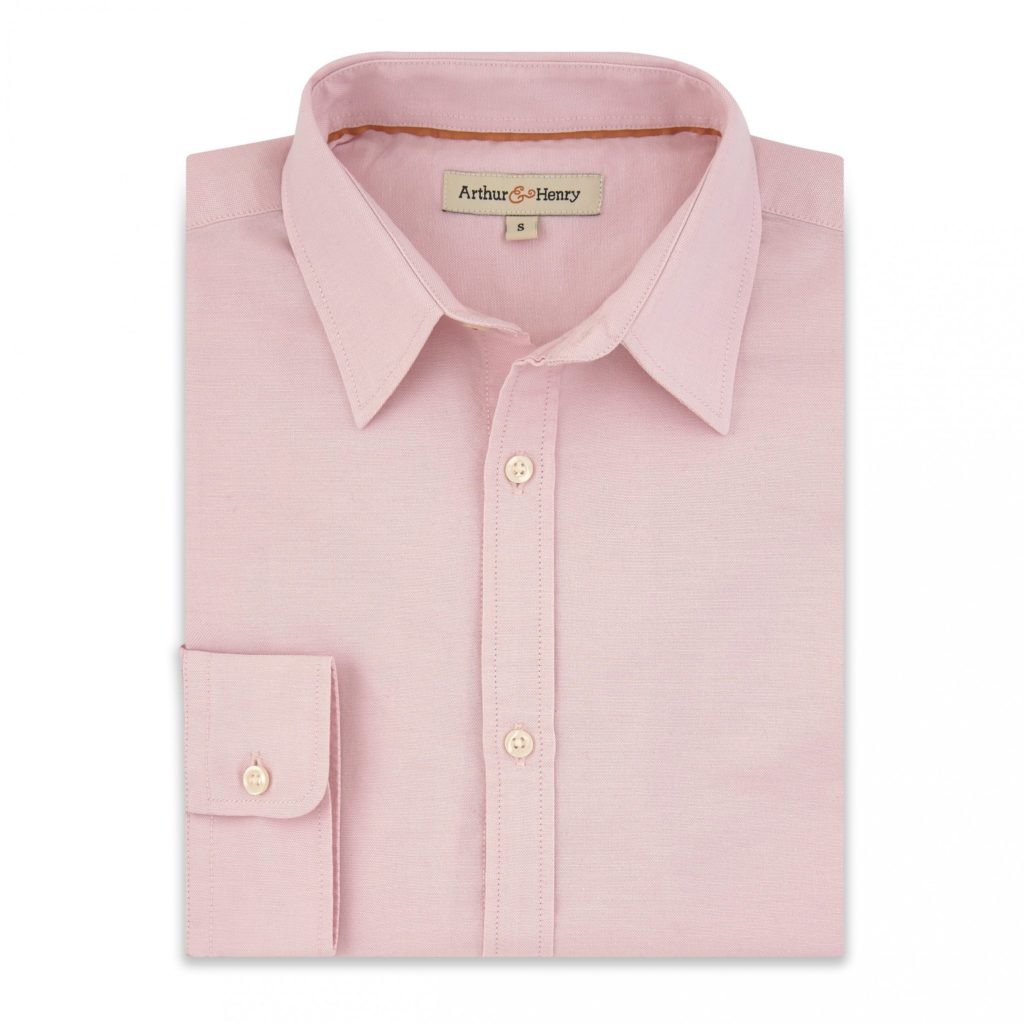 The perfect gift for the difficult-to-buy-for men in your life. The Oxford shirt from Arthur and Henry is smart and sustainable. Available in white, pale blue and pale pink, it is made from organic, Fairtrade cotton. Button up!
£65. Buy online from Arthur and Henry
You might also like: