Why working with MPs is important
An important part of Fairtrade's work is calling for government policies that help farmers and workers get a better deal. We rely on the amazing work of campaigners and supporters around the country to get politicians of all persuasions backing Fairtrade farmers and workers in their decisions.
Politicians want to hear from their voters. General Election campaigns are a good time to let candidates know about your support for Fairtrade, and to ask what they plan to do for the farmers and workers around the world who grow our food.
Speaking to election candidates can set up relationships which last their whole career in Parliament. It is a great chance to remind candidates that voters like you want to see action on poverty, human rights abuses and environmental damage in UK trade.
Politicians of all parties have become active supporters of Fairtrade, because people like you have asked them. So no matter where you live, and who your candidates are, you can make a difference!
Where to start
Make sure you have registered to vote! 
Here are three things you can do:
Ask questions at local hustings events (a hustings is a local debate between your MP candidates)
Raise issues with doorstep canvassers
Email candidates or contact them on social media
Let your MP candidates know you support Fairtrade and ask them what they will do to back Fairtrade farmers if elected. You don't need to be an expert – your point of view matters whether you know a lot or a little. We've suggested some questions below, or you can think of your own. 
Questions to ask candidates
Fair Trade
Brexit could mean big changes in the way the UK trades around the world. Farmers and workers in developing countries could gain – or lose out – from changes to the UK's trade rules. Trade deals can affect many issues, including human rights, and the environment. So Fairtrade believes that trade policy should prioritise the needs of farmers and workers in developing countries. We want to see trade policy that helps to tackle poverty, the climate emergency and human rights abuses, in line with the Sustainable Development Goals. And we want to see public accountability for new trade deals brought to Parliament.
A question to ask: What will you do to make sure that the UK's trade policy is fair for farmers and workers in developing countries? Will you make sure that trade policy supports poverty reduction, climate emergency action and human rights?
Fair Business
We want UK businesses to treat those who grow our food fairly – including Fairtrade farmers and workers. A new Government could support businesses in doing this in the following ways:
Strengthening the Modern Slavery Act to improve transparency about how companies are acting on forced labour risks in their supply chains.
Introduce new legislation on Human Rights Due Diligence (HRDD) to improve business accountability for a wider set of human rights issues.
Addressing widespread unfair trading practices in the international food supply chain so that farmers and workers aren't short changed by buyers. This could be done by expanding the role of the Groceries Code Adjudicator (GCA) or introducing complementary measures.
A question to ask: How will you hold UK businesses accountable to deliver high standards on human rights, environment and in fair trading practices, when they are buying from farmers overseas?
Fair Aid 
Aid is important in improving the lives of farmers and workers in developing countries. UK aid can tackle the 'in work poverty' of plantation workers and smallholder farmers, helping to deliver long term change. For example, it can help poorer farmers to market their products, adapt to the climate emergency and improve agricultural practices, making it easier to trade successfully.
So Fairtrade believes that the UK's aid programme needs strong support. We want the UK to keep its promise of spending 0.7% of gross national income on overseas development aid through an independent Department for International Development (DFID), which can focus fully on poverty alleviation.
We would like to see UK aid supporting co-operatives and trade unions, helping to achieve living incomes and wages for all. Read the 'Craving a Change in Chocolate – Living Income 2019 Report (pdf)
A question to ask: Will you back the UK's 0.7% international development spending, and ensure that UK aid supports smallholder farmers as well as improving workers' rights? Will you ensure that DFID maintains its independence?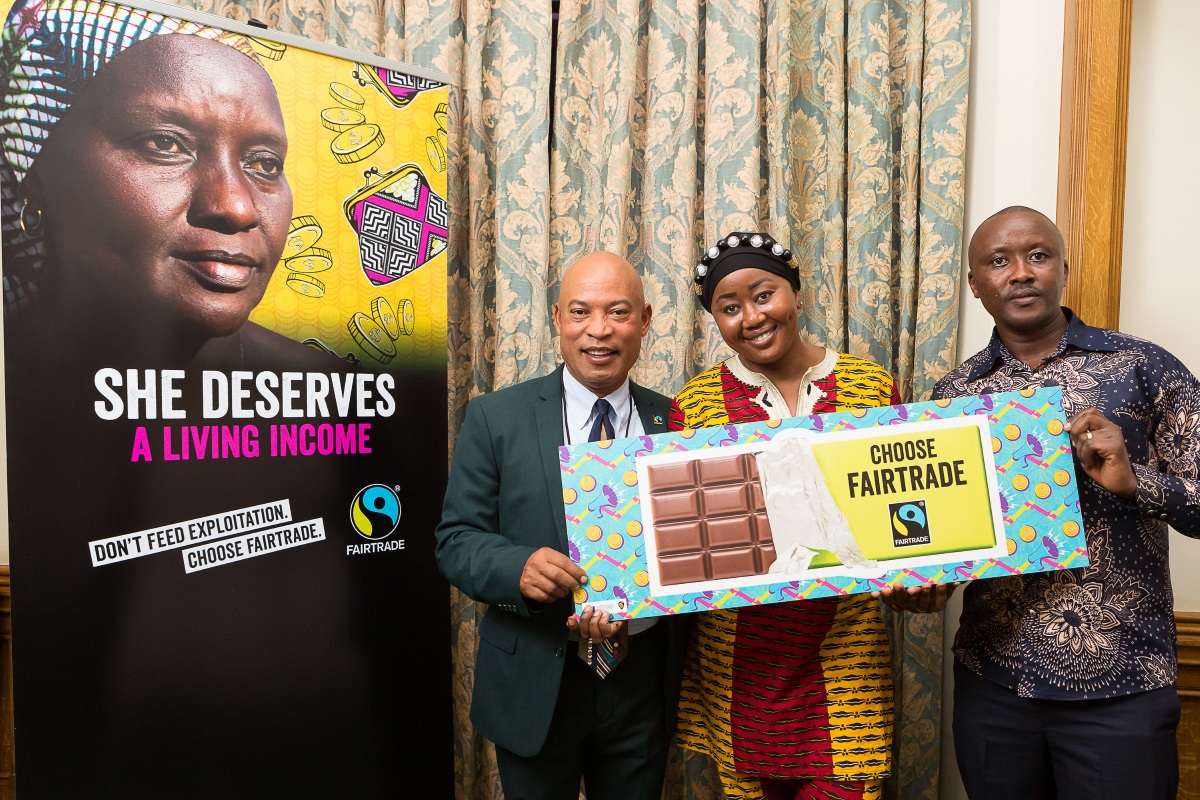 Tell us what happened
Let us know how you get on – especially if candidates make any promises about Fairtrade!
Email hello@fairtrade.org.uk. Or if you're on social media, Tweet and tag @fairtradeuk with the latest from your hustings. 
Want to know more?
Other charities are also sharing their ideas for the next government. You might be interested in reading the manifestos from BOND, a network of organisations working on international development issues, and Sustain, a network of organisations working on sustainable food and agriculture.
Stay in touch afterwards
It's really important to maintain relationships with parliamentary candidates after the election. Those who did not get elected this time may run again, or continue to be active in local politics.
After the election you could email all candidates to congratulate or commiserate. Later on you could invite them to future Fairtrade events or to support Fairtrade campaigns.
MPs can support Fairtrade in many ways – why not suggest they join the Fairtrade All-Party Parliamentary group – an easy way to keep in touch with all things Fairtrade in Parliament! 
See how else you can get involved with Fairtrade.
Banner image: "Polling Station" by Rain Rabbit licensed under CC BY-NC 2.0