Fair play, fair pay, Fairtrade. Angus Coull explores how Bala's Fairtrade sport balls are transforming lives as they "bounce" from Pakistan to the UK.
On 10 July, Glasgow's George Square will be transformed into an open, accessible venue for 64 teams from 52 countries to compete against each other in the 2016 Homeless World Cup. The free week-long event is bound to attract over 100,000 spectators, with many more watching the tournament via live streaming online.
At this life changing tournament, just about every shot of action is sure to feature a Bala sport ball bearing the FAIRTRADE Mark. Yes, it will be the first time when a sport tournament of this calibre will be played with Fairtrade balls. This is a fantastic legacy for the Fairtrade movement and a major step forward in bringing Fairtrade sports balls out of the doldrums and into the mainstream on a worldwide scale.
A ball can change lives
Mel Young, the Homeless World Cup co-founder, has transformed the impact football can have on the lives of homeless people around the world. In line with his message "a ball can change lives", 77% of the men and women who were homeless because of a range of issues have turned around their lives thanks to street football programmes and participating in the Homeless World Cup.
Last summer during my trip to Amsterdam, I witnessed those transformations and the impact the Homeless World Cup event has on its participants. It was emotional to watch women and men play football, all having experienced some of the worst things life can throw at us. They proudly lined up representing their nation in an international football tournament, and despite being of mixed ability and agility on the park they all played their very best. There was definitely a sense of pride in their teams and of that all-important self-esteem and confidence.
Meanwhile in Pakistan…
Fairtrade has had an equally significant impact on the lives of the men and women behind the sport balls – the football makers. The football workers and stitchers behind the Bala sport balls work at Fairtrade-certified factories in Sialkot, Pakistan, where 70% of the world's hand-stitched footballs are made.
Each year, around 40 million footballs are made in Sialkot – this rises to around 60 million in a World Cup year. Despite this, football makers, like many workers in developing countries, are often forgotten across the supply chain, living in poverty, working in poor conditions and earning low wages.
Last October, I visited our workers in Sialkot and I saw first-hand once again the impact of Fairtrade. As well as earning viable wages and working in safe conditions with access to union representation, the workers at both factories and rural hand-stitching centres used by Bala Sport receive the extra Fairtrade Premium, a 10% cash sum. Then, they decide amongst themselves how to invest the Premium money.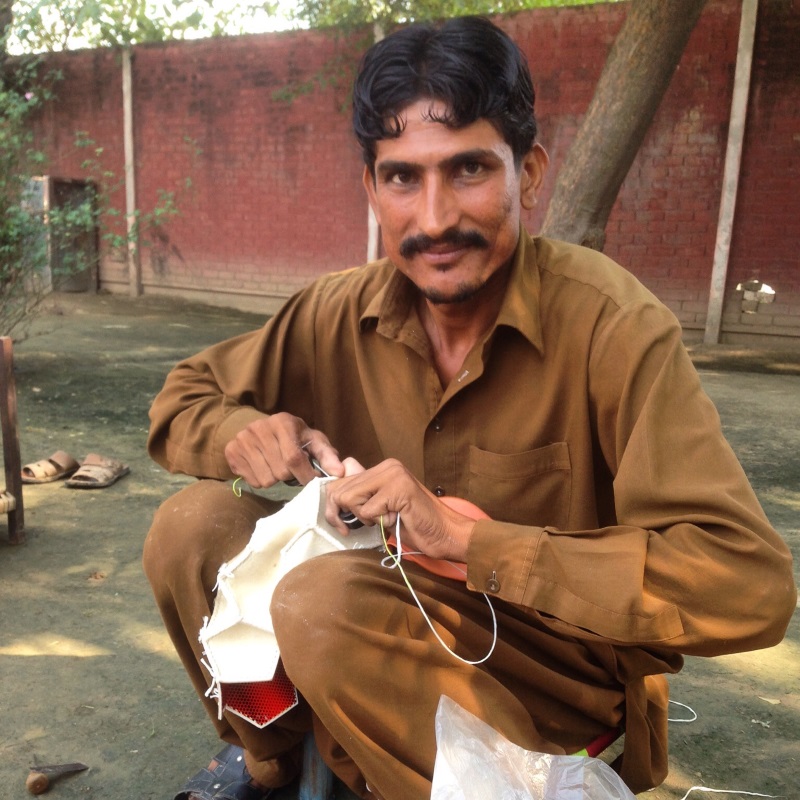 Free eye tests, subsidised treatment and free diabetes checks, as well as free transport to and from work, are some of the projects funded by the Fairtrade Premium. Administered by the Fairtrade Joint Body, which includes an equal amount of men and women, these projects are a vital boost to the workers' incomes.
One of the most impressive projects that is part funded by the Premium are water purification plants at both factories used by Bala Sport. In Pakistan, the vast majority of the population do not have access to drinkable water and so these plants, built outside the factory gates, have been made available for both the workers and people living in the area.
Although the number of Fairtrade sports balls sold across the world has a long way to go to match that of Fairtrade food products, and so the amount of Premium generated is much smaller, Fairtrade certainly makes a difference for the football makers, and gives their children a better future.
Meet the workers and stitchers from Sialkot featured in a short film that the Fairtrade Foundation has recently produced for schools:
Short film about the workers and stitchers from Sialkot
Fair play for everybody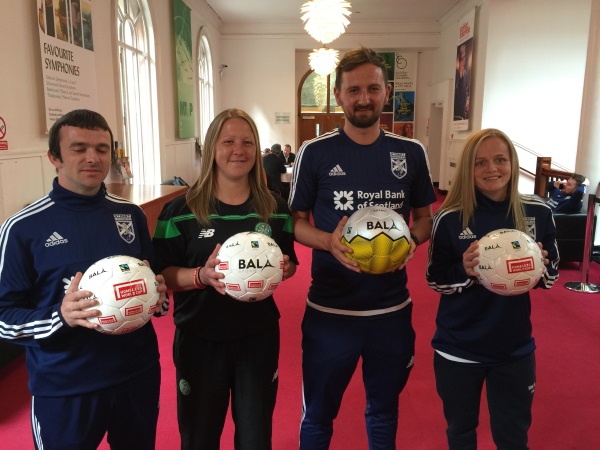 Football is the world's most popular game, and one that unites people around the world. This sense of togetherness will certainly be present on the courts at the 2016 Homeless World Cup in Glasgow. And we are both honoured and delighted to be part of it.
The partnership with the tournament is a perfect fit for us. Fairtrade sport balls mean that the fairness and respect towards players and fans that is encouraged by football governing bodies is extended to the football makers. And that the values championed by Fairtrade – justice, equality and empathy – will be mirrored on the field.
But, most importantly, this wonderful tournament will help improve people's lives – both the players, and for the first time, the football makers. Watch it, engage with it – for some fair play, great action and great camaraderie.
Did you know?
The Homeless World Cup ball, the Bala Astro, was developed specially for the championship in consultation with CEO of Street Soccer Scotland, David Duke and his team. It is a tougher multi-surface version of the Bala Team ball, hand stitched in a durable PU material, made to the same standards as FIFA balls. All Bala balls are designed in Glasgow by Reflex Blue.
Bala Sport is the official partner of the 2016 Homeless World Cup.
Find out more about Bala Sport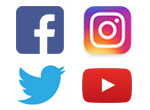 Support Fairtrade when you follow, share or like our social posts.

Sign up to email updates from Fairtrade to hear about products, petitions, competitions and more.