For many of us, Christmas is about family, friends and showing that you care. Choosing Fairtrade means that you can have a direct impact on families across the world. Your purchase ensures that a Fairtrade Minimum Price is paid to the farmers and workers, as well as a Fairtrade Premium, which goes back into the communities responsible for your favourite things. This helps support families in developing countries with things like healthcare, infrastructure and sustainable living.
We want to help you make your Christmas as ethical as possible so we've picked out some of our favourites this year, from tasty stocking fillers to stunning Fairtrade jewellery and gorgeous gifts. There are so many new Fairtrade products easily available, you're sure to find something special for all the family.
Divine's 70% Dark Chocolate Advent Calendar
Divine Chocolate is the only chocolate company in the world that is 100% Fairtrade and owned by cocoa farmers. Behind each door of this beautifully illustrated calendar, you will find a deliciously dark chocolate in the shape of a woodland animal – plus 3 pence from each calendar goes to the Woodland Trust.
Find yours at Ocado, Oxfam or Traidcraft stores, Waitrose and many other independent shops.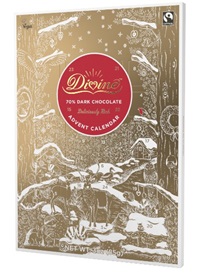 Arabel Lebrusan Fairtrade Gold Jewellery
Christmas is a special occasion – why not make it even more magical for your loved one with a piece of hand-crafted jewellery from Arabel Lebrusan. They offer bespoke jewellery creations as well as gorgeous Fairtrade Gold engagement and wedding rings.
Find out more about their stunning pieces and how they work with Fairtrade Gold.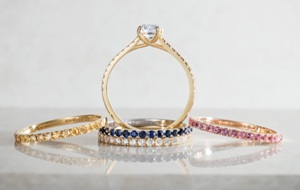 Wright & Teague Sirena Bangle
A truly unique gift, this sensous bangle from Wright & Teague is made using Fairtrade Gold. Each piece of their beautiful jewellery is different and the gentle waves on this bangle are reminiscent of a retreating wave.
Create something personal with Wright & Teague this Christmas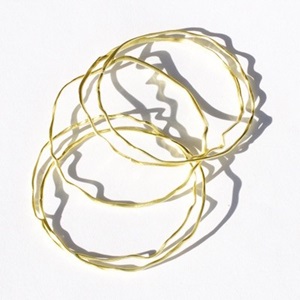 Odylique Fairtrade Beauty Selection
Whether it's a natural lip-liner, mineral lipstick or organic eye liner, all of these gentle beauty buys are fair on your skin and fair for the people making them. The sugar and shea butter in the lip-liner, lipstick and eye liner are sourced from Fairtrade farms. The perfect gift for a stylish look this Christmas.
Get yours direct from the Odylique online store
Cafédirect Christmas Blend of Batch Roasted Coffee
Perfect as a gift for those who just have everything – why not try a special Christmas coffee blend. Plus, this delicious coffee is part of Cafédirect's specialty organic range.
Cafédirect's coffee is widely available, or order in time for Christmas through the Ethical Superstore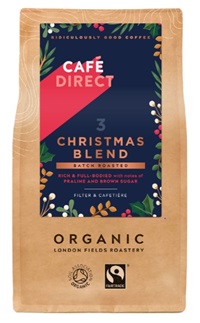 Arena Flowers Letterbox Cinnamon Spice Bouquet
The perfect centerpiece for any Christmas occasion, or a wonderful way to celebrate the important people in your life. Arena flowers offer a range of stunning Fairtrade flowers sourced from sustainable flower farms. This delightfully bright bouquet is available from Moonpig delivery and will bring a spot of colour to any winter table.
Find out more about Arena's Fairtrade flowers and how they support sustainable development in the Naivasha region of Kenya.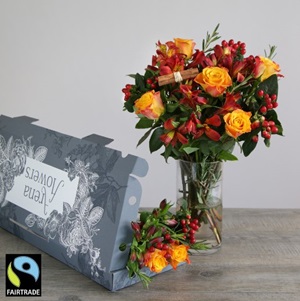 La Riojana Tilimuqui Fairtrade Organic Malbec
Celebrate with friends and family over a bottle of Fairtrade red. La Riojana's Tilimuqui wine is grown in the remote north of Argentina where arid soils give rise to grapes bursting with ripeness.
This is a new wine from a co-operative in the Famatina Valley, where most of the village is connected with the winery, meaning that the whole community benefits from Fairtrade projects in the area helping to improve living conditions.
This one is available from Waitrose.

Clipper Tea Organic English Breakfast Tea Caddy
Clipper Tea is a firm Fairtrade favourite, and what a perfect gift for any tea lover – a cute tea tin containing 30 of Clipper's popular English Breakfast Tea or Green Tea.
Clipper sources its tea leaves from Fairtrade tea plantations where all employees are paid a fair wage.
Find out more and order your own cute caddy!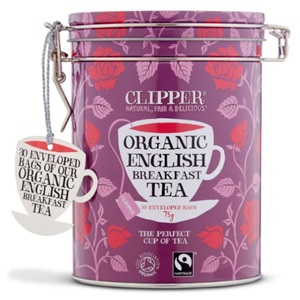 Little Green Radicals Night Swimming Little Twirler
This gorgeous little dress is made from 100% Fairtrade, organic cotton. That means it's better for your little ones and better for the communities growing the cotton. Matching mitts in dark blue with swan patterns make a wonderful winter outfit, or an ideal present.
Check out their lovely range of delightful children's clothes.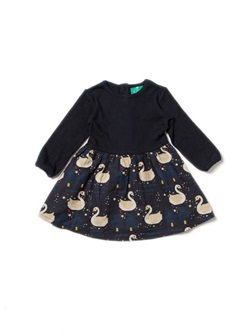 You might also like
Most people are familiar with Fairtrade, so why do the same misconceptions about what it is and how it actually works keep cropping up?

Follow us on social media

Support Fairtrade when you follow, share or like our social posts.

Sign up to email updates from Fairtrade to hear about products, petitions, competitions and more.