In the shadow of the extinct Mount Meru volcano – at 4,500m the fourth highest peak in Africa – labourers on the Mount Meru flower farm grow more than 30 varieties of roses for export, mainly to Europe.
It's hard, hot and humid work in the vast greenhouses, despite the modern ventilation systems. The workers put in long hours growing, cutting and packing the delicate flowers for consumers in developed countries to enjoy all year round. Until recently, they earned the national minimum wage of 100,000 Tanzanian Shillings a month – about €40.
That's when Fairtrade stepped in. In 2017, we took a decisive step towards improving wages in the flowers and plants sector, by changing our Flower Standard to include a minimum base wage. Newly certified Fairtrade flower farms had to pay the base wage from day one, whilst existing ones had one year to reach 85 percent, and two years to arrive at 100 percent.
Mount Meru, which has been Fairtrade certified since 2008, was one of many flower farms which had to comply with the new requirements. Since the revised standard came in, workers at Mount Meru have seen a 30 percent rise in their wages. In addition to the base wage, nearly all workers get additional payments depending on their roles and responsibilities at the farm.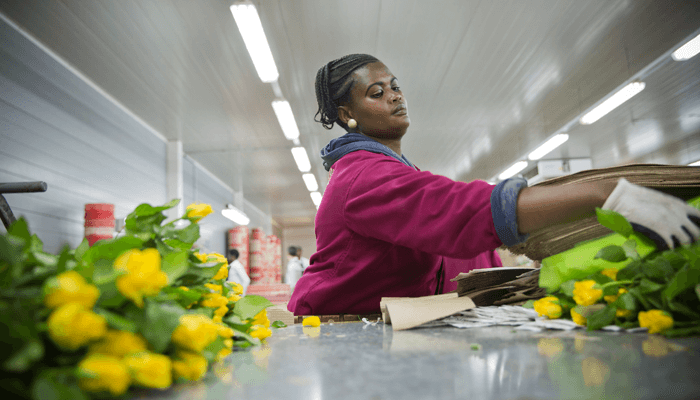 'I appreciate what Fairtrade has done, because the farm had to increase the base wage,' says one worker who is also a union member. 'The economic situation is still difficult but Fairtrade has certainly helped. On behalf of the workforce, I want to say that we really appreciate the change that Fairtrade has brought about.'
Fairtrade acknowledges that workers' wages around the world, not just on flower farms, are often way below what they and their families need to enjoy a decent life. That's why, as co-founders of the Global Living Wage Coalition, we campaign for a wage which allows workers to enjoy a decent standard of living.
'We shouldn't underestimate how difficult it is to get a living wage for agricultural workers,' says Wilbert Flinterman, Fairtrade International's Senior Advisor Workers' Rights and Trade Union Relations. 'Living wages should be based on collective bargaining agreements which are economically sustainable and can be claimed by workers as a right. They shouldn't be subject to the whims of the market and volatile price fluctuations.'
At Mount Meru, as on other Fairtrade certified farms, workers also receive the unique Fairtrade Premium, 10 percent for every stem sold, which they can choose to invest in healthcare, education or other projects of their choice. The farm sells approximately 15 percent of its production under Fairtrade conditions, for which it receives Fairtrade Premium money.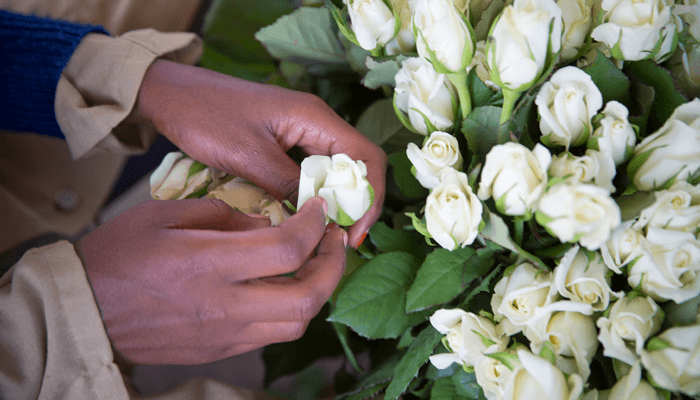 'We have benefited from an increase in salaries but there is more than that,' says Mount Meru employee Sirila Ion. 'Because of Fairtrade, my children and even my husband could go to school and further their education. Besides this, the entire community benefits from Fairtrade projects such as a clean water supply for the workers' village and a new canteen and workers' kitchen.'
The Fairtrade Premium has also been used to finance school fees for children as well as to provide continuing education opportunities to the workers and their families. 'Fairtrade has supported not only my education but also the education of my brother, who is now a hotel manager, and of my sister,' says Damian, another Mount Meru worker. 'I have also been able to build a house with the revolving fund set up with money from the Fairtrade Premium.'
Photos: © Fairtrade Austria / Georges Desrues
You might also like
Did you know that Fairtrade roses from Kenya have a lower carbon footprint than those grown in Europe?

Follow us on social media

Support Fairtrade when you follow, share or like our social posts.

Sign up to email updates from Fairtrade to hear about products, petitions, competitions and more.