UK farmers are not alone. This is the refrain of so many farmers around the world, from cocoa farmers to coffee farmers. It's why banana farmers were in the UK last year knocking on the doors of government, and why the Fairtrade Foundation was asking the UK's Department for Business to launch its own investigation into the negative livelihood and sustainability impacts of price wars and cheap food. Sadly the Government reply merely claimed that everything was working very nicely in the interests of consumers, thank you very much.
Except it seems that shoppers themselves disagree. Although not scientific, when the Metro polled its readers on whether they would like to see fair trade milk, a whopping 94% of people agreed. Under pressure from dairy farmers, in August 2015, Morrisons announced a new milk brand offering their customers the option of paying 10p more for a litre, with a promise that the money would go to the farmers via its milk supplier Arla. Will Morrisons shoppers rise to the challenge?
See the Metro poll details on the Metro website.
In the midst of the furore, the question has been raised once again why Fairtrade can't just begin at home and extend the certification scheme and fair price promise to UK dairy farmers. Could we make our Mark work on milk? It's a fair question, and is something that has been looked at, and discussed many times – not least as part of a 'Local and Fair' conference three years ago, bringing Fairtrade and Cumbrian farmers groups together to discuss the issues they hold in common.
However, we are always reminded that Fairtrade was born from the needs of farmers and workers, many of whom earn significantly less than the US$2 per day absolute poverty line, who live in countries with little or no social safety net, and are far removed from the markets they sell to. Whilst UK dairy farmers are able to take their protest to the doors of supermarkets and processors, lobby their MPs directly or via farmers' unions and organisations such as the NFU or Small Farmers Association, the farmers and farm workers we represent, like Foncho who led our 2014 Make Bananas Fair campaign, have not got this access.  They rely on Fairtrade and its partners to be their voice, eyes and ears, and lobby on their behalf.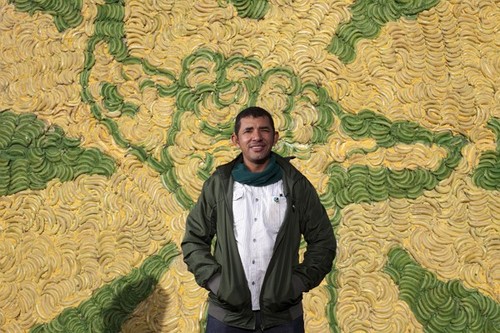 In short, we are 100% behind the concept of fair trade milk, but we're not necessarily – at this point in time – the right organisation to invest in the work that would be required to set up such a scheme, which we believe would also need to deliver against sustainable agricultural practices and high animal welfare standards. Meanwhile, a number of retailers have already taken matters into their own hands, through schemes such as Sainsbury's Dairy Development Group, Waitrose farmgate milk pricing, or Booths Fair Milk programme. A word of caution however from farmers' groups is that these schemes have addressed the prices for liquid milk sold in pints and litres, but not the vast tonnes of milk that go into food processing and dried milk products that are also part of the problem. So a label on the milk cartons you and I buy in the shops may not even be the answer farmers are looking for.
The irony in the midst of this, is that whilst the relentless price wars on milk, bananas, tea and other daily basket items allow retailers to price match on a daily basis, slowly ratcheting them down, any attempt by retailers to coordinate a pricing model designed to return the cost of sustainable production to farmers across the whole industry could be deemed price fixing and subject to investigation by the Competition and Markets Authority. In fact, several supermarkets and processors were fined tens of millions of pounds in August 2011 precisely on this subject, so it's not an unfounded fear. There is a point to this focus on pure consumer interest – it is designed to prevent industry conspiracies and protect consumers like you and me from being ripped off. But the question is then left – whose job is it to protect the suppliers?
The Fairtrade Foundation was one of many organisations that successfully lobbied for the establishment of a Grocery Code Adjudicator to ensure fair play between retailers and their suppliers, according to the Grocery Sector Code of Practice. It is clearly already doing good and useful work, but neither its mandate nor the Code itself, are allowed to investigate issues of below cost of production trading. Its focus remains on supermarkets and their direct suppliers, and does not include for example, the relationship between suppliers and primary producers. So farmers who sell via intermediary companies aren't covered. Without more transparency in supply chains on farmgate and trading prices, it is almost impossible to analyse where the real problems in delivering fair prices to farmers really lie.
With the launch of the UN's new Sustainable Development Goals in September 2015, every government in the world will become accountable for delivery – outlined in new addition, goal 12, 'Sustainable Production and Consumption'. Is this an opportunity to think afresh about the kind of mechanisms and regulations to address unfair trading practices in a comprehensive way? Could it even incentivise best practices in sustainable agriculture and fair trading? We in the Fairtrade Foundation think so.  It would require a bit of vision, some progressive businesses to back it, the Fairtrade movement to champion it (we will!), and a government with the political will to make it happen.
But in the meantime, let's keep voting with our wallets and choosing the products and the shops that best represent the values we want to see become the norm in our food system, for all the farmers who produce it, both overseas and at home.
Related reading: