What would we do without our favourite sweet treat, a cup of cocoa at bedtime, or a chocolate egg at Easter? Many of us cannot imagine a world without chocolate but it is a very real possibility.
Here are 7 facts about cocoa and why it is at risk of shortage…
1. Globally, we consume 3.5 million tonnes of cocoa each year. (That's over 3 billion kilograms.)
2. Almost all of that cocoa (90% of it) is grown by around 6 million farmers on small family-run farms.
3. The largest cocoa producing country by volume is Côte d'Ivoire, which produces around 40% of global supply.
4. The UK is one of the world's most chocoholic country, with an average yearly consumption of over 11kg per capita according to a 2017 Mintel report.
5. It can take 4 to 5 years for the cocoa tree to bear fruit with each tree producing around 1,000 beans a year – enough to make just 1 kg of chocolate.
6. Every stage of Fairtrade cocoa production is done by hand: planting, irrigating, harvesting, fermenting and drying. This is hard work, but too often the salaries are low and working conditions poor.
7. Disease and age are damaging cocoa trees and the number of farmers is falling because the benefits are so poor that few young people want to stay in the profession – the average age of a cocoa farmer is 50.
Is the future of chocolate at risk? Because the benefits of cocoa farming are so poor, few young people go into the profession.

Tweet
Without younger workers entering the farming profession and without investment, the cocoa industry is at real risk, within as little as 5 years.
What can be done to prevent this?

Fairtrade helps to make cocoa farming more sustainable through payment of the Fairtrade Premium which farmers can invest in business or community projects, allowing them to be able to better provide for themselves and their communities.
In 2015-16, Fairtrade cocoa farmers earned more than £21.7 million (a remarkable jump of 33%) in Fairtrade Premiums and almost a quarter was invested in directly supporting farming families meet their daily needs.
So when you are next choosing chocolate, look for the Fairtrade mark to know that you are contributing to the sustainability of the UK's favourite treat.
Save our chocolate!
You can make a significant difference by choosing Fairtrade chocolate and cocoa.
See where you can find Fairtrade chocolate on the high street
Next Steps
Fairtrade is campaigning for a living income to become a reality for cocoa farmers in West Africa.
Find out more about our living income campaign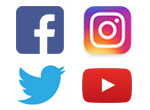 Support Fairtrade when you follow, share or like our social posts.