Twenty-five years ago, in 1994, the FAIRTRADE Mark launched in the UK, sharing its birth year with The Lion King, Eurotunnel, and the TV series Friends. Since then, we estimate that Fairtrade has generated just over €1bn in Fairtrade Premium globally, which farmers and workers have, themselves, determined how to invest. The actions of those first brands – Clipper Tea, Cafédirect, Percol and Green & Black's – offering the first Fairtrade certified products in the UK, and of the businesses that followed with their significant commitments over the years, have brought change to the lives of 1.7 million farmers, workers and their families around the world.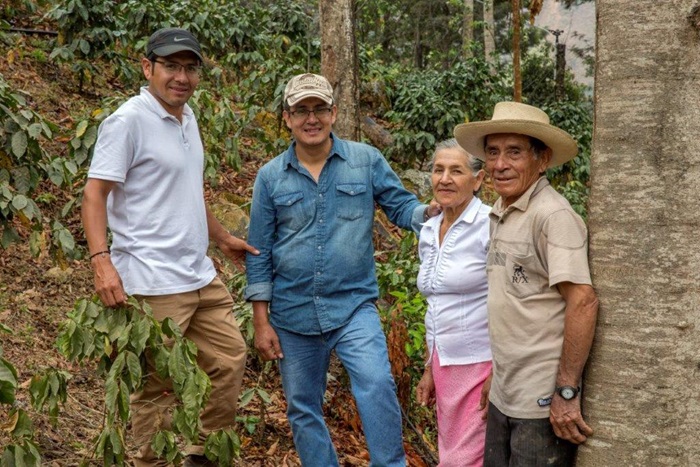 Farmer Segundo Guererro and his family from the Norandino co-operative in northern Peru. Segundo's eight children were among the first in his village to go to university.
Back in the early nineties, many thought Fairtrade would never catch on. It took the commitment and optimism of companies, backed by passionate public support across the country, to begin a revolution in the way we see trade. Fairtrade has propelled a huge shift in the attitudes of citizens and businesses towards exploitative trade, and the transformative commitments of companies both large and small, matched by the actions of individual shoppers, have driven momentum for one of the most important trade trends of the last century.
The remarkable expansion of Fairtrade from a tiny niche market to more than 6,000 Fairtrade products has pioneered and transformed ethical consumerism in the UK. At times dismissed by critics as a passing fad, today Fairtrade is by far the most recognised ethical label in the UK, trusted by 80% of consumers, and with a supporter base of thousands of faith groups, towns, schools and universities who are proving how much they care about the cause. Fairtrade's amazing campaigners marked our birthday with exciting events up and down the country ranging from a giant sand mural on Whitesands beach in Wales to a projection of the FAIRTRADE Mark and film screening on a monument in Glasgow's central George Square. Thanks to the actions of individuals our grassroots campaign has grown so much from its humble beginnings; Fairtrade is now a global movement, present in 125 consumer markets and supporting producers across three continents.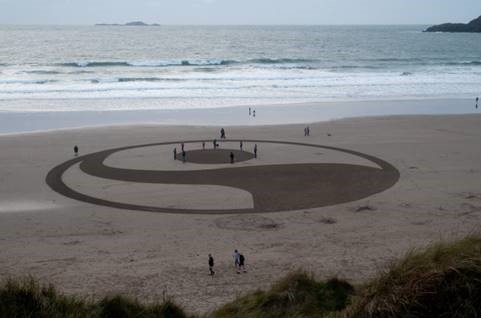 Fairtrade's Welsh campaigners making their mark on Whitesands Beach, St David's in October 2019.
Businesses have also embraced the opportunity to celebrate their impact with promotions and special products. Waitrose & Partners marked the anniversary with the launch of the first ever Fairtrade coffee from Java, meaning their own-brand coffee range is now 100% Fairtrade and Ben & Jerry's launched a brand new ice-cream, aptly named 'Fairway to Heaven', exclusively in the Co-op.
But even as we celebrate how far Fairtrade has come, we see the next challenges very clearly in front of us. Price volatility is killing farming. A living income is a human right and we will not rest until that has been achieved.
Even today, the average cocoa farmer in Côte D'Ivoire earns around 74 pence a day, far below a living income; meanwhile coffee prices are at their lowest in real terms since 2004. Recent research suggests that nearly 61% of coffee producers are selling their coffee below the cost of production, meanwhile the revenue share earned by coffee-producing countries has fallen from 24% in the mid-1990s to 16% in 2017. All this while the price consumers pay for coffee has risen steadily, and roasters and retailers have reaped an extra €1.16 billion from annual sales. One Guatemalan farmer summed the crisis up: 'the problem isn't the price there. It's what they pay here.' If we value our food, we must value our farmers.
Farmers without the protection of Fairtrade minimum prices have no safety net to protect them from global price volatility. They are also at the frontline of the climate crisis. Roughly half the surface area currently being used for coffee farming may no longer be suitable by 2050 due to climate change, and in recent years farmers' livelihoods have become increasingly vulnerable due to pests and natural disasters destroying their crops. Although the Fairtrade Standards promote sustainable development and Fairtrade encourages climate change adaptation and training, we need to spread these benefits to millions more farmers.
And surely it's in all our interests that farmers have the resources they need to tackle the clear and present threat of climate change.
In addition to low prices, human rights violations persist in the production of goods we consume every day. Modern slavery, child labour and perilous working conditions are often a consequence of low consumer prices. Whilst all products bearing the FAIRTRADE Mark comply with a robust and demanding set of economic, labour and environmental standards, which are independently audited, global trade remains scandalously unjust for most farmers and workers.
This is why in its 26th year we need to keep growing the Fairtrade market. Less than 10% of the world's cocoa is currently Fairtrade certified – imagine what impact could be achieved if more companies would commit to sourcing on Fairtrade terms. This is what drives our motivation for further innovation, in order to spread the benefits of Fairtrade to even more producers. Fairtrade works. Now we need it to work for more farmers, more workers and more communities. We need more businesses to commit to buying on Fairtrade terms; we need more shoppers to buy Fairtrade products and we need governments to prioritise trade justice and work with us to achieve living incomes and wages for all.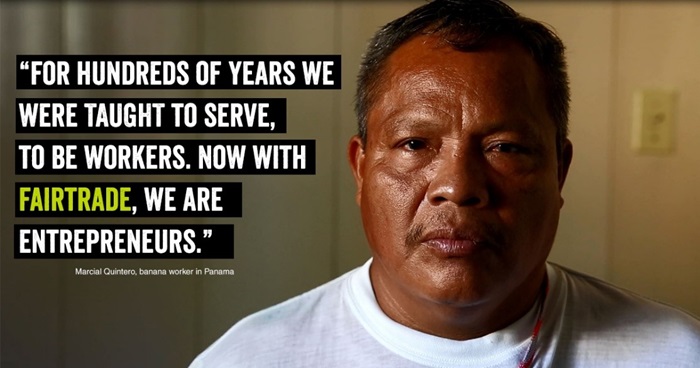 Fairtrade will continue to be part of the solution to inequality and poverty, to put the market at the service of humanity, not the other way around. This is why, as much as we celebrate our anniversary, we remain focused on revolutionising trade and our 'Menu for Change', calls upon the public, businesses and the government to act with us. 
Happily there is a growing community of people – shoppers, campaigners, business leaders, school children and producers themselves – who share our aims. The concept of individual action runs deep in Fairtrade, and the strength of the Fairtrade movement gives me hope for the future. As the environmentalist Jane Goodall said, "You cannot get through a single day without having an impact on the world around you. What you do makes a difference, and you have to decide what kind of difference you want to make".
On this special birthday, I hope you will join us in toasting 25 years of Fairtrade and take action so that together, we can make trade work for all.
Keep in touch

Sign up to email updates from Fairtrade to hear about products, petitions, competitions and more.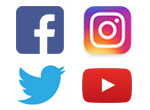 Support Fairtrade when you follow, share or like our social posts.