by Susannah Henty, Senior Media and Comms Manager at Fairtrade Foundation
We visited The London Coffee Festival, the UK's largest coffee bean celebration, to learn about the industry's priorities for 2022 and share our top five insights from the event.
1. The cost of living crisis in our cup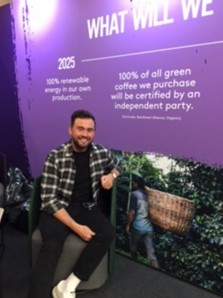 There's been a lot of talk lately about the high price of coffee which is another blow for coffee lovers who are already stretched with the soaring costs of living. There are a number of factors that are affecting this rise including climate change, shipping bottlenecks and café staffing costs.
Yet farmers aren't necessarily seeing any extra in their pocket and they have already experienced years of instability. Between 2018-2020 the price fluctuated around $1 per pound of Arabica, squeezing their incomes to such an extent that thousands of coffee farmers were living below the poverty line.
Increasing the incomes of the people producing our coffee is vital, so they can look after their families and protect the land. Alex Spruce, Sales Director of Löfbergs UK, recognises the challenge and talked to us about the need to help the industry and the general public get through this moment, but also to continue doing the right thing, which is why they source Fairtrade coffee. He said: 'We're in a difficult moment when the coffee price is high, there is a lot of volatility in the market, we're working with customers and suppliers to make sure people are sourcing properly and paying the right price.'
Find out more about Löfbergs UK
2. funding projects and training that promote sustainability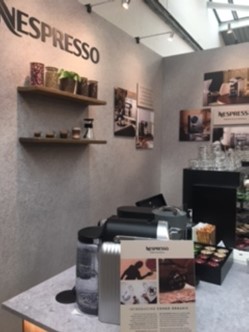 Despite the cost pressures, businesses recognise more must be done to improve sustainability, and sourcing Fairtrade is an important part of the solution. As Alex of Löfbergs says: 'We like to be 'sustainability at scale', there's a lot of small roasters in the UK doing amazing things but when you look at larger roasters it can be similar and saturated. Things like direct sourcing, working with certified coffee and recycled packaging can push the industry forward a bit, we like to think of ourselves being at the forefront of that.'
Nespresso, another exhibitor at the event, talked about their Fairtrade, Rainforest Alliance and Triple AAA certifications and say their aim is for every cup to be 'carbon neutral' by the end of the year.
They use recycled aluminium in their pods, which can be reused 'infinitely'. 'As well as being comprehensive in terms of sustainability we are a strong consumer and professional brand. Nespresso is everywhere, you can have a high-quality coffee experience at home, in the office or at an amazing range of restaurants, around 20 percent of Michelin star restaurants stock our coffees, which are also Fairtrade and organic,' said Nadia Nanji, Marketing and Sales, Fine Dining Account Manager.
Meanwhile Taylor's of Harrogate, who also had a stand, said they wanted to speak to people about packaging and gauge visitors' opinions, asking people to vote between 'recycling', 're-using' or 'shelf life' to get a sense of what is most important to the public.
Find out more at Nespresso Commitments – Doing is Everything
Find out more about Taylor's of Harrogate
3. Quality, taste
There is a lot to sample at London Coffee Festival and it is all about taste. The event showcases how the industry is constantly innovating to offer the general public different products, using language long associated with fine wines. Describing coffee taste profiles, and talking about single origins, microclimates and special blends we expect to continue in 2022.
Fairtrade provides lots of opportunities for farmers to improve the quality of their coffee. In addition to training, Fairtrade Producer Networks run a global competition, 'Golden Cup' in 15 countries, where farmers are recognised for the high quality of their coffee, with the winners scoring high results on the Specialty Coffee Association (SCAA) ratings, which are sold at a premium.
4. It's not just about coffee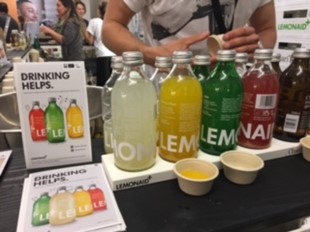 You may have noticed there's a much wider range of soft drinks nowadays, many of which are leading on their health credentials and this trend for low sugar, vitamin boosting, energising alternatives to soda is a huge growth area.
As Dale from Lemonaid+ and ChariTea, which uses organic and Fairtrade ingredients, says: 'We're seeing brands reformulating soft drinks to be healthy, our drinks have 40% less sugar compared with others, we use organic cane sugar and people expect that now, also they want healthier drinks, such as our Mate that we do, there are huge opportunities to focus on healthy living. Also all of our products are certified Fairtrade and that's so the farmers get a good deal, they are treated fairly, they have enough income to invest into their farming practices. It's important companies make sure their ingredients are Fairtrade sourced.'
And what do we think might rival Kombucha, an infused fermented tea that keeps the gut healthy, for popularity in the future? With chocolate made from the dried peel of coffee cherries and so much potential for drinks, we think the future looks good for Cascara.
Find out more about Lemonaid+ and ChariTea
5. The experience is everything
There was a real sense of buzz about the event, with everyone seeming happy to be out out, as Dale at Lemonaid summed it up: 'It's nice for everything to be open again!' Some of the most memorable stands at London Coffee Festival were those with an experiential element, for example from Beyond the Bean, which sells Fairtrade hot chocolate, had an arcade-style game where players could win various prizes. After two years of social distancing the exhibitors were telling us to get tactile, close and personal again.
READ MORE