Rosemary Achieng a Fairtrade flower farmer from Kenya talks about how the Gender Committee has changed her life.
As a widow and a mother of three, Rosemary Achieng is all too aware of the challenges women face in balancing the demands of work and family.
Rosemary is a supervisor at Panda Flowers, a Fairtrade certified farm in Kenya. "Fairtrade has changed things a lot," says Rosemary, who is one of around 450 women in the 900-strong workforce at Panda Flowers. "Women and men now have the same rights. There are regular working hours, fixed leave days and significantly improved safety regulations."
Working on a Fairtrade certified farm has given Rosemary a home of her own, and two of her sons are now studying at university thanks to bursaries paid for by the Fairtrade Premium.
Fairtrade Premium projects have also led to benefits for women in the wider community, such as a maternity clinic at Lake Naivasha financed in part by Fairtrade Premium money. Now the women have a safe place to give birth.
There is however, more work to be done – this positive picture is far from complete. Tough challenges remain, particularly in the area of leadership, where female participation is still low. Women workers are encountering very deep prejudices on the fringes of the flower industry, too. Fairtrade research on flower farms has revealed that widespread use of casual female labour increases the risk of human rights abuses, discrimination and sexual harassment.
In Kenya and around the world, Fairtrade's 2016-2020 Gender Strategy seeks to tackle unequal power relations and promote gender equality in producer organisations. The strategy aims to build women's power and autonomy so they can step up into roles that have traditionally been denied them, and better influence their own situations and conditions. There is still a long way to go on the journey to gender equality, but progress is being made.
This is an extract from an article published on Fairtrade International
Hear the stories and watch the videos of more Fairtrade farmers
Find out more about flower workers
next steps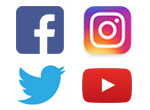 Support Fairtrade when you follow, share or like our social posts.

Sign up to email updates from Fairtrade to hear about products, petitions, competitions and more.