Roses are red, violets are blue, and we at Fairtrade couldn't do it without you
Make this a Valentine's to remember as your love helps transform the lives of over 1.6 million farmers and workers in developing countries. Flowers are a favourite gift for loved ones, but your loving gift doesn't have to come at the expense of someone else. 
Fairtrade means that the people producing your gifts get a fair deal. From flowers to chocolate and even beautiful Fairtrade gold jewellery, you can find that perfect present for your special person.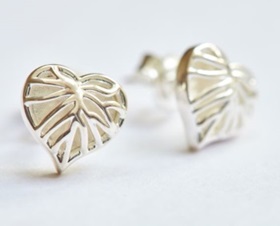 Fine & Fair Fairtrade Earrings
RRP: Gold and yellow gold earrings £142, rhodium/silver earrings £136.
Available from: Liz Earle Jewellery
These beautiful Mangrove Heart Stud earrings by Liz Earle are the perfect gift for Valentine's Day. Available in 3 colours – 24ct rose and yellow, gold vermeil or rhodium plated silver – the Mangrove Heart Stud Earrings are handmade by skilled artisans in Peru' and 100% certified Fairtrade.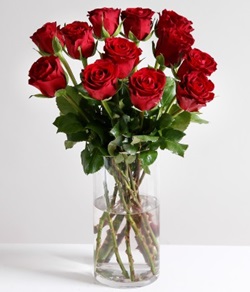 Arena Fairtrade Red Roses
RRP: 12 roses £29.99
Available from: Arenaflowers' online shop
One of the most iconic Valentine's gifts with a very special value: Fairtrade Roses are handpicked by local farm workers in Kenya. Through Fairtrade Arena's flower growers can invest in more sustainable farming techniques and take home a fair wage to care for their loved ones too.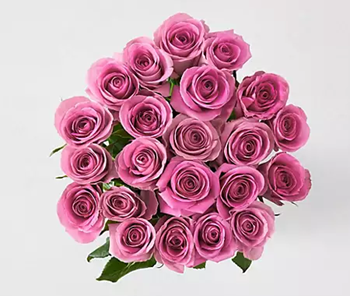 Marks & Spencer Fairtrade roses
RRP: 22 roses £25
Available from: Roses from Marks & Spencer
When you don't need words…. but just Fairtrade roses! Gorgeous bouquets of white, pink or yellow Fairtrade roses from M&S is the perfect gift to show your love in a striking range of colour.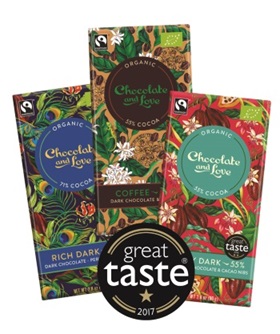 Chocolate & Love
RRP: £2.99 each
Available from: Waitrose, Ocado. For full list of stockists see Chocolate and Love's website
Chocolate & Love! What a perfect combination for Valentine's Day! Right from the name and design, this exquisite Swiss style chocolate is a sweet delight this Valentine's Day. A range of flavours for every taste, the chocolate is Fairtrade, organic, dairy free… cocoa comes from Fairtrade farms in Panama, Peru and the Dominican Republic.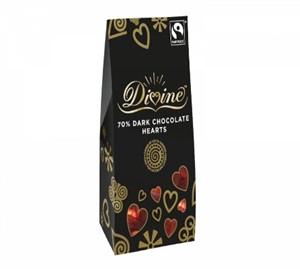 Divine's 70% Dark Chocolate Hearts
RRP: £4.45
Available from: Divine's online Shop
Give love with our dark Fairtrade chocolate Hearts! Every heart is wrapped in red foil and it contains 70% vegan cocoa. The dark chocolate hearts are highly recommended for those who wants make a simple but uniquely precious present.