One third of schools in the UK actively supports Fairtrade, and over recent weeks for Fairtrade Fortnight they have backed our campaign calling on industry and government to ensure cocoa farmers achieve a living income. In fact thousands of communities across the UK, towns, cities, faith groups and businesses have joined them. Two students even took the call to action to Parliament, where they stood up to speak at an event attended by more than 75 MPs.
They spoke of the injustice in the global cocoa industry: despite being worth £4 billion in the UK alone, smallholders in West Africa (who provide 60% of the world's cocoa) typically earn just 74p per day – roughly half the World Bank's assessment of what constitutes absolute poverty. That the chocolate industry, which brings so much pleasure to British consumers, should allow such poverty is a modern scandal, and has no place in a world striving for sustainability.
The Fairtrade Foundation's new report, "Craving change in chocolate: How to secure a living income for cocoa farmers" reveals an industry blighted with child labour, human trafficking and rainforest destruction; problems exacerbated by chronic poverty. Fairtrade argues that a living income for farmers is crucial if we want to ensure cocoa is socially and environmentally sustainable – if farmers are paid fairly they will be able to invest in tackling the root causes of these problems. And this is achievable: we calculate that for around £1.86 per day, the average price of a large bar of chocolate, farmers could live a decent life.
On a recent visit to Côte d'Ivoire, I saw the good and the bad of the global commodity trade in stark relief. I saw families with makeshift houses and no sanitation, with little chance of influencing the price they would get for their next harvest nor hope of trading their way out of poverty.
By contrast, when farmers get fair returns the results can be transformational. I saw schools built with the proceeds of cocoa and canteens funded with Fairtrade Premium, money on top of cocoa sales, and I learned that if you feed children at school not only do you tackle malnutrition but this also dramatically improves enrolment. I met communities tackling child labour. I met farming co-operatives investing in women and in their futures, people who rely on Fairtrade as the only initiative that guarantees a minimum price and protection from the rapacious global commodity trade.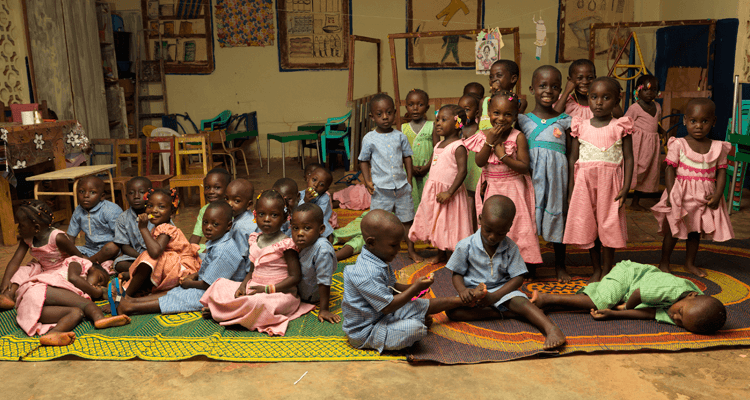 One Fairtrade co-operative, CAYAT, is making great strides in closing the gender equality gap (Côte d'Ivôire is ranked 5th from the bottom of the UN's Gender Inequality Index). Their Director, Awa Traoré wants to empower women to have economic independence and having started with just nine female farmers there are 300 today. This is a significant step forward in a country where just 25% of women cocoa farmers own land. One of the positive consequences is that productivity has improved (in some cases doubled). That has encouraged more men to transfer land ownership to their wives, increasing women's incomes and challenging gender stereotypes.
Women are becoming role models in their communities after graduating from Fairtrade's ground-breaking Women's School of Leadership, such as 60 year old Eba Aihon Yvonne, who said: 'I realised I am an important person. The training told me I have a value.'
Many of its graduates have become involved in women's associations helping members to set up businesses, in poultry or vegetable farming to generate additional income for families. The group also offers credit, such as interest-free loans to pay for school fees.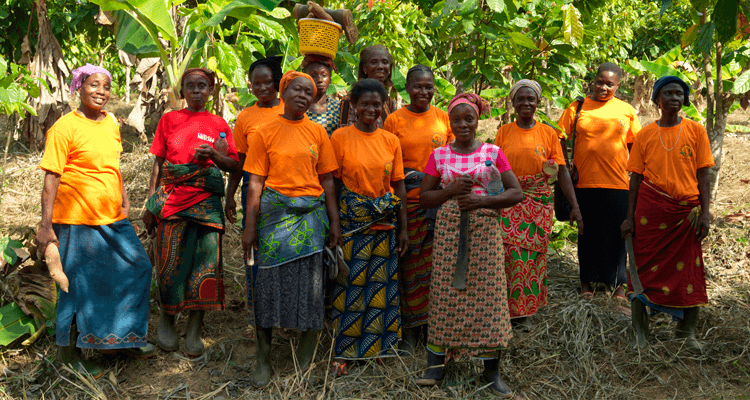 It is clear that the price farmers receive for their cocoa must increase. This will take action from companies and governments, and Fairtrade is determined to step up the pace of change. This is why in October 2019, Fairtrade is raising its Minimum Price and Premium by 20%. This will put more value into the hands of cocoa farmers and enable them to invest in a more sustainable future for their communities.
Our hope is that the chocolate industry will respond, and quickly. It has been inspiring to see the strength of public support for our campaign and companies are responding – Waitrose and Partners for example has committed to convert to Fairtrade cocoa for all their own-label confectionery this year. But the campaign for a fair cocoa trade has a long way to go.
There are reasons to be optimistic. Public support and trust in Fairtrade have never been higher – more than 80% of the population. Increasingly, consumers are asking questions about the share of value from their purchases that goes back to the farmers. Where does $4 billion generated from British chocolate go? The quest for transparency and accountability from companies is only going to go one way. More than 20,800 have signed our petition calling on the UK Government to ensure that governments and businesses prioritise this issue. Smart companies will respond. Our campaign focuses on women cocoa farmers, under the banner "She deserves a living income". Consumers have demonstrated that they want chocolate companies to pay a living income. They deserve it too.
Find out more and support Fairtrade's campaign
You might also like
Most people are familiar with Fairtrade, so why do the same misconceptions about what it is and how it actually works keep cropping up?

Follow us on social media

Support Fairtrade when you follow, share or like our social posts.

Sign up to email updates from Fairtrade to hear about products, petitions, competitions and more.