Over 900 schools received a fundraising pack full of exciting new learning resources to teach students about the farmers from India, Sri Lanka, Madagascar and beyond who grow the spices we enjoy. After learning about all of the hard work that goes into growing the ingredients for one of our favourite treats, many of the schools were inspired to roll up their sleeves, get baking and do their bit to support Fairtrade's work!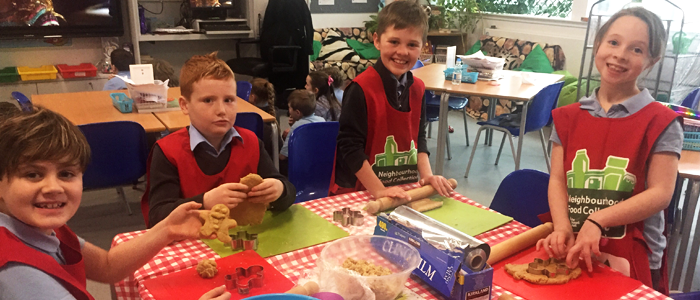 The students at St Anthony's Primary School look pleased with their delicious Fairtrade gingerbread people.
The money our fabulous fundraising schools collected goes to support the work Fairtrade does, supporting farmers and workers to fight for a fairer deal for their work, growing the food we love. It's a hard, demanding job, yet many of the people who grow our food don't earn enough from it to be able to feed their own families. At Fairtrade, we're working towards a brighter future where farmers and workers are paid fairly for their work, so they can feed their families properly and work their way out of poverty. If you would like to know more about how donations make a difference, check out our fundraising FAQs and read more about the impact of our work.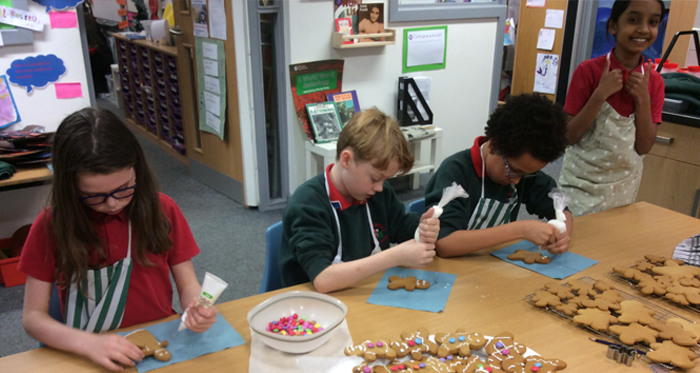 St George's Primary School in Hyde get artistic with their designs.
The only thing left to say is a big thank you to everyone who helped us 'bake a difference' with gingerbread this winter! We love hearing about everything you have done in your schools to support Fairtrade – thanks to Outwood Primary School, Mossend Primary School, Our Lady's Catholic High School, Crathes Primary School and others who have shared their stories and photos with us so far. Do please keep them coming to schools@fairtrade.org.uk and @FairtradeUKEd on Twitter.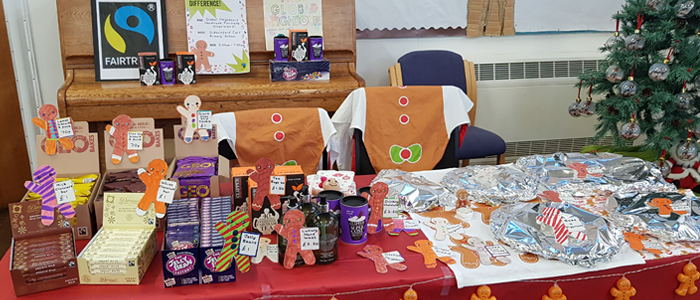 Oldswinford Primary School in Stourbridge got very creative with their gingerbread stall and even included other Fairtrade products.
If your school took part you are also well on your way to becoming a Fairtrade School – learn more about the Fairtrade Schools Award and how to sign-up here. Finally, if you are still yet to pay in your fundraising, please remember to donate online as soon as possible so we can put your donation to work straight away. For those of you that have already donated, keep an eye out for your thank you certificate coming your way soon!
Top picture: Crathes Primary School

You might also like
Most people are familiar with Fairtrade, so why do the same misconceptions about what it is and how it actually works keep cropping up?

Follow us on social media

Support Fairtrade when you follow, share or like our social posts.

Sign up to email updates from Fairtrade to hear about products, petitions, competitions and more.