However, we are closely connected to the 52 other Commonwealth countries – through trade for example. For us, the Commonwealth is an integral part of the Fairtrade movement. Sixty percent of Fairtrade farmers and workers live in Commonwealth countries, and lots of Fairtrade goods are sold in Australia, New Zealand and Canada, as well as here in the UK.
So, there is clear potential for collaboration on issues like modern slavery and climate change.
Next month, when the Commonwealth Heads of State gather in London and Windsor for 'CHOGM', trade is on the agenda. Speaking to Commonwealth leaders at the World Trade Organisation Summit last year, the UK Trade Secretary was clear: The Heads of Government meeting is our chance to redefine the trading relationship of the Commonwealth.
So what could this actually mean?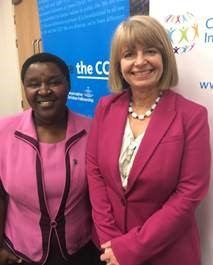 Is this about letting all flowers bloom, or could there be space at CHOGM to talk about fair trade and not just trade, as the Fairtrade Foundation has recently proposed in a report about Fairtrade and the Commonwealth?
Over the last two weeks of Fairtrade Fortnight, we have had the privilege of hosting four producers from across the globe, including from India and Uganda. Ketra Kyosiimere, who is both a farmer and accountant from the Ankole Coffee Producers Cooperative Union in South-West Uganda, has told us that she wants to sell more coffee on Fairtrade terms. At the moment, about 40% of their coffee is sold this way and secures a minimum price and Fairtrade premium for investment in the local community. She is not alone in this plea. When Fairtrade farmers and producers can sell a good proportion of their crop on Fairtrade terms, we see significant improvements in household income. It's no surprise that they want to sell more in this way.
(Pic: Ketra Kyosiimere with Harriet Baldwin MP for Fairtrade Fortnight)
What if Commonwealth leaders and businesses got behind Fairtrade and really championed this model?
The existing consumer markets in the UK, Canada, Australia and New Zealand could be strengthened – in the UK, we have seen 7% growth in Fairtrade retail sales over the last year, but we believe there is potential for even more growth. Development outcomes in the global south could be achieved in areas like education, health and women's economic empowerment – there are currently a million people working in Fairtrade certified organisations across the Commonwealth – but let's see this double! And we could also see markets develop in new and perhaps surprising places. Fairtrade has recently supported the launch of 'Zawadi' coffee – a new brand of coffee, made exclusively by women in the Rift valley and roasted in Kenya for the emerging domestic market.
Commonwealth leaders could also support one another to strengthen the policy frameworks and legislation that underpin global trading practices. There has already been collaboration around modern slavery, with the Australian government bringing forward its own legislation this year. This is likely to build on UK legislation requiring large companies to report on any modern slavery risks in their supply chains, and could be even stronger by requiring a central repository of annual statements and public procurement incentives.
And the Summit itself could lead by example, taking a steer from the hundreds of Fairtrade councils across the country that use their collective purchasing power to buy and serve Fairtrade.
Other big events have made this commitment in the past – the 2014 Commonwealth Games, following the precedent set by the 2012 Olympic Games, decided to source all bananas, tea, coffee and sugar for athletes, officials, workers and visitors, as Fairtrade, and on a sporting theme, we've also seen Fairtrade footballs used in the Homeless World Cup.
Ultimately this is about the values that the UK wants to promote. We've been told that the Commonwealth is built upon shared values and CHOGM is built around these four themes – prosperity, fairness, sustainability and security.
By making CHOGM a Fairtrade Summit, the UK government as the host and Chair for the next two years, would be sending a strong signal about translating these values into action, both in the Summit's agenda and in the tea-break.