Many think they can avoid the fever so long as they close the curtains, unplug the telly and book a holiday somewhere not showing the football, which turns out to be Nowhere. Love it or hate it — the global reach of the FIFA World Cup is undeniable. But even if you're firmly in the "turn it off" camp, you don't have to like football to find beauty and inspiration in what the tournament can represent — a meeting of cultures at a crossroads, and an affirmation of the bonds that unite us.
In many ways, football is analogous to real life — warts and all. Just as the world throws up inequities between wealthy and developing nations, international football has its own version of the haves and have nots. Whilst there is no shortcut to success, nations with well-funded football facilities, stadiums and infrastructure — not to mention coaching courses, youth programmes and hired expertise — will generally hold an advantage over the game's lower-ranked teams who lack such resources. But while real-life global inequities seem stubbornly intractable, the beauty of the World Cup means that for 90 minutes at least, the playing field is levelled — it's 11 against 11, with no guarantee that Goliath will win (especially if Goliath goes by the name England). Under the floodlights, and with billions watching around the world, a country like Senegal can defeat the country that colonised them (Senegal v France, World Cup 2002) while this time around, unfancied underdogs like Iran, Costa Rica and Panama capture our hearts, even just for one fleeting moment when a goal goes in. Few could forget the Senegalese players dancing after their 2-1 win against Poland, or the unbounded joy of the Panama fans after scoring a consolation goal in a 6-1 defeat. Amid the celebrations, parts of the world cast into the shadow of inequality are suddenly the ones who shine brightest.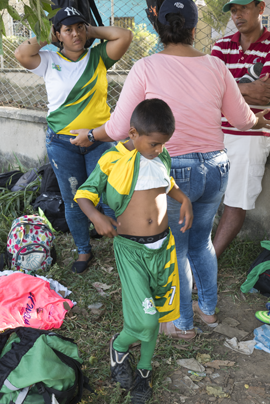 Why does this matter? Consider the millions of viewers watching around the world — including millions of young children, tomorrow's thinkers and doers — for whom football is often the prism through which they first encounter countries like Senegal. They witness a story they never usually get to hear: not poverty and despair, but pride and passion, noise and colour, the joy of achievement and the grace in defeat. These glorious moments have an emblematic quality that people remember for years; ask a teenager anywhere in the world to name someone from Senegal and they'd probably say Sadio Mané, Liverpool star and World Cup goal scorer, before they'd mention a politician or even a pop star. Football has a power and iconography that arguably nothing else can match.
On the pitch, we're reminded that for all the lavishly paid stars, football is a team sport. Even as we admire the extraordinary gifts of a Ronaldo or Messi, individual talent means nothing without a functioning collective: not just the mazy solo run, but team players who work for each other, rally for the cause and never give up. In the beautiful game it's the co-operatives who win.
But perhaps it's not the action on the pitch that matters so much as what happens outside the stadium, in the streets and bars and city squares which briefly become borderless frontiers, a melting pot of cultures where supporters shake hands, sing songs and swap scarves. Who could forget the Mexico fans serenading their South Korean "brothers", or the Japan and Senegal fans cleaning litter from the terraces, or the Egyptian fan in a wheelchair who was lifted onto the shoulders of Colombia and Mexico fans so he could watch his team play. Even for seasoned travellers, what better occasion to experience different customs, challenge our own preconceptions and learn something new. And contrary to the prevailing populist narrative, rather than weaken our sense of self we discover that all our cultures – and our global community – are stronger for it.
Perhaps the lesson of the World Cup is that a love of country and global citizenship are not mutually exclusive. No matter who wins on the pitch, when narrow tribalism is defeated by the kindness of strangers, we all win in the end.
Photos by Ian Berry, taken in Colombia.
You might also like
Most people are familiar with Fairtrade, so why do the same misconceptions about what it is and how it actually works keep cropping up?

Follow us on social media

Support Fairtrade when you follow, share or like our social posts.

Sign up to email updates from Fairtrade to hear about products, petitions, competitions and more.