Our recent announcement about Fairtrade's new partnership with Cocoa Life has certainly generated plenty of interest, including whether the FAIRTRADE Mark is going to be removed from Cadbury Dairy Milk products in May 2017, and replaced by the company's own Cocoa Life scheme and logo. So, is it true?
Yes, it is – we published this news on 16 November. Does that mean Cadbury has ditched Fairtrade altogether, as some newspapers have reported? No, not at all. It may sound surprising but actually Fairtrade is going to be working even more closely with Cadbury from now on – right at the heart of their US$400 million Cocoa Life programme where it matters, on the ground with farmers, supporting their organisations and community development programmes, building a climate change adaptation initiative, checking the volumes of cocoa and the payments to the farmers, and being part of the team evaluating the impact of the whole thing.
When I go around the country asking people why they support Fairtrade, they say it's because of what it stands for – a better deal and a better future for poor or disadvantaged farmers and workers around the world. We want to make companies treat their farmers with respect, and enable them to tackle poverty through trade not aid.Cocoa farmers are some of the poorest in international supply chains – in West Africa many of them typically still earning less than US$2 per day (as little as 40p per day in Ivory Coast), living in communities with very poor schools, inadequate healthcare and water supplies, never mind electricity in their homes. The continued scale of poverty is shameful. The exploitation of farmers has simply gone on too long, and the pace of change way too slow.
22 years ago when the FAIRTRADE Mark was first launched, the honest truth was that most chocolate industry bosses rarely if ever set foot on a cocoa farm. They had a few projects for cocoa growing communities – a well here, a school classroom there. But they had no idea which villages their bulk-bought cocoa was actually coming from, nor how the traders acting on their behalf were treating farmers. So when Cadbury first announced that they would make Cadbury Dairy Milk in the UK Fairtrade back in 2009, it was a truly great moment – a breakthrough of Fairtrade into the mainstream chocolate world.
We've done a huge amount to be proud of together since 2009. We've supported around 20,000 farmers to get organised into farmer unions, so that they can work together to improve their farming practices, purchase agricultural tools, agree how to support their villages and communities, develop micro-saving and loan schemes as well as training.
In 2012, having got much closer to the farmers and their communities Cadbury and Mondelēz launched their new 10 year US$400 million Cocoa Life programme, working with respected NGOs, World Vision, CARE, VSO, Save the Children, Anti-Slavery International and UNDP, rooted in local community action planning and sustainable sourcing of cocoa. This meant there was a whole new opportunity for Fairtrade to work not just with the small groups of farmers supplying the three or four Fairtrade Cadbury Dairy Milk bars we were certifying, but for up to 200,000 farmers covered under Cocoa Life, including all the farmers supplying the whole Cadbury range – including Twirl, Wispa, Flake and more. Cocoa Life has subsequently become the primary route by which Cadbury- Mondelēz is taking on more direct responsibility and ownership for the sustainability of the cocoa and the impact for cocoa growing communities, including trading and payments to farmers. This posed an interesting challenge to Fairtrade. Could we now embed our values and principles – fair trading, sustainable livelihoods and farmer empowerment – into the very heart of its business practice? Who would be holding Cocoa Life accountable, or verifying its impact? Someone should surely do that job, and Cocoa Life was open for Fairtrade to help play that role. So we set out some rules for how this might work.
We agreed Cocoa Life must deliver at least equivalent value to the Cadbury farmers as they would have received under Fairtrade, including cash loyalty payments to farmers directly. We agreed that it must continue to empower farmers and their organisations, and strengthen them to take control of their own futures. We listened to farmers telling us that climate change is the biggest threat to the future of their farming, and decided it should be the first priority programme to work on together. We committed to work together on monitoring, evaluating and learning about what was delivering impact, and what more should be done. Finally, and importantly, we insisted that Fairtrade would retain an independent voice and report on our own assessment of Cocoa Life publicly.
Because this was a new and different way of working and the payments to farmers and additional investments don't work in the same way as Fairtrade certification – it was clear that the products must stop carrying the FAIRTRADE Mark on the front. Instead from May 2017, they will have the Cocoa Life logo. But, because we will be working just as hard together to improve lives for farmers, we did some research with members of the public, who told us loud and clear that if companies have their own programmes, they want to know that someone is still checking them. They told us they want to be able to tell the difference between just a nicely designed badge that a company has invented, and something that actually has a proper, verifiable programme behind it. It's for that reason, we agreed to keep communicating about our partnership on the back of the packs, and include a weblink so people can find out more. It's about transparency, and holding a company to account.
So that's why I actually want to cheer, not jeer at, what is happening with Cadbury and Fairtrade. Because as long as so much of global trade remains unjust, and the pace of change remains too slow, we have to look for every possible opportunity to ensure businesses scale up their efforts. It would be so easy to get distracted or upset by what is happening on product packaging, labels and logos, and forget what we're actually here for – to make trade deliver a better future for farmers and workers, and to push companies, from the smallest brands to the largest multinationals, to keep going further and faster. To make fair trade principles and values the norm for how business does business, so that labels and logos are no longer even needed. Because that's what Fairtrade's ultimate vision is about – to fight the poverty and inequality still experienced by so many farmers supplying the products we buy every day – and enable all of us, through our work, to be able to earn a decent livelihood and plan for a better future.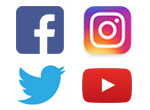 Support Fairtrade when you follow, share or like our social posts.

Sign up to email updates from Fairtrade to hear about products, petitions, competitions and more.