This model makes it easier for businesses to source some of their cotton on Fairtrade terms. This way, farmers can sell more of their cotton, which means more benefits for them and their communities.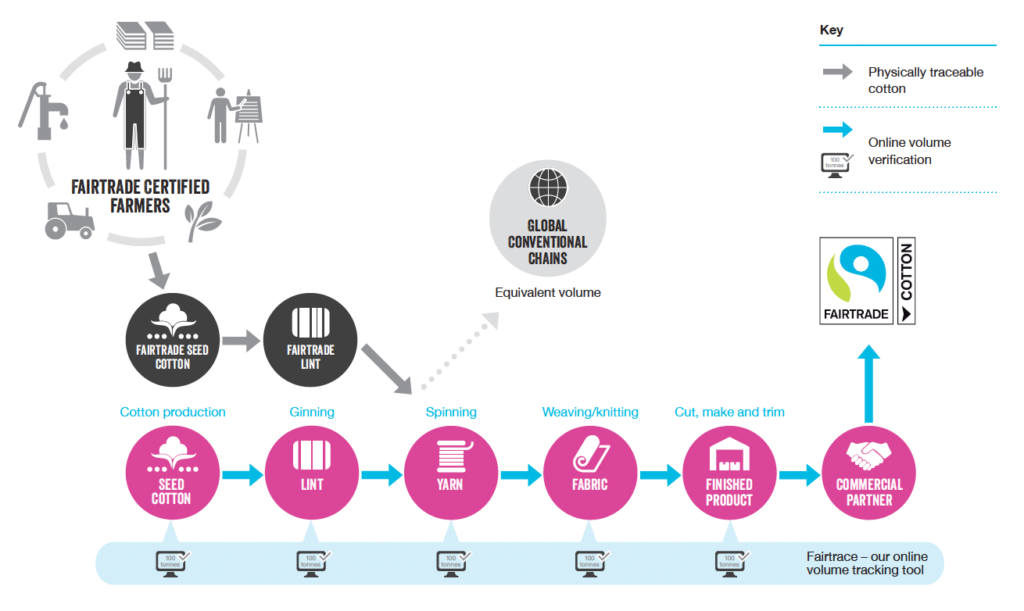 Understanding the Fairtrade Sourced Cotton model – key points
Commercial partner agrees to a target for the amount of cotton sourced on Fairtrade terms with Fairtrade.
This information is passed down the supply chain so that Fairtrade cotton can be sourced.
The Fairtrade Sourced Cotton model allows mass balance at spinner stage. This means if the spinner has Fairtrade cotton in their stock they can use it for this order. If not, they can use conventional cotton but must make a commitment to replace it 'like for like' with Fairtrade cotton within the next six months.
All operators in the supply chain need to report volumes of Fairtrade cotton.
Chinese suppliers can now be included after the spinning stage.
There is no change in certification standards for farmer organisations, which means they continue to get the same benefit of Fairtrade Minimum Price and Fairtrade Premium.
Chain of custody – tracking your cotton
Fairtrace, our online system, tracks and verifies volume transactions in real time along the whole supply chain, creating a chain of custody from the farmer organisation all the way up to the commercial partner.
All operators in the supply chain report Fairtrade cotton volume transactions made with suppliers and buyers in Fairtrace.
Fairtrace monitors each supplier's inventory and ensures that they adhere to the rules for mass balance.
Fairtrace verifies volumes used by commercial partners.
Communicating your commitment
We have a new Mark for Fairtrade Sourcing Programs and new communication guidelines. Companies can communicate their cotton volume sourcing:
On corporate communications (eg CSR reports, website, press packs)
Example statement: With the Fairtrade Sourced Cotton model, X% or X tonnes of our brand's cotton was bought on Fairtrade terms in the year X.
On consumer communications (eg PR, advertising, swing tags)
Example statement: The quantity of cotton required for [insert product/ range/ collection or product category name] is sourced, on Fairtrade terms.
Benefits of Fairtrade Sourced Cotton model for businesses
Flexibility in terms of time and product.
Cost-effective sourcing model for scale.
Traceability on where your cotton comes from.
Transparency in the supply chain.
Better communication with a more informed supply chain.
Farm-level, credible data to see your impact.
Strong sourcing support in the UK and on the ground.
Communication and marketing opportunities.
High customer trust.
Credible standards and verification system.
Real-time reporting rather than annual audits.