Where does our gold come from?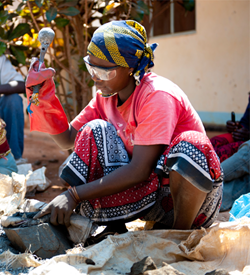 Fairtrade Gold is more than just gold, it's gold with heart. That means we care about the miners who mine this most precious mineral for your gold jewellery as well as the environment surrounding the mines they work in. 90% of gold miners work in Artisanal and Small-scale Mines (ASM). An estimated 100 million people worldwide rely on small-scale mining to support their families and communities, the second largest workforce to agriculture.
These gold mines can be hazardous places, with miners working in structurally insecure pits, without protective gear and using harmful chemicals such as mercury to recover gold. This can contribute to health problems and contaminate local water supplies.
What makes Fairtrade Gold different?
Fairtrade Gold is sourced exclusively from mines which meet the Fairtrade Gold Standard; an internationally recognised marker of best-practice. The Fairtrade Gold Standard includes strict requirements on working conditions, health and safety, handling chemicals, women's rights, child labour and protection of the environment including water sources and forests.
Workers in Fairtrade certified gold mines receive a guaranteed Fairtrade Minimum Price for their product. Fairtrade certified mines are audited by FLOCERT to check they meet the Standard.
How can I find Fairtrade Gold?
From bespoke designs to beautifully crafted gold jewellery collections you can choose from over 300 jewellers.
See the different partners we are working with today.
If you are a jeweller and interested in using Fairtrade Gold, take a look at our different sourcing models.
Find out more about Fairtrade Gold: Top 10 Facts about Fairtrade Gold
Miners from Limata mine in Puno, Peru, have combined mining and other income generating activities to protect the environment and invest in the development of their community.
MACDESA mine is based in the community of Cuarto Horas, Peru, and was one of the first mines to achieve Fairtrade certification.
CECOMSAP is a collection of 10 small-scale mines based in South Peru. The use of the Fairtrade premium has proved to be vital for miners to begin adjusting to the impacts of COVID-19.