Take action in your institution to join a worldwide movement for change.
What is the Fairtrade University and College Award?
The Fairtrade University and College Award gives recognition to institutions that have embedded ethical and sustainable practices through their curriculum, procurement, research and campaigns.
The award is jointly delivered by the Fairtrade Foundation and Students Organising for Sustainability UK (SOS-UK).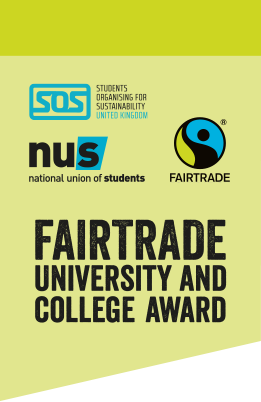 Why take part in the programme?
All large organisations have large environmental and social impacts – positive and negative. The biggest impact a university or college has is its graduates.
The students enrolled in universities and colleges are at a pivotal time in their lives for forming their values and shaping their future habits. By encouraging students to explore their understanding of the social and environmental impacts of their decisions, and making ethical and sustainable the norm, institutions can have a hugely positive impact.
The Fairtrade University and College Award recognises that institutions have numerous communities (students, academics, non-academic professional staff), and often a significant role in reaching out into different communities. Fairtrade's vision is a world in which all producers can enjoy secure and sustainable livelihoods, fulfil their potential and decide on their future. We believe that by connecting disadvantaged producers with consumers, we can all work to promote fairer trading conditions and empower producers to combat poverty.
Key features of the award
A broad range of themes and actions in the award criteria, offering opportunity for deep engagement across a broad range of areas.
Tiered award levels to enhance scope for continual improvement and long-term engagement.
Scope for recognition of wider ethical sourcing and trade justice efforts beyond Fairtrade certified products.
Support from SOS-UK and Fairtrade. Resources, tools and support to ensure universities and colleges can make the most of their participation and achieve their goals.
Scope for measuring impact: Through SOS-UK's programme of student surveys and database of over 700k students, monitoring will show the impact the award scheme is having on attitudes, understanding and ethical consumption and sourcing practice in the HE and FE sector.
Building a network of partnerships is also central to the award and enables collaborative approaches to larger national and international responsible trade and consumption campaigns
A comprehensive audit, led by trained student auditors through SOS-UK's highly successful student auditor programme.
The Award criteria
The award programme recognises that there are many different activities that take place within the institutions that help us to achieve our vision – including purchasing Fairtrade products, campaigning, teaching, research and outreach. The award has a large number of optional criteria to choose from to reflect the different strengths different institutions have.
In order to get the standard award, there are 11 mandatory criteria to achieve. The rest are all optional criteria that institutions can take any number of to achieve additional 'stars' for the award, ranging from 1 to 3 dependent on level of attainment.
The award criteria include actions that may include staff from the procurement, catering, student union, teaching staff and also students, and a partnership approach is encouraged.
How long does it take to achieve the Award?
Institutions and union partnerships will have two years to complete the Fairtrade University and College Award.
Partnerships register and work for an award using our bespoke online toolkit, structured to enable the partnership to upload evidence for each criterion, track progress and engage a working group in their work. You will have two years to complete as much or as little from the toolkit as you decide, with support and/or resources from SOS-UK and the Fairtrade Foundation throughout.
In March-May of the second academic year, SOS-UK and the Fairtrade Foundation will support the recruitment and lead the training of on-site student auditors who will verify the organisation's toolkit submission. Accreditations will then be awarded and remain valid for two years, until the next audit date.
How much does the Award cost?
Click here to find out more about membership levels and participation fees.
How do I sign up?
Applications for the 2023-2025 programme are now open and begins 25th September 2023. Sign up here https://www.sos-uk.org/programme-sign-up
How to stock Fairtrade at your university or college
For more information on why and where to buy Fairtrade see our National Fairtrade Purchasing Guide.
SOS-UK advises ethical procurement at universities and colleges.
Find more information and contact details on the SOS-UK website.
Useful links
Everything you need to know about how to become a Fairtrade university or college.
If you need ideas for your university or college's Fairtrade campaign, take a look at what Middlesex University and its team of students and staff have done for inspiration.
The latest updates for participants in the Fairtrade University and College Award.
Supporting resources