With sustainable pricing and trade at its heart, sourcing on Fairtrade terms is sourcing with integrity.
Fairtrade Standards are designed to deliver change that works for everyone. Working with us can help you to meet your responsible sourcing and sustainability goals, work towards the Sustainable Development Goals (SDGs) and comply with Modern Slavery legislation. We can help you to understand your supply chains, address sustainability challenges, talk about the change you are effecting and convince consumers of your mission.

'20 years ago Fairtrade awareness was 7% – now it is more than 82% and it also has a fantastic level of trust. I think Divine Chocolate has been part of building that trust and awareness. I hope that we have demonstrated that there really is a different way of doing business, putting the cocoa farmer at the heart of it.' Sophi Tranchell, CEO, Divine Chocolate
Producer-powered
Fairtrade's approach to sustainable development puts people and trade at its heart. We know that strong producer organisations make better business partners. Fairtrade builds investment and best trading practices into our model to address challenges in supply chains. Fairtrade improves farmers' positions to negotiate better trading terms by organising them into co-operatives, for a stronger collective voice for the most vulnerable. With over 1.6 million farmers and workers in 75 countries and 1,226 producer organisations certified as Fairtrade, we understand the realities of international trade and how the people most affected want to change things.
Fairtrade Standards
Fairtrade Standards are designed to deliver change that works for everyone. They are developed in consultation with farmers, businesses and others to improve social, economic and environmental conditions in producing countries. Fairtrade Standards aim to ensure that producers receive prices that cover the average costs of sustainable production and work towards a living income, and provide an additional Fairtrade Premium which can be invested in development projects.
Understand your Fairtrade supply chain
Fairtrade gives you access to information at your fingertips to understand the impact of Fairtrade, and your contribution to it. You will be able to understand key global and national challenges faced by farmers and workers in your supply chain – and you will see how Fairtrade Standards, Producer Support and Fairtrade Premium make a difference.
Independent Certification
Fairtrade Standards are independently certified by FLOCERT. Independent certification enhances your credibility with consumers, customers and other stakeholders and gives you the reassurance of a third party verifying your supply chain. Visit the FLOCERT website
Creating and growing the Fairtrade market
There are over 75,000 Fairtrade supporters and campaigners, who engage with the Foundation and the companies that work with us. We also receive cross party support from policy makers in Parliament. Because of Fairtrade's unique position working closely with both business and the movement, sales of Fairtrade products grew by seven percent in 2017 alone. The market is now worth £1.6bn and growing.
Communicating Fairtrade
Fairtrade has a range of flexible communications options. Where a product is made of one ingredient, or where everything in the recipe that can be sourced as Fairtrade is Fairtrade, the core FAIRTRADE Mark appears on packaging and in promotion. Where companies want to source particular ingredients as Fairtrade we offer the Fairtrade Sourced Ingredient model (FSI). The FAIRTRADE ingredient Mark can appear on the front, side or back of packaging and in promotion, transparently highlighting the ingredient to consumers in the side tab. If preferred, FSI commitments can be communicated solely through corporate communications, rather than on pack.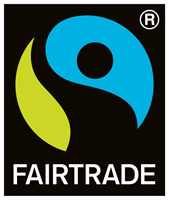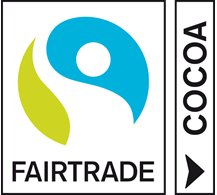 Product Composition
How much of your product needs to be Fairtrade to get certification? Find out all you need to know about product composition.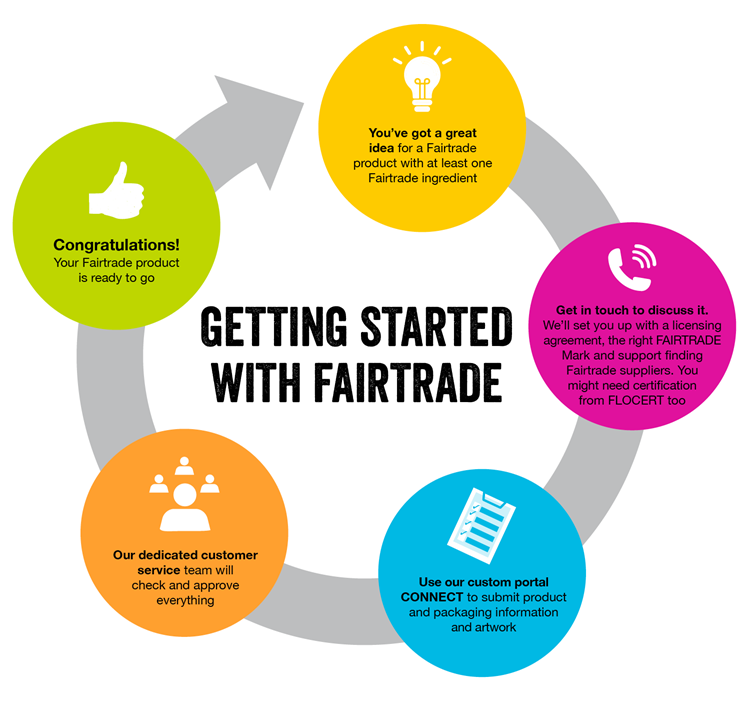 Fairtrade Sourcing Guides
Find out more about what a Fairtrade supply chain looks like.
How Fairtrade Sourcing works (pdf) >>
There are two different ways you can work with Fairtrade Sourcing, find out more about how they both work.
Fairtrade Sourcing Solutions (pdf) >>
Understand what is involved when you become a Fairtrade Licensee, from product approval to licence fees.
What you need to do to become a Fairtrade Licensee..
Applying to be a Fairtrade Licensee (pdf) >>
If you are having sourcing problems with small ingredients, you may need to apply for an exception.
Get in Touch
Subscribe for newsletter updates