Fairtrade is working with flower farmers and workers to strengthen their businesses and communities.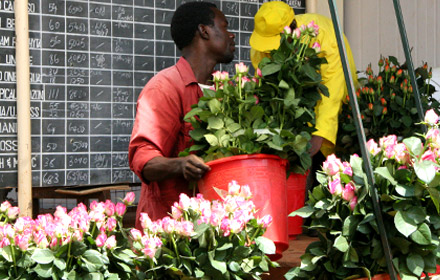 The global cut flower trade is estimated to be worth more than £88 million a year.
It's increasingly important to the economies of countries disadvantaged by unfair global trade structures. Most flowers are produced on commercial farms and provide employment opportunities and improved livelihoods for millions of workers.
The flower trade also brings in foreign exchange for investment in economic development. For example, Kenya's flower industry provides vital income for up to two million people.
However, the flower industry's largely female workforce often face limited access to education, over-crowded housing, low wages and repression of trade unions.
How Fairtrade is making things better
Working conditions
Fairtrade works with certified farms to ensure decent working conditions for their employees and to help protect workers' rights.
These rights include economic, environmental and social standards (such as requiring farms to have gender committees and preventing use of pesticides) as well as collaborating with workers to make their voices heard.
Fairtrade works with 74 Fairtrade-certified flower producer organisations in six countries, representing over 73,000 workers.
Fairtrade Premium
Fairtrade sales generate an additional Fairtrade Premium for workers to invest in projects of their choice. In 2020, sales of over 943 million stems meant flower farm workers received Premium payments of over £6.4m. They spent it on:
Education
Housing improvements
Finance and credit services
Supporting education in their communities by renovating school buildings and providing student bursaries.
Covid-19
In 2020, flower farms were severely affected by the Covid-19 pandemic, but Fairtrade provided a lifeline.
Find out more about the impact of Covid-19 on flower farms (PDF).
Resilience
We are also continuing to work with commercial partners and with the wider industry to explore how we can continue to build resilience and work towards living wages in the flower industry.
Read our 'Recommendations for building fairer and more sustainable and resilient flower supply chains in East Africa' (PDF).
The environment
Fairtrade flowers are often better for the environment than you might expect. This is because they often require less energy than European greenhouses, due to the warm climates they are grown in. Plus, Fairtrade flowers farms use their Fairtrade Premium for projects such as sustainable water irrigation, conservation and planting trees.
A 2018 a study found that cut roses produced on Fairtrade farms in Kenya generate 5.5 times lower greenhouse gas emissions than roses grown in the Netherlands. That's even taking into account air transport to Europe.
Discover Five reasons why choosing Fairtrade flowers supports the planet.
Meet Rosemary, a Fairtrade flower worker
Find out where to buy Fairtrade flowers
Whatever the occasion, you can say it with Fairtrade flowers. With 69 shades available across UK retailers and online there is colour to suit everyone.
Find Fairtrade flowers near you.
Our flowers
Bigot Flowers Ltd started growing roses in 2002. When they achieved Fairtrade certification in 2008, they made lots of positive changes.