Chocolate is one of the world's favourite sweet treats, but cocoa farmers often face a bitter reality. Fairtrade is fighting for a better future.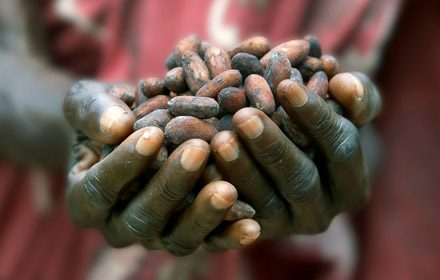 Millions of cocoa farmers work extremely hard, under gruelling conditions, yet often don't earn enough in return to cover their own basic needs – like decent food, housing and education. On average, cocoa farmers earn just 6% of the final value a bar of chocolate.
When terms of trade don't work for cocoa farmers it exacerbates poverty and contributes to persistent problems like discrimination, exploitation and deforestation, which threaten the future of cocoa.
Choosing Fairtrade is a choice for change. Fairtrade sets social, economic and environmental standards for both companies and farmers and workers. By shoppers, businesses and policy makers coming together to make trade work for cocoa farmers we have the power to reverse this negative ripple effect. Together we can support the cocoa farmers on the frontlines of the climate crisis to adapt to the changing climate and protect their environment, to strengthen their businesses and improve their communities and to decide on the future for themselves and their children.
Only Fairtrade focuses on sustainable pricing and has the safety net of the Fairtrade Minimum Price and the Fairtrade Premium at its core, going further than any other label to move cocoa farmers towards a living income.
The Fairtrade standards and the Fairtrade Premium are proven to protect cocoa farmers from the volatility of the market, as well as supporting them to develop their businesses and communities and to invest in their futures.
Read more about cocoa farming and how Fairtrade is making a difference
What is Fairtrade doing in the UK?
Fairtrade works hard to drive positive change in cocoa farming communities, and to push the chocolate sector to address the challenges that threaten the long term sustainability of cocoa and the people behind it.
Fairtrade is leading the fight for living incomes and better terms of trade for cocoa farmers.
Since 2019, our She Deserves campaign has set out to put living incomes on the public and policy agenda, and to shine a light on the inequalities faced by women cocoa farmers.
Find out more about our campaign for living incomes
What you can do
Together we can all play our part in creating the world we want to see – one in which cocoa farmers are paid a living income.
Fairtrade is a movement for positive change, with thousands of activist supporters and local campaigner groups across the UK.
Get involved with Fairtrade in your community
By buying Fairtrade chocolate you are casting a vote with your wallet. Your choice empowers cocoa farmers to support themselves and their families, protect the future of cocoa and the environment we share.
See where you can buy Fairtrade chocolate
The story of chocolate
This film explores the unfairness at the heart of the chocolate industry and how Fairtrade is working towards a living income for cocoa farmers. It specifically focuses on women cocoa farmers in Côte d'Ivoire and the role of women in community development.
Women cocoa farmers do the lion's share of work on cocoa farms in West Africa but often receive little reward. Find out more about the experience of women cocoa farmers through our interactive long read – The New Queens of Cocoa.
Our Cocoa Farmers
CAYAT is a cocoa and coffee farming co-operative, based around the towns of Adzopé and Yakassé-Attobrou in the South East of Côte d'Ivoire.