If you have a question or need to find us, you're in the right place.
Connect on social media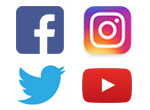 Connect with us on Facebook | Follow us on Instagram
Follow us on Twitter | Follow us on LinkedIn
Subscribe to our YouTube channel
---
Got a question?
Check out frequently asked questions pages, if your question is about Fairtrade in general or how to work with Fairtrade you may find the answer you're looking for on those pages.
To order general resources for events promoting Fairtrade, including Fairtrade Fortnight

Supporter Services, mail@fairtrade.org.uk

Or phone

+44 (0)20 7440 7676

Fairtrade Towns

Fairtrade Schools

Fairtrade University or College

Fairtrade Place of Worship

To work with Fairtrade, including becoming a Fairtrade licensee and using Fairtrade ingredients

Business Engagement, commercial@fairtrade.org.uk

+44 (0)203 301 5001

To enquire about public fundraising or to make a donation

+44 (0)203 301 5041

For media enquiries or interviews

Visit our Media Office

For questions about our Privacy Notice, data protection and GDPR, complaints or any other policies
If you are a journalist and need to contact an individual in our press office go to our Media contacts page.
Otherwise, please call us on +44 (0)20 7405 5942.
Our address
The Fairtrade Foundation office address is:
5.7 The Loom, 14 Gower's Walk, London, E1 8PY (view map)
For details of how to find us, visit our Directions to the office page.
Making a complaint or compliment
At the Fairtrade Foundation, we strive to give our supporters the best service we can provide. The dedication and commitment from our supporters is paramount to creating a world where farmers, producers and workers are not exploited for their hard work. This is why we welcome feedback, whether complaint or compliment, so we can improve our service and avoid any issues going forward.