OM Organic is a Fairtrade cotton cooperative located in Odisha, India. It is made up of 4,385 Fairtrade cotton farmers who come from 145 villages in the region.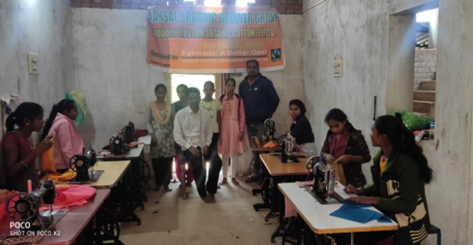 Cotton is a seasonal product, meaning that farmers only grow it for part of the year and have no source of income for the remaining months.
Furthermore, cotton crops are vulnerable to the effects of the climate crisis, creating instability for cotton farmers.
Given this, OM Organics decided to use their Fairtrade Premium to develop additional income streams, namely through cows, goats, and sewing.
Sewing machines and training were purchased for young women in the community, allowing them to make and sell blouses, dresses, trousers, and shirts.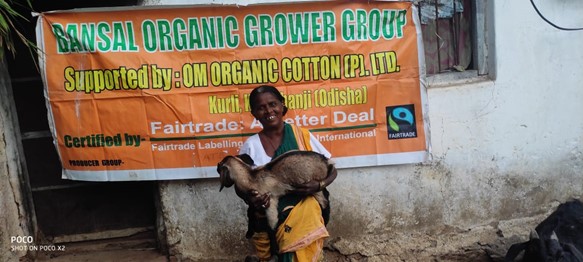 The farmers also sell cow's milk and use cows to plough their fields, and sell on the goats for profit.
Drinking the milk has allowed them to diversify and strengthen their own diets and those of their families.
Field officers visit regularly to provide knowledge on tending to the animals.
In order to have access to the latest information on agricultural practice, like crop cycle and soil management, as well as government schemes and subsidies, OM Organic farmers used the Fairtrade Premium to buy computers. These computers were also vital during the Covid-19 pandemic, allowing local children's education to continue online.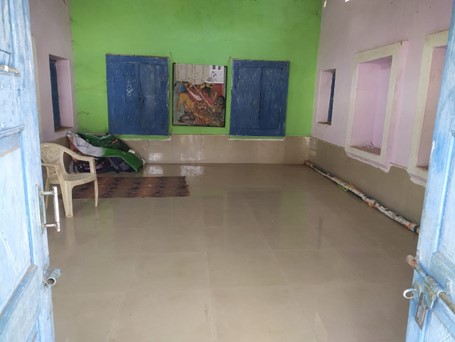 Finally, the farmers used their Fairtrade Premium to build a community centre.
Previously, they had to meet each other on the roadside, often made difficult by traffic, noises, and bad weather.
Creating a community centre, in the Ainlabhatta village, means that farmers and their families now have a central meeting place. The community centre is used as a space for training on agricultural techniques, for cultural activities, and even for weddings!
OM Organic also used their Fairtrade Premium to buy nangals, agricultural tools that are used to plough the land before sowing. Nangals allow for farming practices to be faster and cheaper, and lead to a higher quality of production.
Where to Buy Fairtrade Cotton
Buying clothes made with Fairtrade cotton means that you are supporting cotton farmers around the world.