Donations have supported women coffee farmers in the hills of western Kenya to grow their livelihoods.
The Women in Coffee project is an example of the work donations have made possible. Despite doing up to 70% of all the work in growing coffee, women farmers in Kipkelion Union in Kenya frequently don't hold any rights to what they grow. Research shows that when women are in control of more household income, that money contributes to better outcomes for the community, including health, education and investments.
What we're doing
Working with men and women farmers to encourage transfer of ownership of coffee bushes to a total of 450 women coffee farmers, providing them with greater independence and income.
Delivering training to improve their coffee yield and quality.
Constructing biogas units which will pipe clean blue-flame gas for cooking, reducing the burden on women of collecting firewood each day.
Developing and marketing a new product for sale into the Kenyan domestic market
'
I used to wake up early in the morning and fetch firewood first. So my children would get to school late, and I would also go to my coffee farm late. But now, with the use of the stove, my children get to school very early in the morning and I also go to my coffee farm very early in the morning.
' Zeddy Rotich
coffee farmer and member of the Kipkelion Union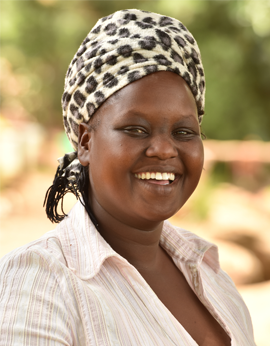 How we'll know we've succeeded
450 women farmers enjoy an independent income from coffee farming – the first time ever for many.
Coffee yields increase 80% following training with women farmers in improved farming techniques.
For the first time, certified women's coffee from organised women farmers is sold nationally within Kenya.
200 biogas units are constructed in the homes of women farmers – providing clean blue-flame gas energy in place of smoky indoor fires.
Over 60,000 hours of firewood collecting per year is saved by using biogas units for household cooking needs.
This project has received core support from the Big Lottery Fund. However, it would not have been possible without the additional support of donations from the public.
If you would like to help us deliver more projects like this, please make a donation today.
A donation will help Fairtrade reach more farmers and workers.