It started 20 years ago this November, when Garstang in Lancashire was first awarded Fairtrade Town status. Since then, Fairtrade Communities have been leading the fight for trade justice. Their campaigning has put Fairtrade on the community agenda at town, city or county level, building networks of people who believe in social justice, and taking action together.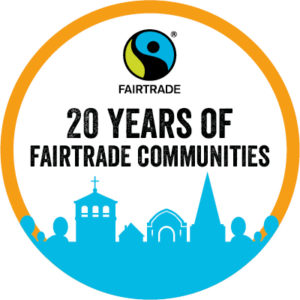 20 years on there is still plenty to achieve and for some, change feels like it's not coming fast enough. Low incomes and unequal opportunities to trade are still a sad reality and the climate crisis is disproportionally affecting communities whose livelihoods depend on small-scale agriculture.
The journey to trade, and more broadly social, justice was never meant to be straightforward. By nature, social change happens slowly, in fits and starts, and it can feel like a frustrating waiting game at times. As Bruce Crowther, the founder of the Fair Trade Towns movement, said in a recent interview: 'No matter how hard things get, continue to do what you believe in, what you feel it is the right thing to do in your life. Even if you feel you are banging your head against a brick wall, that wall will eventually fall!'.
So why is it that grassroots campaign groups, like Fairtrade Communities, can be so effective in breaking the walls of injustice down? Because decision makers, either in politics or in business, need evidence of social agreement to introduce change. Grassroots campaign groups embody that evidence. They are the ones who kickstart the process of change, by questioning existing unfair practices currently considered normal. They challenge power imbalances and demonstrate to those around them, from their peers to policy makers, that they want change.
It is through those interactions that change happens. When enough people have been influenced to do things differently, then wider systemic change happens. It is true that reaching that tipping point can take a long time, but grassroots groups take the first steps in the journey and lead the way at low and high points of what can be a rollercoaster ride.
Fairtrade Communities, as a vital part of the wider Fair Trade movement, have done the same over the past 20 years. By harnessing the power of collective action, they have embedded new values in decision making by individuals, businesses and policy makers. These are the values of an equitable and sustainable future where people and planet will thrive.