by Katy O'Brien
2019 marked 25 years since the first Fairtrade certified products hit the shelves in the UK. A defining moment in the fight for equality through trade. Here, we pick 25 Fairtrade products from the thousands available, to help you celebrate in Fairtrade style. Join the party!
1. Cafédirect London Fields range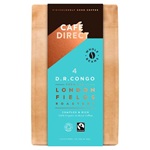 Cafédirect has been with Fairtrade since the start. That's 25 years of Fairtrade Premium (a bonus payment) generated for coffee-growing communities in Peru and around the world. Cafédirect sources 100% Fairtrade coffee (as well as tea and hot chocolate), so this must be the perfect coffee to drink while preparing for your celebration.
Try their brand new London Fields range that includes fragrant single origin coffees from Honduras, D.R. Congo and Indonesia.
2. Green & Black's cocoa powder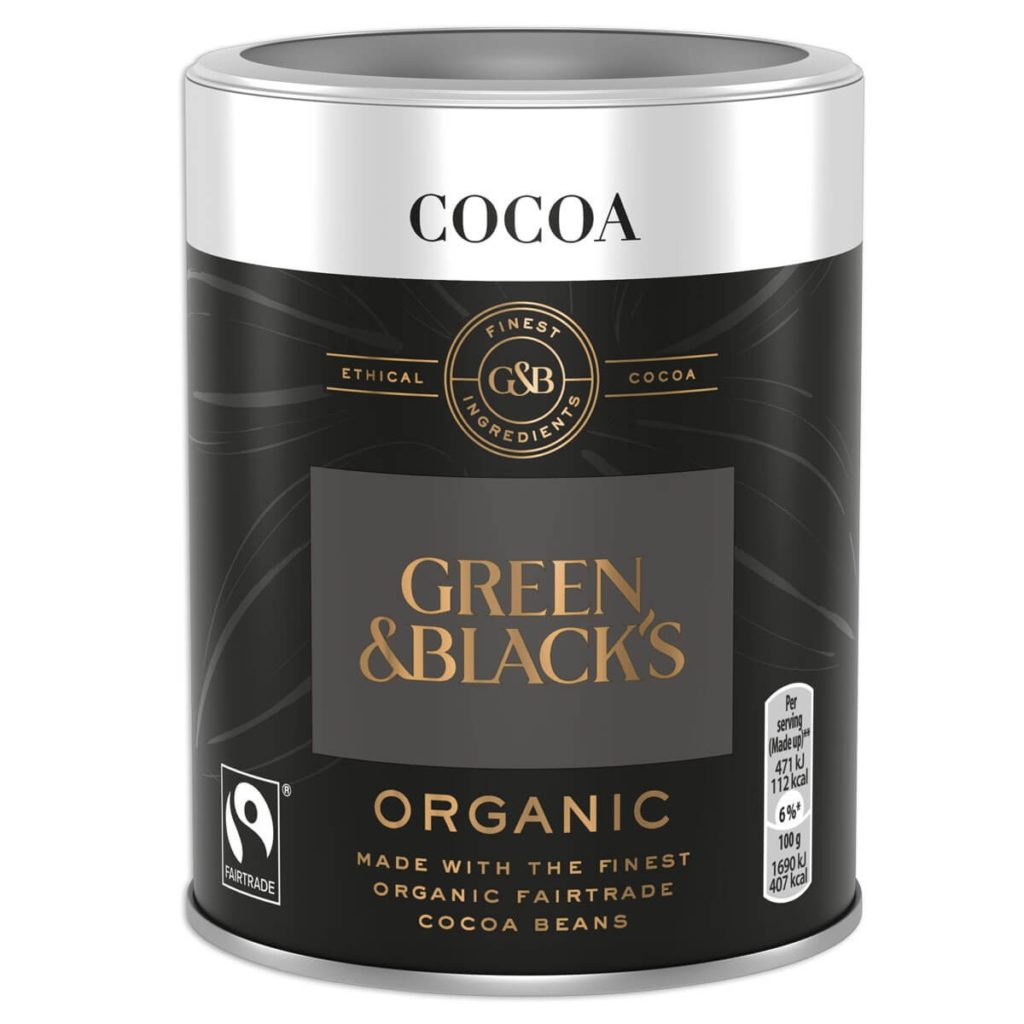 Baking a cake to celebrate 25 years of Fairtrade? Use Fairtrade cocoa powder to really bake a difference. The deliciously deep chocolate flavour of Green & Black's organic Fairtrade cocoa powder makes it an ideal baking addition to cakes, cookies, brownies and more.
Widely available including in store and online from Waitrose, Sainsbury's and Ocado.
3. Tate & Lyle icing sugar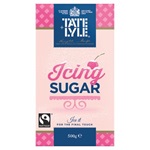 Essential for finishing any show-stopper, you can simply mix this Fairtrade icing sugar with water or lemon juice, to produce a glossy glacé icing, or cream it together with soft butter to make a delicious buttercream filling. For special occasion cakes, choose royal icing for piped and firmer results. The icing on the cake!
Find it in most major supermarkets. Look for the FAIRTRADE Mark.
4. Fairtrade flowers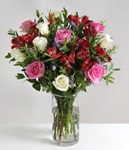 Take flowers for your host, or if you're the host, dress your table with Fairtrade flowers. Over 50,000 workers grow, harvest, pack and care for Fairtrade flowers from farms that must ensure safety and working conditions for their employees. These farms receive Fairtrade Premium (a bonus payment) of 10% for every stem sold, which allows workers to invest in healthcare, education and other social benefits.
Try the beautiful Fairtrade Majestic bouquet from Arena Flowers. It mixes Fairtrade roses with dusky mauve alstroemeria for visual impact, and fresh rosemary and lavender for additional aroma. Available online from Arena Flowers.
Fairtrade flowers are also available from Co-op, Waitrose and Aldi.
5. Odylique lipstick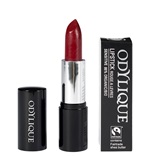 Dress up for the occasion with a Fairtrade lipstick from Odylique. There are 10 colours in the range, from the nude 'Praline' to the deep, party-perfect 'Cherry Pie' – one to suit every skin tone. The lipsticks are 100% natural and bursting with botanical ingredients that soothe as well as decorate the lips. Certified to Soil Association and Fairtrade standards and cruelty-free.
6. Dedicated to Fairtrade fashion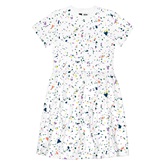 Dance the night away in an organic and Fairtrade cotton T-shirt from Dedicated's great selection for men and women, or this organic and Fairtrade cotton 'Maribo Terrazo' dress.
Alternatively, pick from White Stuff's Fairtrade range, or People Tree's range of ethical, Fairtrade clothing.
7. Fairtrade jewellery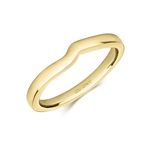 Add the finishing touch to your outfit. Buying Fairtrade Gold makes a real difference to the lives of miners, their families and communities. Browse the selection of rings by CRED. Founded in 1996 to improve the lives of small-scale gold miners, CRED is pioneering the ethical jewellery arena. The range includes Fairtrade gold rings of various colours and bespoke engagement rings. Buy online at CRED or see where else you can buy Fairtrade jewellery.
8. Fairtrade pyjamas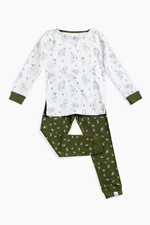 Leaving your little'uns with a babysitter? They'll be sure to enjoy a good night's sleep in these adorable, super-soft Fairtrade and organic certified cotton pyjamas.
What's more, Ocean Bluu is part of the OneGivesOne Project meaning that for every purchase you make, one essential item is given to a child in need.
9. Maltesers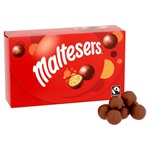 Guaranteed to put a smile of the face of every child at the party – stock up on Maltesers to keep kids (of all ages!) happy. Whether straight from the pack, in a bowl to share, or the decoration on a cake, Maltesers are a real party popper.
Available in most confectionery and grocery stores.
10. Fairtrade wine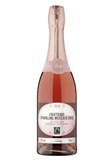 Raise a glass to Fairtrade! There is an amazing range of quality Fairtrade wines now available – everywhere from your local Tesco Metro to an extensive range in Co-op (Fairtrade wine's most committed retailer). We did the oh-so-hard task of trying several Fairtrade wines and can recommend these:
Add some fizz to the special occasion with this sweet but light sparkling rosé Muscato available in Co-op
Tilimuqui – organic and vegan friendly, this Fairtrade Malbec from Argentina is a rich red with a spicy complex finish. Available to buy at Waitrose.
Tesco Finest Fairtrade Pinotage – a good value, well-balanced red, made from South Africa's signature Pinotage grape. Buy Fairtrade Pinotage online at Tesco or in-store.
After a white? Try Sainsbury's Organic Fairtrade South African Chenin Blanc which has fresh citrus and tropical fruit notes and a crisp acidity. Buy Sainsbury's Fairtrade wine online or in-store.
11. Karma Cola and Gingerella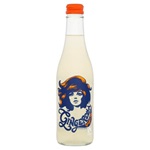 For a party-perfect soft drink, try the Fairtrade, organic Karma Cola, Gingerella ginger ale and Lemony Lemonade. The Karma Cola Company believes that what you drink should not only taste good, it should be good for the land, good for the people who grow the ingredients and as good for you as a fizzy drink can be. Available in cans or glass bottles – and with cool label designs they also look good!
Buy Gingerella online from Waitrose, Buy Gingerella online from Ocado or Buy Gingerella online from Amazon.
12. Fair Drinks Café Liqueur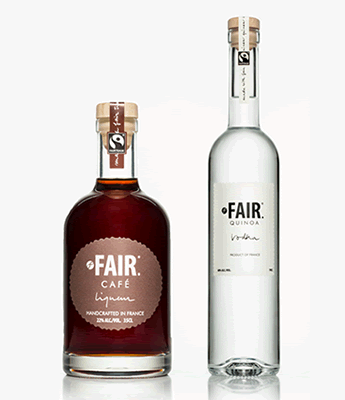 For a sophisticated party tipple, try one of the Fair Drinks range. An independent spirits brand with spirit! They are dedicated to sourcing ingredients ethically and sustainably.
Try the Quinoa Vodka or Café Liqueur from Waitrose.
13. Liberation Fairtrade nuts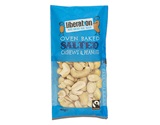 Liberation Foods is 44% owned by smallholder nut producers who are united by a common aim to earn maximum benefit for their families and communities by selling their nuts under a brand that they are proud to call their own.
This classic range of moreish, crunchy nut snacks is perfect for party nibbles.
Buy Liberation Nuts from Traidcraft, Liberation Nuts from Waitrose
14. Chocolate popcorn from Propercorn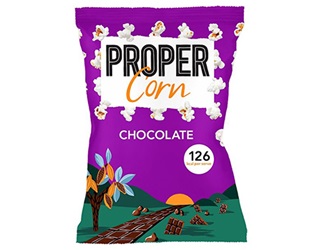 More party nibbles… Fairtrade popcorn is a thing! Chocolate popcorn is also a thing! Put them together and what have you got? Actual party perfection. Propercorn launched their foray into Fairtrade in 2017 with the delicious Perfectly Sweet popcorn and chocolate popcorn has since been added to the range, made with Fairtrade certified cocoa and sugar. Great for any party celebration!
Buy Propercorn from Tesco, Propercorn from Waitrose, Propercorn from Ocado and Amazon
15. Ben & Jerry's Fairway to Heaven ice-cream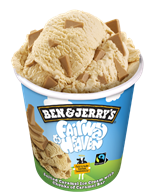 No party is complete without ice-cream and this brand new flavour from Ben & Jerry's is the perfect choice. Launched to celebrate 25 years of Fairtrade, Fairway to Heaven brings together vanilla with caramel chunks. Fairtrade has never tasted so heavenly! Ben & Jerry's is committed to sourcing Fairtrade ingredients for their entire range – every one of the flavours is 100% Fairtrade – including the dairy-free options.
Fairway to Heaven is available exclusively at Co-op.
16. Percol Colombian Single Origin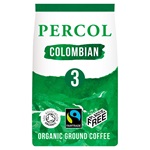 Percol's brand new range of ground coffee is Fairtrade, organic and comes in fully home-compostable and plastic-free packaging. Since its launch in 1987, Percol Coffee has always been dedicated to supporting the farmers who grow its award-winning coffee beans.
After dinner, why not serve the smooth Colombian Single Origin ground blend, which has hints of delicious berry.
Buy Percol Colombian from Sainsbury's, Percol from Waitrose, Percol from Tesco, Co-op, Asda, Morrisons, Foodylicious and Holland & Barrett.
17. Suki Tea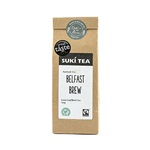 For those who would rather a tea after dinner, try the award-winning loose leaf tea from Suki Tea. They ethically source and blend their loose leaf teas, herbal infusions and fruit blends from all over the world.
The Fairtrade Belfast Brew Irish Breakfast Tea is available at M&S and Patisserie Valerie.
18. Chocolate with meaning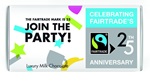 To celebrate 25 years of the FAIRTRADE Mark, The Meaningful Chocolate Company have created the Fairtrade 25th anniversary milk chocolate bar, designed using the Fairtrade Foundation's 25th celebration logo, it's perfect for an anniversary celebration!
The bars are sold in cases of 12 and cost £36 (£3 per bar), available to buy online from the Meaningful Chocolate Company.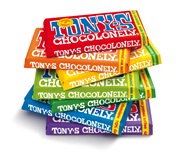 A firm favourite in the office, the chunks of each Tony's Chocolonely bar are unevenly sized, to represent inequality in the chocolate supply chain. Tony's mission is to eradicate slavery from cocoa farms for 100% slave-free chocolate.
Our favourite is the milk chocolate with caramel and sea salt (orange wrapper) but there are many flavours to choose from and they are all absolutely delicious.
Available from Waitrose and Sainsbury's.
19. Divine Chocolate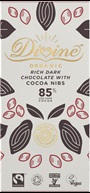 Divine was the UK's first farmer-owned confectionery brand and is now co-owned by the 85,000 farmer members of Kuapa Kokoo cooperative in Ghana. An extensive range of flavoured bars, all of Divine's chocolate is Fairtrade certified. For this special occasion, we recommend the organic, dark chocolate range, which bursts with feel-good flavours. Made with cocoa farmed in São Tomé, the Divine Organic collection is 100% organic, vegan, certified Fairtrade, and exceptionally special.
Buy Divine Chocolate from Divine's shop, Divine chocolate from Waitrose
20. Chocolate and Love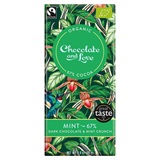 For an after-dinner mint chocolate, try the beautifully packaged dark chocolate and mint crunch from Chocolate and Love. Chocolate and Love is passionate about producing fine quality organic chocolate using ethically sourced ingredients. Their entire range is Fairtrade with cacao, cane sugar, vanilla and coffee sourced from Fairtrade cooperatives. Vegan options available.
Find it in health food stores or buy Chocolate and Love from Ocado
21. Seed and Bean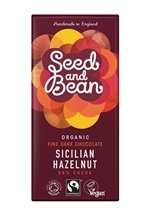 Seed and Bean is another ethical chocolate bar that looks as good as it tastes. Handmade in the UK using ingredients from Fairtrade certified suppliers, the pretty packaging is fully compostable. There is a range of flavours from espresso to sweet orange and thyme, all their chocolate is organic, all dark chocolate flavours are vegan and, where possible, all ingredients are Fairtrade.
Buy Seed and Bean chocolate from their shop, Seed and Bean from Ocado
22. Organic Fairtrade cotton bedding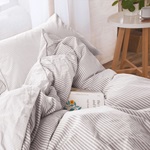 After the party, for the perfect night's sleep, fall into these organic and Fairtrade certified cotton bedsheets. The Dip & Doze team has considered everything from the cotton field to the bedroom, so besides the Fairtrade, organic cotton fabrics, their bedding has handy size labels, extra strong elastic on the fitted sheets and even eco-friendly coconut buttons on the duvets. So sleep well in the knowledge that the sheets you're wrapped up in are making not just a positive difference to your daily life, but also to those who helped make them, and to the planet too.
23. Clipper teas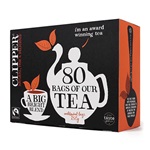 For a good morning after a good night, look over the party pics with a cup of Clipper's Classic Black Everyday Fairtrade tea. Clipper Tea was the UK's first, and today is the world's largest, Fairtrade tea brand. It was the first brand to offer green tea to consumers in UK supermarkets and in 2018 Clipper introduced the world's first plastic-free, non-GM & unbleached heat-sealed tea bag made from all plant-based materials. Their classic everyday Fairtrade tea is harvested from rich red soils in Africa and is fresh and punchy in perfect measures.
Buy online from Clipper, plus all major retailers.
24. Fairtrade bananas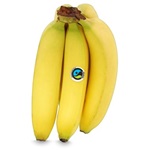 Get the morning after off to a bright start by adding a Fairtrade banana to your breakfast. One in three bananas bought in the UK is Fairtrade. That's great – but not enough. Too many farmers are still struggling to make ends meet.
Sainsburys, Waitrose, Co-op and Ocado sell ONLY Fairtrade bananas. That's commitment. Many other stores sell Fairtrade bananas among their others, so always look for the FAIRTRADE Mark.
25. Coffee from Greggs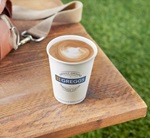 Perk yourself up post-party and pick up a coffee from Greggs. All the tea, coffee and hot chocolate sold at Greggs is Fairtrade, as well as their own-brand apple and orange juice.
Thank you for supporting Fairtrade and for choosing Fairtrade products. It makes a real difference to the lives of the farmers, workers and their families and communities.
Enjoy your celebrations and here's to the next 25 years!
You might also like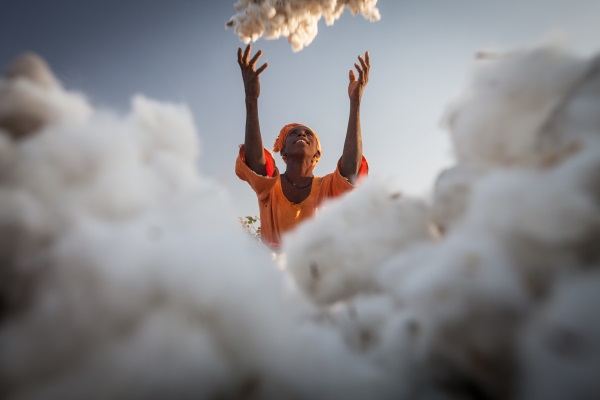 25 Facts about Fairtrade
1 October, 2019
As we celebrate 25 years of Fairtrade products in the UK, and 25 years of positive impact for farming communities around the world, we share 25 facts about Fairtrade that you may not know.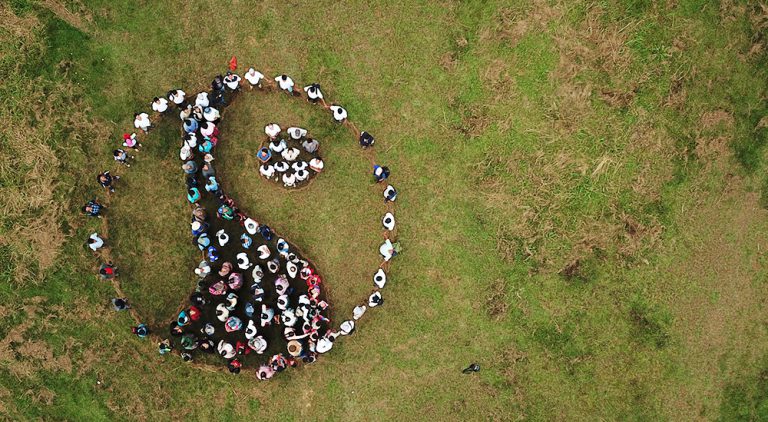 25 Years of Fairtrade Impact
3 October, 2019
Fairtrade is celebrating 25 years of Fairtrade products in the UK. But what impact has this had on the lives of farming communities around the word?