World Fair Trade Day makes a splash on 8 May – the perfect chance to shine a spotlight on some of the pioneering companies putting Fair Trade at the heart of all they do.
Given that the annual event is a global affair, it's also a chance to highlight how some of the farmers and workers producing Fairtrade products for these organisations are fighting the climate crisis, a situation worsened by the global pandemic.
At Fairtrade, we believe there can be no climate justice without trade justice. Without fair prices, farmers and workers will struggle to adapt to the challenges they face – including rising temperatures, changing weather patterns, deforestation, water scarcity and now Covid-19.
After the year we've had, we need to build back fairer. Choosing Fairtrade means putting more money in the hands of the people growing the things we love across the world, offering vital protection from price crashes, market volatility and climate extremes – and support during challenges such as the pandemic. So let's hear from some of the businesses doing business differently, in their own words.
Zaytoun: Farmers tackling water poverty in Palestine
Fairtrade makes olive farming more viable in Palestine. As the impact of climate change grows, the assurance of a fair price for their produce means farmers can afford additional resources and access the knowledge they need to mitigate damage to their crops caused by drought, winds and high heat.
In the summer of 2020, Palestine experienced a prolonged period of extreme heat and drought. Farmer Haj Rafeeq Hussein grows 900 rain-fed olive and almond trees on 75 dunums (0.075km²) of land in Ti'innik, to the north of the West Bank. He needed to irrigate his trees in order to ensure his harvest survived. Yet his land is in Palestine's 'Area C', which covers 60 percent of Palestine's West Bank and is under full Israeli administrative control. Farmers in this area are unable to either build water cisterns to capture spring rainfall or to dig new wells or boreholes. Haj Rafeeq had to buy extra water from his local council, which in turn buys water from the Israeli water company, Mekorot.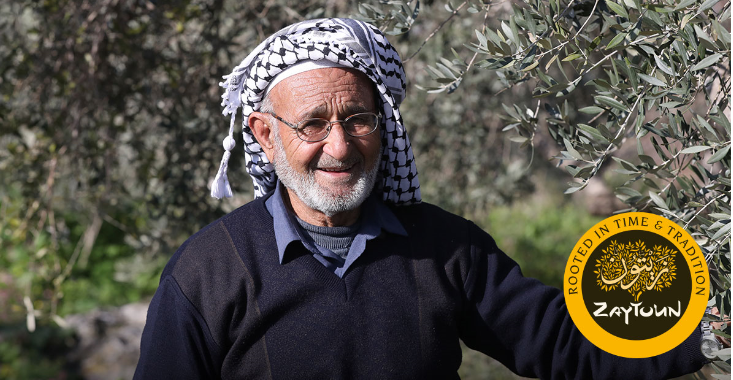 Purchasing additional water is expensive for Palestinians, but the support that Fairtrade brings to his livelihood means that Haj Rafeeq can afford it. It also enables him to hire additional workers to carry out regenerative farming practices such as mulching and feeding the trees with organic manure, to keep more moisture in the soil.
Fairtrade is about community resilience too. Through the Palestine Fairtrade Association, a network of Fairtrade co-operatives, farmers share knowledge and experience that helps them stay resilient in the face of climate change, using time-tested as well as innovative techniques.
Haj Rafeeq shares this message with his Fairtrade customers: 'We cultivate our crops in hard conditions and we insist on producing high-quality products. We welcome your support, so that we can continue farming.' 
Find out more about Haj Rafeeq Hussein and Fairtrade farming in Palestine
Buy Zaytoun products from their online shop
Liberation: Cracking agroforestry (and macadamia nuts) in Malawi
Last year, the International Nut Cooperative (INC), an association of smallholder farmers across the world, became majority shareholders of Liberation, the first Fairtrade, farmer-owned nut company in the UK.
As well as an unshaken commitment to addressing inequalities in the value chain, both Liberation and the farmers are intent on promoting environmentally sustainable business practice and climate-resilient farming techniques; from the installation of solar panels on factory roofs in Nicaragua to beacons of biodiversity with 210 plant species being grown in just one hectare of Keralan farmland.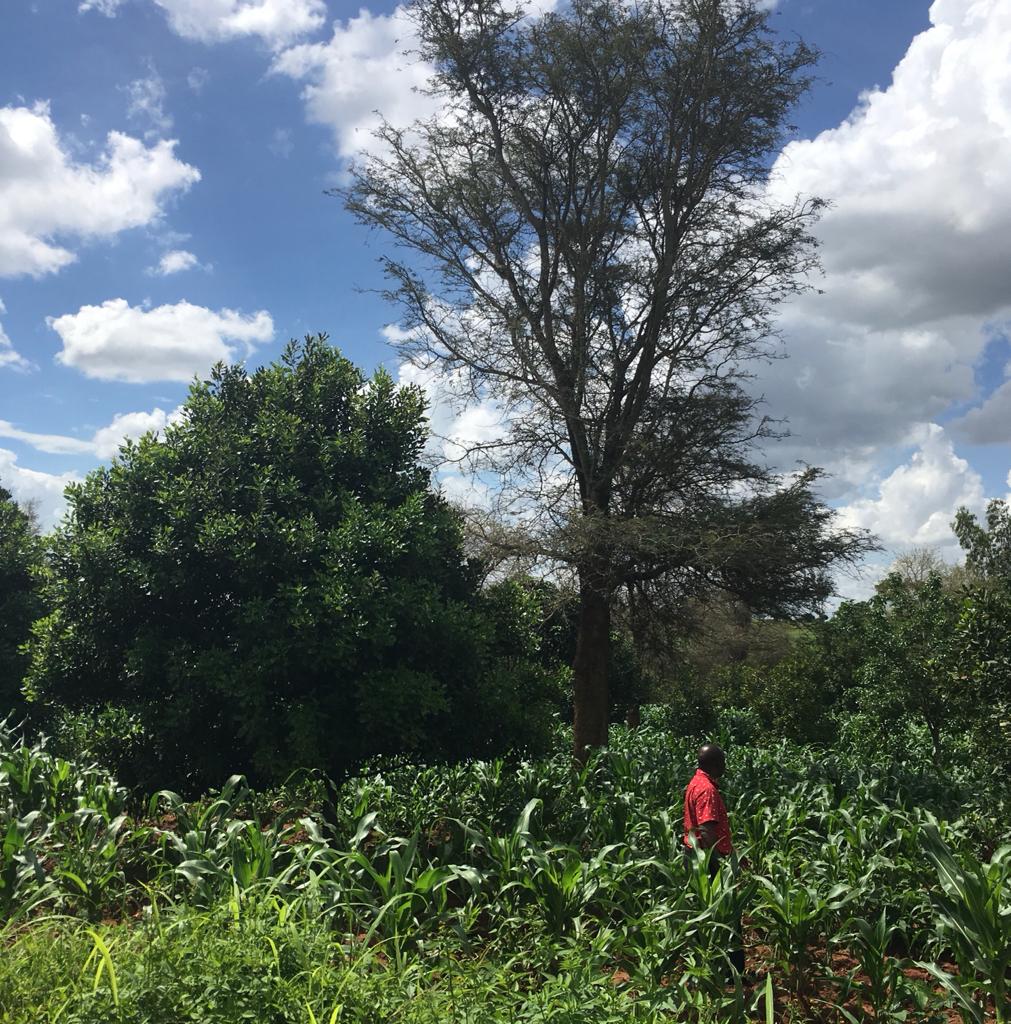 The Highlands Macadamia Co-operative Union Ltd (HIMACUL), based in Malawi, is the most recent INC member and have a distinct focus on climate-smart macadamia agroforestry. The co-operative, with over 3,800 members, supports regenerative farming. And with a new Chair in place, the farmers are making great headway.
In amongst the leafy grounds of a HIMACUL agroforestry farm, macadamia, acacia, banana and mango trees are improving soil fertility while offering shade to both farmers and crops including maize, soya and groundnuts. Fallen tree leaves from the acacia provide additional nitrogen. During peak dry season, the soil under the macadamia trees maintains a cool 15-20°, impressive when compared to the 50° temperatures monocrop land can reach – an impossible temperature for anything to survive in.
For the majority of Malawian farmers, maize and tobacco are the dominant crops, but these have caused deforestation and soil degradation and have seen declining prices. As a result, many communities are living a fragile existence, with any small change, climate-related or not, wreaking havoc. It is no wonder that many could not imagine forward planning by four years (the time it takes for a macadamia to bear nuts) or drastically changing to agroforestry.
But those who took the leap are now noticing huge benefits. Their land is more resilient and bountiful and they have seen an increase in wider biodiversity. There is greater food security and the trees, referred to as 'retirement crops', are considered strong future investments as not only do the nuts fetch a high market price but, once matured, need comparatively little maintenance.
On top of this, a relatively new initiative has begun in collaboration with the Neno Macadamia Trust to promote carbon sequestration and tree planting. Funds raised through Carbon Damage Mitigation certificates are directly supporting smallholder farmers who are actively planting and sustaining macadamia trees. The project is also designed to be community-led, offering further incentive for farmers to embrace agroforestry and think carefully about the future of their land.
Find out more about Liberation
Traidcraft: Honduran coffee farmers growing resilience
Traidcraft, pioneers of the Fair Trade movement, are just as passionate about trade, social and environmental justice as they were when they started out, over 40 years ago. They are increasingly concerned and worried about the killer effects climate change is having on their partners, which is why they have the environment in mind when making decisions. But there are other more immediate challenges to cope with on top of the climate crisis.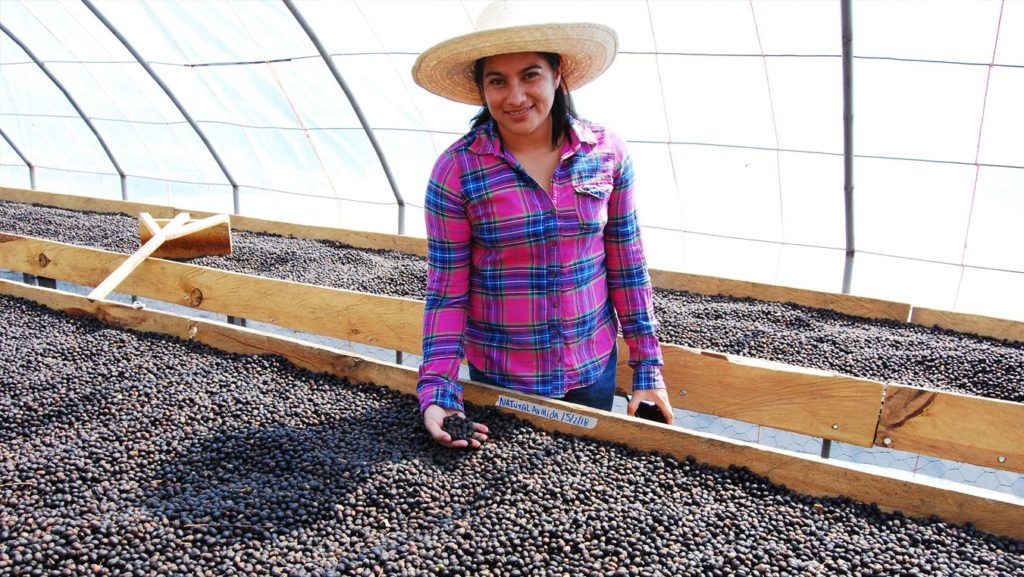 Coronavirus stopped every one of us in our tracks, putting our lives on pause. But as with most things, we were not all affected equally. At the best of times, Honduras faces many challenges, with inadequate water and electricity supplies, poor infrastructure, as well as schooling for children not always guaranteed. Hardly any other country in Latin America was as poorly prepared for a pandemic as Honduras, according to the Global Health Security Index. Lockdown made life unmanageably difficult. There were periods of time where food simply couldn't get into the country, and when it did, in some cases, the prices tripled.
To stand in solidarity with coffee farmers in the country, in summer 2020, Traidcraft sold a piece of Easter egg artwork they designed, gaining €660 in the process. Using this money, they teamed up with Roasters United and the coffee farmers of the COMBRIFOL co-operative (Cooperativa Mixta Regional Brisas de la Frontera Limitada) to work together to make sure the community had enough food, and also seeds – prioritising single mothers and their children. The support won't stop there either. The co-operative is setting up a nursery to raise seedlings, which means they will be able to grow their own fruit and vegetables into the future building resilience in the face of challenges life throws at them.
Buy Traidcraft products from their online shop
Find out where to buy a wide range of Fairtrade products
You might also like