by Heather Nicholson
Tackling the climate crisis is at the heart of the fair trade movement, as it threatens the livelihoods of those we are working to protect.
Fairtrade farmers are among the people who have contributed the least to the climate crisis but are already considerably affected. It takes 21 people from Côte d'Ivoire to have the same carbon footprint as one person in the UK. Farmers rely on the land they farm for their livelihoods and yet, due to low incomes, they often have lower resilience to face the impacts of climate breakdown.
Environmental protection is deeply ingrained in Fairtrade. Our climate change adaptation plans protect 2.38 million hectares of farmland. We support farmers to combat climate change through technical advice, fairer wages, special partner supported programmes and our environmentally friendly Fairtrade Standards.
Read on for five ways Fairtrade farmers protect the environment.
1. Fairtrade farmers plant trees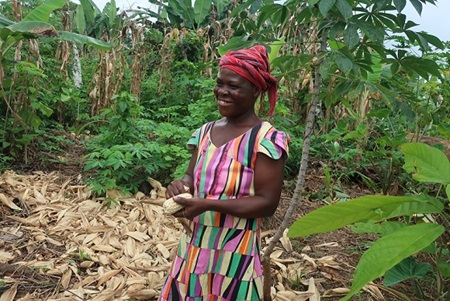 Deforestation is mainly caused by the expansion and relocation of fields and pastures. Cutting down the world's forests accounts for nearly 20% of all greenhouse gas emissions, putting it ahead of the world's entire transport sector for harmful emissions. The scale of deforestation in the name of agriculture suggests that food production and forests can't coexist, but there is a sustainable agriculture model that goes against the grain. Agroforestry is a type of farming where trees are deliberately grown alongside crops and/or animals, improving nutrient and water cycling, preventing soil erosion and increasing biodiversity. Forests and trees provide a habitat for natural pollinators and stabilise soil and climate.
Fairtrade actively promotes both the protection of forests and the planting of trees. Fairtrade Standards prohibit the felling of forests with high conservation value and require farmer co-operatives to map risk areas, raise their members' climate awareness and promote climate-friendly production methods.
KKFU, a 100,000 member Fairtrade farmer organisation in Ghana are working with Fairtrade Africa on the Sankofa project, which promotes the protection of biodiversity through planting a variety of tree and food crops to improve soil health and inset Co2 emissions. The project aims to establish dynamic agroforestry and climate smart cropping systems plots covering over 400 hectares with a high diversity of crops and timber trees, directly impacting 2,900 farmers and 13,400 household members.
2. Fairtrade farmers attend climate mitigation workshops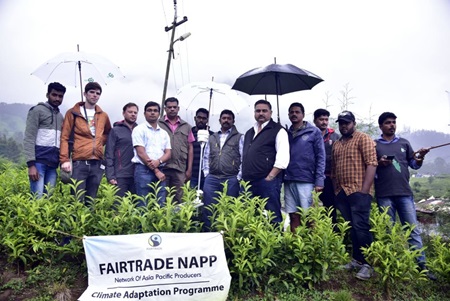 The climate emergency is already having grave consequences for farming communities.
'For us in Ecuador, climate change has led to the disappearance of native plant species. Freshwater supplies are also compromised as the glaciers up on the mountains are melting,' says coffee farmer Fanny Yaucen.
Local Fairtrade staff in Africa, Asia and Latin America organise workshops and training for farmers on climate-friendly production practices. The aim is to identify climate actions that will also benefit the farmers; these kinds of ideas often start spreading through the grapevine.
The Fairtrade Standards include many points related to reducing climate emissions. For example, plantations must reduce the use of non-renewable energy, and small farms are guided to do the same.
3. Fairtrade farmers reduce their use of harmful pesticides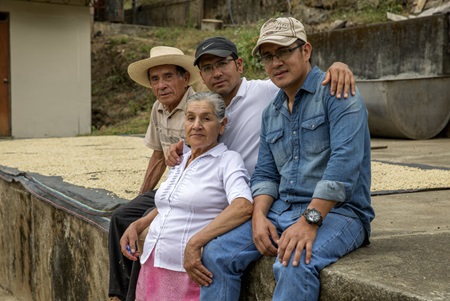 Pesticides can reduce biodiversity and pollute the water and soil. Chemicals used in agriculture can also harm the health of farmers and workers, from mild symptoms such as headaches and rashes, to long-term problems in the form of nerve diseases and liver damage. Fairtrade trains and supports farmers to reduce their use of harmful pesticides and offers training on how to adopt organic pest control and use natural fertilisers.
'What I recommend is not to use herbicides nor insecticides, nor nematicides because they contaminate our land.' says Hugo Guerrero a coffee farmer from Fairtrade certified co-operative Norandino in Peru. 'Producers when they use them they too are contaminated, however they don't realise this. We are poisoning ourselves, we are poisoning our children and we are leaving behind deteriorated land to the future generations.'
Fairtrade recommends the use of so-called integrated pest management: the selection of appropriate varieties, cultivation methods and organic pest control. In some circumstances, for example, water can provide an effective method to remove pests. Studies show that Fairtrade has reduced the use of chemicals in many production areas. Kenyan Fairtrade roses are produced with 70% less insecticides and 75% less fungicides than average Kenyan roses. The chemical levels are the same as on Dutch flower farms. Kenyan Fairtrade flowers have a lower carbon footprint than their Dutch alternatives, even considering air transport to Europe, because the climate in Africa is ripe for growing flowers, and often in Europe the cost of recreating that environment can come with a heavy carbon footprint.
Carbon footprint isn't the only environmental issue that is being addressed on Fairtrade flower farms. Some farms are collecting rainwater for irrigation, whilst others are using wetlands to purify the water that comes out of the greenhouses through a series of carefully constructed and efficient pools. This not only purifies the water so that there is no water pollution, but it is cyclical; the water is re-used for watering the plants again and again.
4. Fairtrade farmers protect biodiversity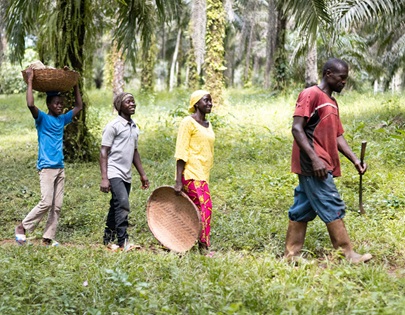 Biodiversity refers to the variety of living species on earth and is a prerequisite for all life. Biodiversity is threatened by the over-exploitation of natural resources, environmental toxins and climate change. Fairtrade supports 1,305 dedicated biodiversity guardians managing 2.38 million hectares of Fairtrade farmland.
Fairtrade farmers undertake a wide range of activities that support biodiversity, such as composting, reducing the use of chemicals, organic production and planting trees. Composting promotes biodiversity, as composted waste can replace artificial fertilisers. The climate also benefits as less methane-producing organic waste ends up in the landfill. The use of compost often significantly improves the soil's nutrient levels and water retention capacity. At the same time, the farmer saves money from not having to buy artificial fertilisers. Agricultural and food waste composting are widely used by Fairtrade farmers, from Indian cotton farms and tea plantations through to Ghanaian cocoa farms and Kenyan flower plantations to Peruvian banana plantations and coffee farms.
5. Fairtrade farmers benefit from climate-focused programmes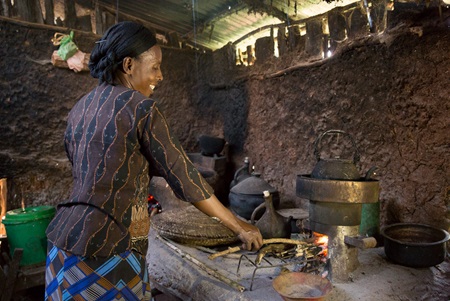 Fairtrade runs programmes to support farmers through the climate crisis. These include the Climate Academy in Kenya (2017-2020), a training and technical support programme formed to increase the climate resilience of coffee farmers. In West Africa, we are looking to pilot the production of drought-resistant yams on cocoa farms to promote food security and diversification. Meanwhile, Oromia Co-operative in Ethiopia has taken part in the carbon credit initiative to purchase biogas stoves, equipping 10,000 coffee farmers with 20,000 efficient cookstoves which reduce carbon emissions by up to 70%.
When you buy Fairtrade products, you are supporting farmers to become more resilient in the face of the climate crisis.
Find out where to buy Fairtrade products
You might also like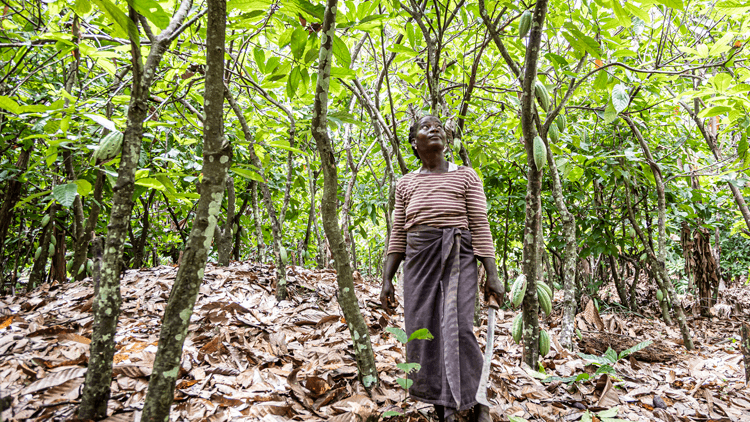 There is no Climate Justice without Trade Justice
24 February, 2020
Fairtrade is known for its work protecting farmers and workers around the world from exploitation. What many people don't realise is that our work on trade and economic justice is urgently required to bring about climate justice.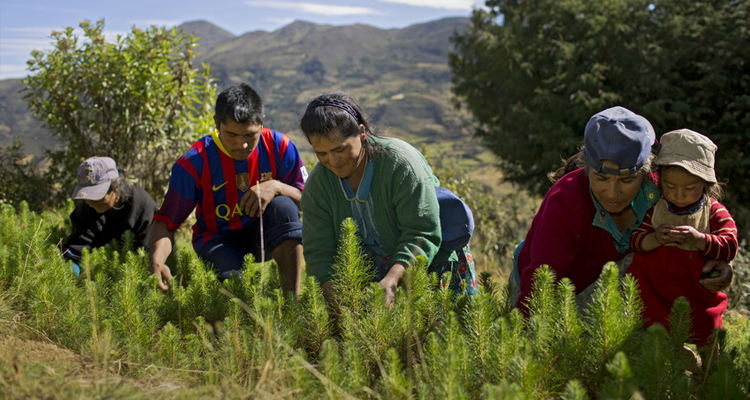 8 ways Fairtrade farmers protect the environment
4 June, 2018
Farmers say the climate emergency is one of the number one threats they face. Millions of farmers around the world who rely on agriculture for their livelihoods are among the worst affected.