A new season means a fresh collection of Fairtrade products hitting your favourite stores.
This spring look out for cosy clothing for ultimate Zoom call comfort, sweet treats and flavoursome wine for your upcoming socially-distanced picnic and a possible Fairtrade first with the Waitrose chocolate cake mix. Plus we have an exclusive discount on a new coffee!
Some you'll find online, some in your local stores but all the featured products share two common themes: farmers and the planet. Buying Fairtrade means a fairer deal for farmers and workers who produce the products we all enjoy, using sustainable production methods to protect the environment. So when you treat yourself you can rest assured that you're supporting Fairtrade farmers and workers and our planet too.
1. Ben & Jerry's Rain-dough Cookie Dough Twist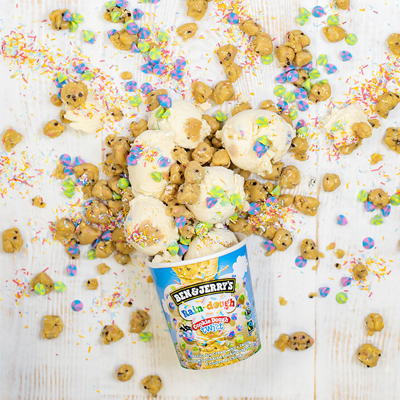 Ben & Jerry's continues to celebrate 30 years of Cookie Dough with the launch of this exciting new addition. The longstanding partner of Fairtrade has come up with a range of Cookie Dough Twist flavours, including Rain-dough which features, you guessed it… rainbow sprinkles! The delicious new flavour combines Fairtrade vanilla ice cream with a twisted rainbow sprinkled cookie dough centre and colourful chunks.
Buy Ben & Jerry's Rain-dough Cookie Dough Twist from Ocado and Asda
2. Clipper Restoring Roots TEa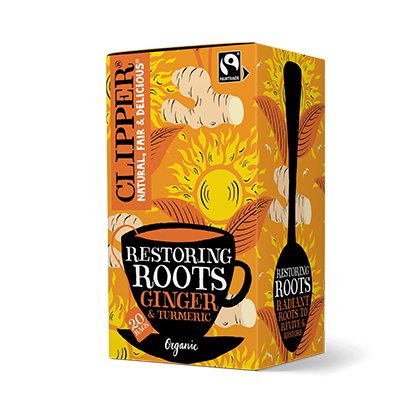 Restoring Roots Infusion is an exciting new Fairtrade and organic tea from Clipper Teas. It is a fresh blend of fiery ginger, warming golden turmeric and a surprising twist of black pepper. Clipper products are made with natural ingredients and use only the highest-quality sources. Known for using unbleached, plant-based and biodegradable tea bags, it's Clipper's aim to make things better for people and our planet.
Buy Restoring Roots tea from Waitrose
3. Co-op new Fairtrade wines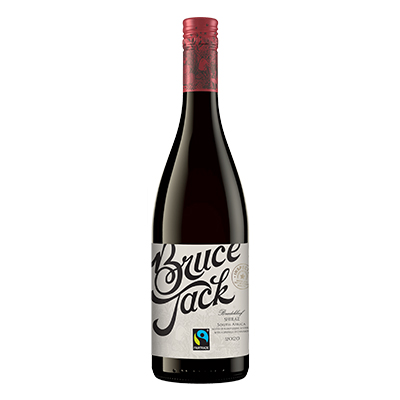 Bruce Jack Fairtrade Shiraz
Co-op is the exclusive stockist of Bruce Jack Fairtrade wine. An elegant wine, this Shiraz has the colour of purple velvet and aromas of fresh, ripe plums. Expect notes of chocolate-capped cherries and cinnamon, before a spicy, peppery hit.
Vergelegen Fairtrade Cabernet Merlot
From a winery once voted the best on the entire African continent, this exquisite Bordeaux-style red is a wine of class – exclusively for the Co-op.
4. CRU Kafe Organic Half Caff Coffee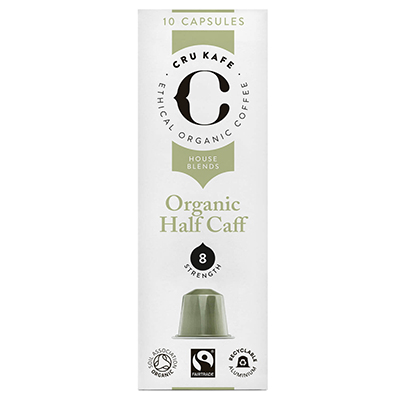 Organic and Fairtrade coffee company, Cru Kafe, has a new addition to their House Blend range: Organic Half Caff. It's a three-bean blend from the Central and South Americas: Peru, Honduras and Colombia – and this time, it has half the caffeine. The Peruvian coffee is decaffeinated using the CO2 method, a natural process that extracts the caffeine with sparkling water rather than chemical solvents, removing the caffeine, but not the flavour!
Did we mention that the blend is in a Nespresso compatible pod? Great-tasting coffee. Minimal fuss.
Use the discount code FAIRTRADE to get 10% off when you buy from the Cru Kafe website.
Buy Cru Kafe Organic Half Caff from their online store
5. Daylesford Organic chocolate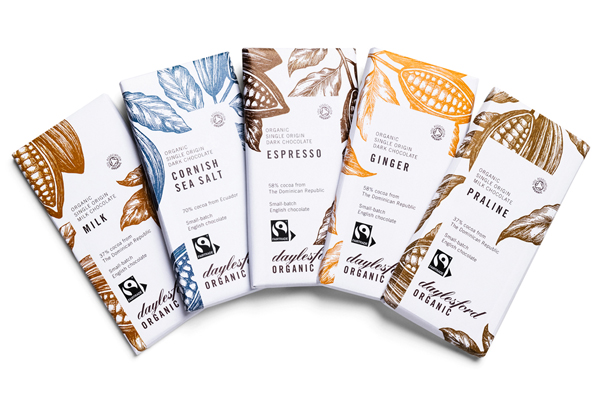 Look out for the new range of chocolate bars from Daylesford Organic. Made using ethically sourced, Fairtrade cocoa, these bars are produced in small batches in the UK but make a positive impact much further afield. The farmers who produce the cocoa, and their communities benefit directly. The organic methods used that have been passed down through the generations are also preserved, yielding the most beautiful natural cacao and supporting the conservation of nature and local wildlife.
Buy Daylesford organic chocolate
6. Forest of Hope Chocolate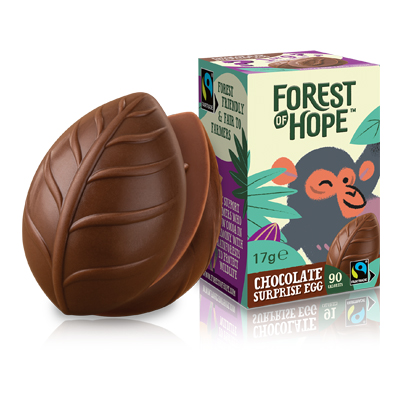 New chocolate brand, Forest of Hope is forest friendly, fair to farmers and fun for families. With cocoa farmers and rainforests at the heart of their business, Forest of Hope sources Fairtrade cocoa from Sierra Leonian farmers who grow their Fairtrade cocoa in harmony with the Gola rainforest to protect it and its endangered wildlife, whilst creating a livelihood for farmers' families and communities.
In 100% recyclable packaging, the company's first product is a milk chocolate animal egg with a fun surprise nestled inside that will keep your little one entertained, including challenge cards and activities with facts about the rainforest and its animals.
The chocolate is also nut safe and vegetarian friendly.
Read more about Forest of Hope
Forest of Hope is available to buy in Co-op.
7. Thought clothing jogging bottoms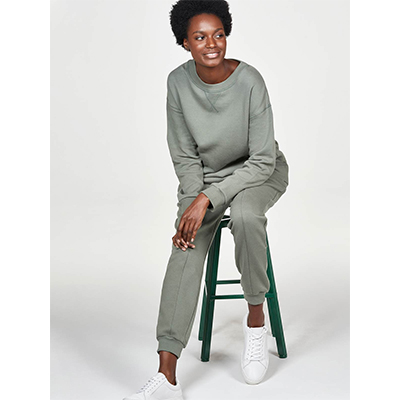 Zaahra Fairtrade GOTS Organic Cotton Sweatshirt
Made using 100% Fairtrade and GOTS organic cotton, this sweatshirt is the perfect combination of style and sustainability. It features super-soft brushed back cotton and is part of a set – the matching bottoms will make the perfect finish for a relaxed weekend look.
Buy Zaahra cotton sweatshirt from We Are Thought online shop
Zaahra Fairtrade GOTS Organic Cotton Jogger
The perfect match to the Zaahra sweatshirt? This pair of joggers. Similar to the sweatshirt, they're designed using 100% Fairtrade and GOTS organic cotton and feature a super-soft brushed back so you can relax in style and comfort.
Buy Zaahra cotton jogger from We Are Thought online shop
8. Waitrose chocolate cake mix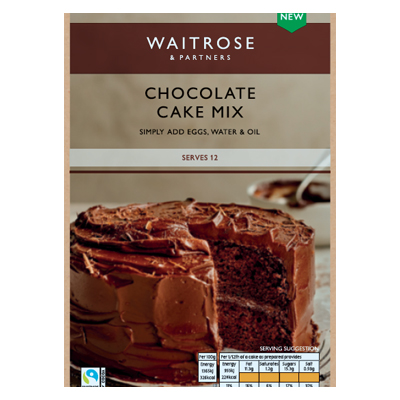 Make baking easy with this delicious Waitrose chocolate cake mix. It's made using Fairtrade cocoa and chocolate flavouring – the perfect gift for someone with a sweet tooth!
Buy the chocolate cake mix from Waitrose
9. White Stuff jersey wrap dress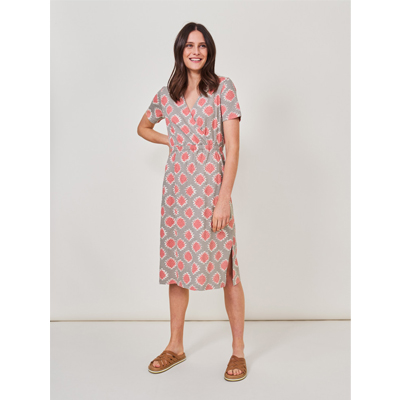 In 2019 White Stuff committed to the Fairtrade Sourced Cotton model, becoming the only British lifestyle brand to sign a three-year commitment to increase the amount of Fairtrade Cotton sourced.
Part of the Fairtrade collection, this jersey dress has a flattering wrap design with an eye-catching print and comfy feel that makes it perfect for wearing all day long.
Buy jersey wrap dress from White Stuff online shop
You might also like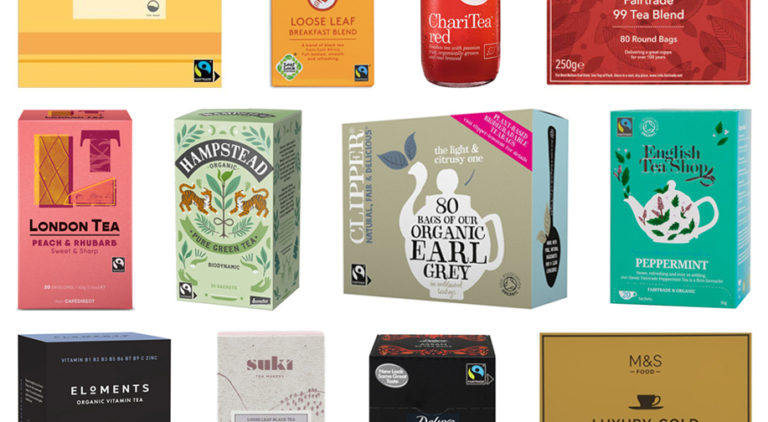 12 Essential Fairtrade Teas
19 April, 2021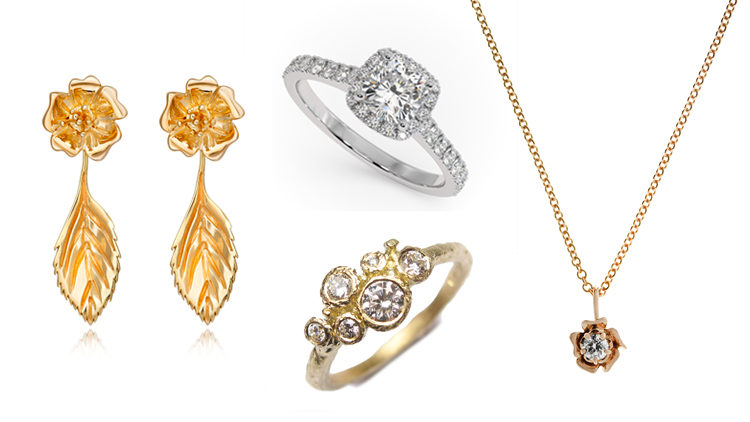 7 Ethical and Sustainable Jewellery Brands
12 February, 2020