To mark one year since Covid-19 hit South Africa, we have been speaking to wine producers to understand the impact the pandemic has had on the industry and those who depend on it for their livelihoods.
In April 2020, as cases of Covid-19 soared in South Africa, wine production ceased and the sale and export of wine was banned for five weeks, accompanied by restrictions on domestic sales and delays at ports when exports resumed.
One year on, the wine industry is slowly recovering but there have been bumps along the way. Exports have been good but unsold wine for domestic sale has been a big issue – at one point in 2020 there were 300m litres of wine gathering dust in winery cellars. There is also uncertainty around a new domestic sale ban, as well as rising Covid-19 cases.
Furthermore, heavy losses have been suffered, with significant amounts of wine unsold and many workers having lost their jobs – somewhere between 14,000 and 28,000 roles. Many of these workers were already vulnerable and now face additional economic challenges on top of the ongoing pandemic.
Workers in South Africa's wine industry tend to be vulnerable for a number of reasons. These include low incomes, poor working and living conditions, and economic inequalities as a legacy of the apartheid system. The Fairtrade Standards work to address these challenges, so when you buy a bottle of wine with the Fairtrade Mark, you know you're helping to improve workers' livelihoods.
The Fairtrade Standards ensure all workers, regardless of race, are working in safe conditions, and are receiving a minimum income. Workers growing the grapes that go into Fairtrade wine receive an additional Fairtrade Premium, which they can decide how best to spend for the benefit of their communities. In 2019, the 20.5m litres of Fairtrade wine consumed in the UK alone generated over £1m in Fairtrade Premium.
Through the Fairtrade Minimum Price and strategic investment of the Fairtrade Premium, Fairtrade wine empowers producers and equips them to manage shocks such as global price drops or extreme weather events. The pandemic was an unprecedented shock but belonging to the Fairtrade system helped producer organisations to keep their communities safe, stay in business and build economic resilience.
Fairtrade's robust response to the pandemic
As a global system, with local producer networks, Fairtrade was well positioned to co-ordinate a response to the situation. As an immediate response, Fairtrade supported the distribution of face masks, hand sanitisers, infrared thermometers and personal protective equipment (PPE), and the distribution of Covid-19 pamphlets to workers and farming communities. In addition, Fairtrade supported its wine workers to apply for South African government relief funds.
Fairtrade also introduced flexible use of the Fairtrade Premium, allowing it to be used as cash to cover workers' wages and help prevent financial ruin and hardship. In the case of wine, as well as using the Fairtrade Premium to support worker's wages, it was also used to purchase food parcels and PPE.
Find out more about the Fairtrade Premium
Bosman Adama, which produces Fairtrade wine for many UK retailers (sold in the UK at The Co-op and Sainsbury's), is one of the South African farms supported by Fairtrade, using funds to protect jobs, maintain salaries, and purchase food and sanitising hampers for every worker and their households. The Bosman Adama Fairtrade Premium Committee kick-started an awareness campaign focusing on Covid-19 safety, amongst other issues. The Committee purchased a PA system enabling speakers to educate communities safely and effectively.
A fair future
Despite the challenges of 2020, sales of Fairtrade wine remained high, thanks to the support of traders, retailers and customers who continued to choose Fairtrade. The Co-op, the world's biggest retailer of Fairtrade wine, has continued to launch Fairtrade wines in 2021. Ed Robinson, Wine Buyer for the Co-operative Group, said: 'As a rule, the Co-op does everything in its power to stay true to suppliers, even when there are supply issues – and as a Fairtrade wine retailer, we have continued to place large orders and launch new products during the pandemic, maintaining supply to our customers and benefits to our loyal producers.'
Lidl also saw a real increase in their Fairtrade wine sales last year with volume growing over 30%. They have a range of six South African wines, receiving high praise in The Guardian recently for their Shiraz in particular.
LJ Loftus, Head of Supply Chain at the Fairtrade Foundation says: 'The support from retailers and consumers over the past year has undoubtedly enabled farmers and producers to stay afloat. Fairtrade has helped but farmers are still suffering. At a time when the world faces ongoing uncertainty, and South Africa's Covid-19 cases are rising again, Fairtrade offers stability for the workers behind the wines we enjoy. We are not only a nation of wine lovers, but also a nation of people who love to do good, so the best way right now to support farmers is to buy Fairtrade South African wine.'
Looking for the Fairtrade Mark has never been easier, with a huge range of different wines available at most major retailers, from The Co-op, to Sainsbury's, Lidl and M&S, as well as from independent wine merchants.
Find out where to buy Fairtrade wines
Read the Independent's roundup of the 9 best Fairtrade wines to enjoy with a clear conscience
Read more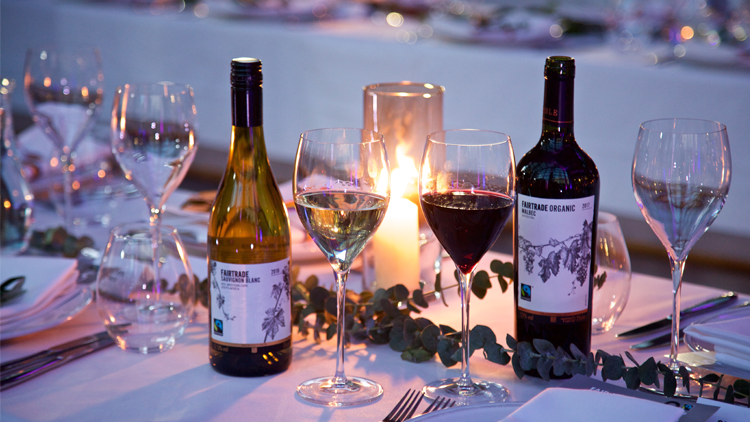 6 Ethical Fairtrade Wines
17 December, 2019
Banner photo by Hermes Rivera, Unsplash