Try Anna Jones's delicious muffin recipe – the addition of Fairtrade ingredients really give you something to cheer about.
Fair trade to me is the idea that your food has come from a place where people are treated fairly, with respect and the love and energy that they put into their produce shines through to your plate. The food has been enriched by a respect for culture and fair wages.
This is Terry's Chocolate Orange in a healthier muffin version that you can happily eat for breakfast.
These little guys have no refined sugar, no dairy and just a bit of spelt four. You could easily use a good gluten-free four if you preferred, which works really well, as the milk and oil stop the muffins drying out.
I have kept these pretty lean, but if you wanted to make them more of a treat, 100g of chopped Fairtrade dark chocolate sprinkled over at the end would add some gooey melting goodness. I use blood oranges when they are in the greengrocer's, but a normal orange will work just fine too.
Ingredients
Makes 12 muffins
150ml Fairtrade olive oil or Fairtrade coconut oil
150g good white spelt flour
50g wholegrain rye flour
5 tablespoons Fairtrade cocoa powder 
1 teaspoon baking powder
3 free-range organic eggs
250ml milk of your choice (I use drinking coconut milk)
150ml pure maple syrup
2 unwaxed blood oranges or normal oranges
100g Fairtrade dark chocolate (70%)
Method
Preheat the oven to 220°C/200°C fan/gas 7
Line a muffin tin with paper liners. Get all your ingredients together. If you are using coconut oil, melt it and let it cool.
Sift together all the dry ingredients in a large mixing bowl.
Crack the eggs in a separate bowl and whisk together, then add the milk, maple syrup and oil
while constantly stirring. Grate in the zest of one of the oranges.
Use a knife to cut the peel from both oranges and remove any pithy bits, then chop the oranges into small pieces, taking care to cut out any bits of white pith from the centre.
Add the dry mixture to the wet mixture. Roughly chop the Fairtrade dark chocolate and add half of it to the batter, along with half the orange pieces. Use a spatula to carefully fold everything together until combined.
Divide the batter between the muffin tins and top with the rest of the Fairtrade dark chocolate and orange pieces.
Bake for 16–18 minutes. Best warm from the oven.
Recipe taken from A Modern Way to Cook by Anna Jones, published by 4th Estate.
You might also like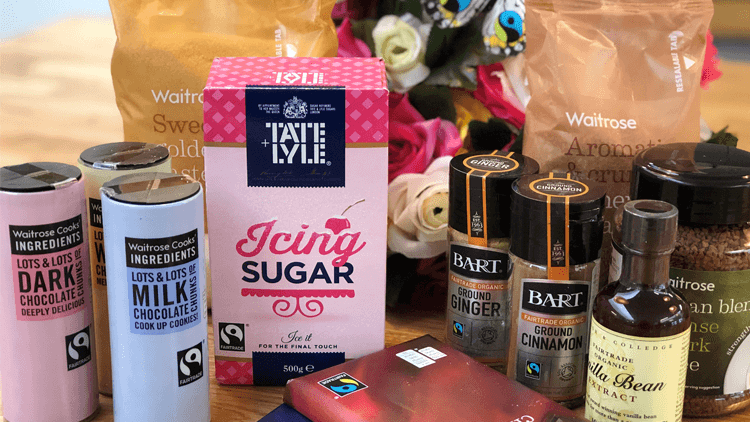 Bake a Difference with these 20 Fairtrade Baking Ingredients
23 February, 2019
It's easy to forget when we're baking, that the ingredients we use have been grown in countries around the world – planted, tended, picked and cared-for by someone as part of their job. To think that they might not have been paid fairly for this work is almost unimaginable.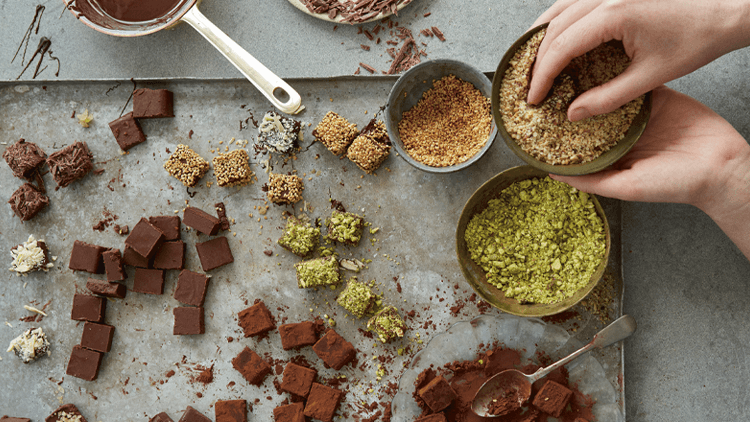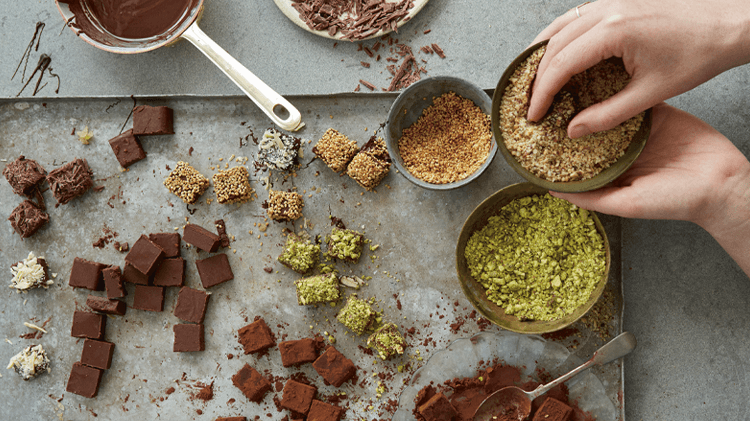 Anna Jones' Salted Chocolate Truffles
17 February, 2020
Anna Jones shares her recipe for these easy truffles: no tempering chocolate; no rolling or filling; just simple melting, mixing and pouring – your own little chocolate factory.